Retevis has recently launched the new in-car station retevis RA86
From the exterior design, it uses fully integrated hand microphone control, and there is no display or any buttons on the car desk host, so it can be installed under the seat or any convenient place.
Microphone hole using the commonly used RJ45 crystal head interface, the host hole using a circular design, the overall shape design simple and generous.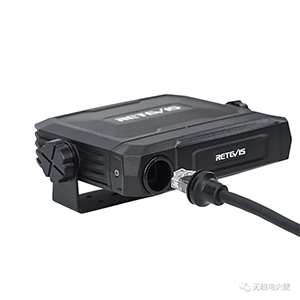 20W power, compact size, microphone to consider the convenience of handheld operation, the size is not too mini, the key layout to consider the common functions of the settings, the top is the boot key and channel plus or minus, the front up and down keys used to adjust the volume, followed by the menu key and several common functions keys, all the functions of the intercom can be operated through the menu options.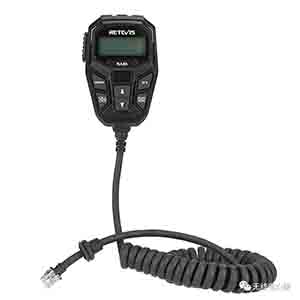 In order to avoid interference with this machine and filter other audio signals that you do not want to hear, RA86 factory set frequency with sub-tone, you can cancel all default sub-tone with one key.
In the off state, press the PTT and SCAN keys and turn on the radio at the same time, the intercom can cancel all the default sub-tone.
The RA86 uses a dot matrix screen with a complete font display, which is easier to read than the broken code screen. At the same time, the RA86 display has four adjustable base colors, while the brightness of the display can also be adjusted by itself, allowing users to more clearly identify the screen text.
RA86 supports microphone gain adjustment, different usage environment, we need different microphone sensitivity, for example, if the current environment is noisy, we need to reduce the microphone sending sensitivity, so that we can avoid environmental noise emission, when the surrounding is very quiet, we may need a high sensitivity, so that we can send over even if we speak in a low voice, RA86 allows users to adjust the microphone gain level to match the best sending sensitivity.
RA86 has dual speakers, the host has speakers, and there are also speakers on the microphone, we can set a single speaker to play sound, but also can set a dual speaker to play sound, easy to set, easy to use.
RA86 is equipped with suction cup antenna as standard, with special parameter adjustment and higher adaptability to effectively support RA86 long-distance communication.