Small business two way radios do not typically provide as much range as models with longer antennas and more powerful transmitters, but they do provide adequate coverage for many environments and the size and weight can be a huge advantage. Business types that typically take advantage of smaller radios include: catering, event planning, dental offices, medical offices, photographers, and restaurants.
Retevis RT22 small and portable radio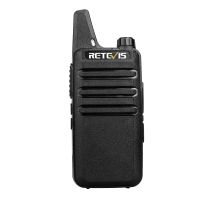 The tiny RT22 weighs only 109 grammes and measures only 13mm - small enough to sit on the palm of a hand, yet it is a full-featured us-legal PMR446 licence-free walkie-talkie.
License Free Radio, no need to pay extra for a license, and anyone can use the small radio
Good clear sound, Communication without barriers.
The radio ideal walkie-talkies for use where users do not want to carry around a big chunky "security guard" style radio.
They are suited to environments such as schools, retail, restaurants and hospitality.
Radio users can easily place either of these compact little walkies into a pocket, or clip them to a belt or other clothing using the belt-clip on the back of the walkie-talkie.
These miniature walkie-talkies each come with a rechargeable Li-ion battery pack, which is removable, so spare batteries can be inserted, and a USB charging lead and mains plug adapter.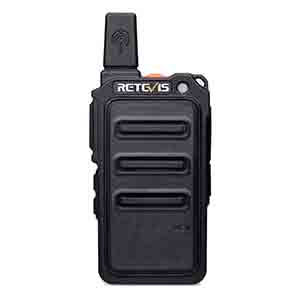 The small Compact and slim design radio is only 0.7 inches thick; it weighs only 0.2 pounds; which can fit your palm well. The small radio have large battery, built-in 1300mAh battery; provides 15-24 hours of use time, fully meet the daily working time. The body only has PTT button, channel, volume adjustment, power button, suitable for children and adults,and easy to use. USB port, can connet the mutiply charging way.
The small radio very suitable for resataurat, hotel and dental clinic.