Even if you have a cellphone, there are still plenty of opportunities for a good walkie talkie in your life. Maybe you're someone who likes to go outside hiking and camping and wants to stay in touch with your group outside of cell service, you work in a busy warehouse or restaurant where communication is key, or you just like the ease of one button communication. They can also come in handy on film sets and other production environments where quick comms are key.
Whatever the reason, getting the best walkie talkies can quickly and easily improve your communication, and it doesn't hurt that no matter who you are using them is just fun.
1, Best for kids: Retevis RT628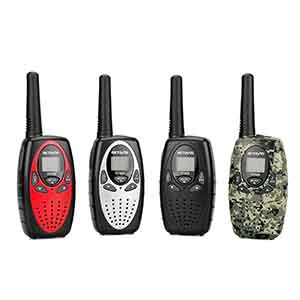 Why it made the cut: They're simple and cheap enough that it won't hurt when one breaks or gets lost.
Channels: 22
Range: 1 mile
Waterproof: No
Battery Style: AA
Battery Life: Battery dependent
Weight: 3.25 oz
Pros
Multiple colors
Price
Channel lock to stay on the same channel
Cons
Battery style
Range
Durability
Not only is this walkie talkie set exceedingly affordable, but the buttons and walkie talkie body are small and lightweight to fit well in a child's hands.
Parents will love the channel lock features, which helps keep the radio on the right frequency and from moving onto the wrong channel after fumbling from children's hands. They'll also love the price point, which won't have you pulling your hair out if one of the walkie talkies disappears in the backyard or under a car seat.
The range is just over a mile and is really best for recreation or when the stakes are low, like communication from one side of the neighborhood to the other. Because of this, it is really closer to a toy than a major communication device.
2, Best Waterproof Walkie-Talkie - Retevis RT49P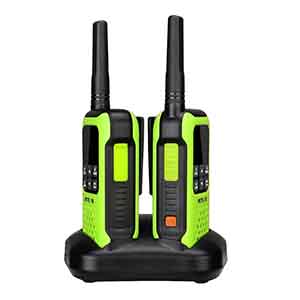 SPECS
Dimensions: 10.3" x 9.1" x 4.9"
Battery life: 5-8 hours
Range: N/A
Weight: 4.7 oz

Need a reliable and waterproof two-way radio? Then the Retevis RT22 radio is a great choice. This radio has a waterproof and floatable design, making it ideal for wet and rainy outdoor activities. With 22 channels, rechargeable batteries with 5-8 hours of battery life, and NOAA weather warning capabilities, this long-range radio is fantastic for kayaking, whitewater rafting, and canoeing. The best part? The Retevis RT22 works with any brand of FRS radio, as long as you're on the same channel. We like that the radio has a short, fixed antenna that's strong and won't get lost easily and a built-in flashlight that switches on automatically when it falls into the water.

What We Like

Waterproof and floats
SOS emergency alarm
Built-in flashlight

What We Don't Like

Battery life is limited
No voice activated transmission
3, Well-Known and Widely-Used RB48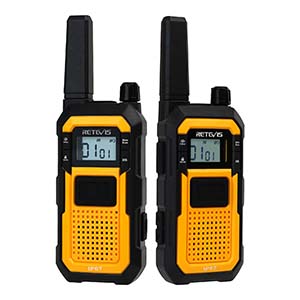 These are my favorite FRS radios for those that need an extremely durable, weather-resistant, and reliable solution for the most demanding conditions. I've seen these used on construction job sites for years, and they sure can take a beating.
Not only are they tough, but they can transmit a signal through floors and floors of concrete. This makes them great not only for construction but businesses that occupy multi-story buildings.
Retevis RB48 is built on the FRS platform. Heavy-duty 2W Walkie Talkies are ideal for jobsites, contractors, businesses. Ultra long run time, continuous use up to 12 hours. Shock resistant, built to withstand 2 meter drop. RB48 Waterproof Heavy Duty radios are smart, simple, reliable, high-performance and tough.
Pros: Extreme durability, rugged grip, can be used on 20+ floor buildings
Best for: Construction sites, multi-story buildings, people who are rough on their gear