From festival organizers to hikers, in construction sites and restaurants, the best long-range two-way radios are essential. They are crucial tools for communication, making it easy to stay connected to people within a specific distance.
When people talk about two-way radios, a lot instantly think about those that mount on cars, RVs, and trucks. Today, however, many of them are lightweight and portable. They are easy to bring anywhere, such as at the campsite or your workplace.
Buying a long-range radio is overwhelming. Different brands and models are available. It can be tempting to choose the cheapest, but that should not be the case. Instead, consider the following factors:
Range: Most of the radios in this review have a range of up to 36 miles. They are good for wide and open spaces, such as concert grounds. When there are obstructions, such as buildings and trees, the distance coverage can be significantly shorter.
Ease of Use: An intuitive radio offers a seamless operation, which is one thing that beginners will love. It should come with a seamless control panel with easily accessible buttons. Voice detection is also nice, which enables hands-free operation.
Battery: The battery life will differ from one model to another, with most lasting anywhere from ten to 36 hours. Some have battery-saving features to automatically turn off when inactive.
Are you looking for long-range walkie-talkies? Read on as we share some of the most notable options to consider, as well as the features that make them stand out.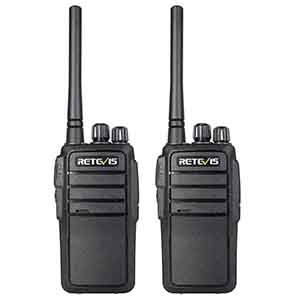 Wrapping up my recommendations is an option for commercial users. It may not be the best for long-range walkie-talkies 1000 miles, but the coverage is pretty decent for its price. This radio is only for short distances, making it ideal for applications like catering and concerts.
The large-capacity battery is also worth mentioning. The 1,100 mAh lithium-ion batteries deliver a continuous runtime of 10 to 12 hours. When it is time to recharge, there is an instant reminder, making sure that there is always juice.
More so, it has plenty of features that ensure user-friendliness. For instance, the frequencies are set upon delivery, so there is no need for configuration out of the box. It is ready to use in an instant.
From audio clarity to privacy, it has features to deliver top-notch performance. I can customize the squelch function from zero to nine, which will minimize interference. Additionally, it has a voice transmission for hands-free operation.
You will receive secret service earpieces when you purchase this radio set. The latter is designed to fit comfortably while being discrete. It is for private listening, which is handy in industries like restaurants and hotels.
PROS
Instant reminder when there is a need to recharge
Set on the same frequency out of the box
Adjustable squelch to eliminate background noise
CONS
The antenna easily loosens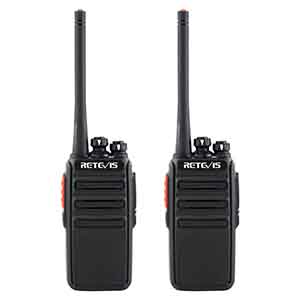 The company sells this walkie-talkie for long-distance for commercial users. From restaurants to construction sites, it will ensure reliable communication.
I love the radio because it is user-friendly, perfect for people who do not have the patience to deal with complications. They are ready to use out of the box, eliminating the need for programming. It has an easily accessible button that you have to push to talk and release when you are ready to listen. Plus, it has voice control, so you can enjoy hands-free operation.
You can expect the best in terms of audio clarity. Aside from having a good built-in speaker, I also like how it has an adjustable squelch function. You can set it at nine levels, depending on how much background noise you would like to filter.
The rugged design is another good reason to choose this product. With a tough body, it is strong enough to withstand vibrations and harsh environments. Even with constant exposure to dust, salt, fog, and extreme temperatures, the radios remain in good condition.
PROS
Easy to use without complicated buttons
Rugged design to withstand extreme environments
Has a squelch to minimize background noise

CONS

The locking mechanism is quite loose