Best Walkie Talkie 4 Pack a person should be aware of the different features of mobile radios before choosing the best one. When you realize that the radios have different features and functionalities, you begin to see the similarities. Making the right choice with your radio may be difficult unless you are clear about your goals.
If you are unsure about anything, there is no harm in seeking professional advice. This article outlines several excellent four-pack communication tools. For groups of three, here are a few to consider.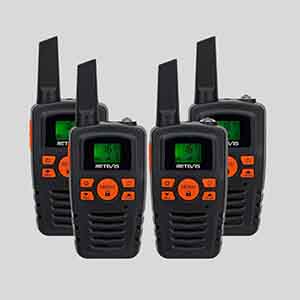 Retevis RA35 Walkie-Talkies offer 22 channels to choose from; the two-way radios are ideal to use for long-range communication in a variety of places, such as construction sites, warehouses, farms, and more. Whether you are a hiker, camper, fisherman, or a family member looking to keep in communication while out and about, the two-way radios are perfect for you.
Featuring 22 channels, the two-way radios allow you to communicate when you are out of cell phone range while providing clear communication to keep you and your group safe. Easy to Use Retevis Walkie-Talkies are perfect for adults and kids alike.
Each set includes 4 walkie-talkies and a pair of earphones with a 3.5mm audio cable. Each radio has a volume control dial and a channel selector. The pack has a 22-channel option and allows you to communicate with other radios in the area.
The radios also feature a power-saving design, enabling you to reduce your battery usage and increase battery life. The two-way radios also offer VOX technology, which means you can talk hands-free without pressing any buttons, making it easy for you to get the job done.
The kids loved these Retevis radios. I had no problems with any of them. Depending on the terrain and obstacles, these can cover a distance of half a mile or more. Many of the features are normally found on adult professional radios.
Because rechargeable lithium batteries can pose a fire risk if they are damaged by rough handling, I deliberately chose radios that do not contain them. Radios for children are safer when powered by Alkaline or NiMH (Nickel Metal Hydride) batteries. For professional and industrial use, Retevis produces many 2-way radio models.
Feature
Long-range communication up to 5KM; One-to-one and one-to-group communication at the same time
Group channels: up to 10 channels
38 CTCSS and 61 DCS for calling and privacy
VOX function; achieves transmission activated by your voice
UHF/VHF frequency range
Large flashlight for a night outdoors
LCD for clear reading of channels
Recording function for an important conversation
Wide input voltage for power supply
Big buttons for easy operation
Pros
Safe Call
Clear Sound Quality
A good gift for your family and kids
Cons
No waterproof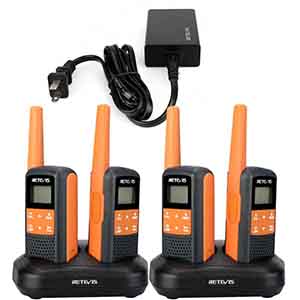 Retevis RT49 is a new release of high-quality two-way radio walkie-talkies. Walkie-talkie RT49R is a 2-way radio with long-range function, which is an ideal choice for outdoor activities, such as hiking, walking, and other camping.
RT49 is a lightweight and portable gadget with IP65 waterproof construction. The two-way radio runs on a lithium-ion battery and can run up to 5-6 hours on a full charge. It is easy to handle and easy to operate with the handle of volume and on/off switch on the side.
RT49 is a built-in microphone and speaker and features NOAA weather channels emergency alert. With Retevis RT49, enjoy your independent fun in the outdoors.
For the price, these are fantastic. Despite their weight, they feel sturdy. The size is just right so that the kids can hold it, but not so big that it feels like a toy. It covered a decent area. There is only one issue: even at the lowest volume settings, it is still quite loud.
Having their walkers without breaking the bank is a great buy for the family. This package includes USB chargers and rechargeable batteries that I like. The batteries lasted a long time. Good price.
Feature
22 channels each with 2262 different combinations of channels to choose from
Communicate easily with dual channel function
Easy to operate, simply choose a channel and push the PTT button
3 x 1200 mAh AA NiMH batteries give up to 24 hours of talk time
Chargeable by a desktop charger or the micro USB cable
11 NOAA channels with weather alerts help you know the weather in advance The built-in
flashlight and LCD screen make it easy to use in any environment
Voice-activated hands-free operation
It can be a good tool for you when you are snowshoeing
Pros
Easy to use
1.5 to 2.5 miles maximum range
Waterproof to IP65
Voice over Internet protocol
Alert from NOAA about weather
Chargers with two outlets
Cons
There is no indicator of battery charging