Two-way radios or walkie talkies have come a long way. When you were a kid, they were just goofy toys. But modern walkie talkies have a lot to offer. With compact design and easy voice controls, walkie talkies are incredibly useful. When you need to stay connected on the road (the same goes for trucks, RVs, and cars), but you don't have to drive off-road to take full advantage of the two-way radio. These are great for hiking, camping, or anywhere you might need to send your SOS. Some radios even offer tracking, so if you're stranded, you can come to the rescue with just one click. Read on for our full buying guide.
Two-Way Radio Buying Guide
When you're shopping for the best two-way radio, there are multiple factors to consider before you add it to your cart. Here's what you need to know.
Reliability: Even with cellular towers everywhere nowadays, getting a signal on your phone isn't always a given, and satellite phones are extremely expensive and impractical to take along. That's where these offer peace of mind.
Clarity: Modern radios have come a long way from the garbled, unintelligible broadcasts of the past. Today's two-ways cut down on static and boost voice. A backlit display that's large and easy to read in dark, rough conditions is important for night driving too.
Connectivity: Modern radios can often connect to your smartphone via Bluetooth, and have lots of different channels (some with privacy codes) so you can speak freely without being interrupted. You can even have the ability to monitor two channels at once, and get NOAA weather alerts before storms hit.
Build Quality: Since these are often designed for jobs where it'll risk some rough treatment, most models are durable and can take a beating, along with being waterproof too.
Battery Life: Depending on how long you'll be away from a power source, there are different options for fueling a radio on-the-go. Rechargeable ones are great, especially via USB, but the option to use a few AAs can be a lifesaving backup. Operating on a lower transmission range can help save battery life as well, and a life of about 15 hours is an average range.
Finally, check the requirements and your local laws before buying. You may need an FCC license to operate some two-ways.
What Are the Best Two-Way Radios?
With the above tips in mind, here are our top picks for buying your next two-way radio.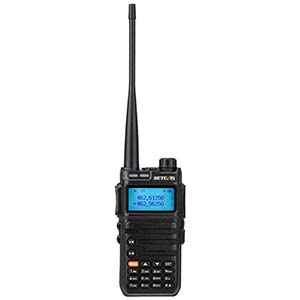 The Retevis RA85 channel radio is a good choice. As you can see, the RA85 offers more channels than a standard FRS radio. This is the top product for telecommunication. Like we've always said, you need a license to operate legally on GMRS frequencies. But if you have that, the Retevis RA85 is amazing.
You get crystal clear sound even at the long range of Retevis. In the city, there's 3.5 miles of range, but it's a bit low. Open area with 10 mile range. However, GMRS radios operate at higher power than FRS, and the range does reflect that. It has simple voice and sound activated transmission. It has nine sensitivity levels for hands-free use.
NOAA Weather Scan scrolls through 11 alert channels. If the weather is bad, you can hear an audible alarm to let you know.
Besides the phone, you also get some great extras with the Retevis ra85. Offers 60 Channels and privacy codes,Usually the GMRS band radio with 30 channels, but our Retevis RA85 has 60 channels, offers you more channel options to help you block other conversations. And help you to set more GMRS channels with different CTCSS/DCS codes .