Every sailor and boater should have a VHF marine radio. There are fixed mounted units with more range and handheld ones with more versatility. VHF stands for very high frequency sending and receiving marine radio communication by line of sight. These nautical products are units that are reliable and modern enough to work in today's recreational sailing and boating conditions, in the United States, Canada and international waters.
If you are looking for a suitable VHF marine radio, you've come to the right place. Here we are with a list of several contenders for the best VHF marine radio title. We have provided detailed reviews of those products to give customers a rough picture of what they are like.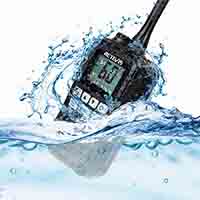 The RM01 is a lightweight low spec VHF handheld radio suitable for taking with you paddleboarding or in your tender as well as for use to augment a fixed VHF unit on a larger boat. The float and flash system works well too so if you do drop it in the water it'll carry on functioning and you'll be able to retrieve it easily. Rated to IP67 you won't want to leave this submerged for too long but it certainly will keep on functioning with the odd dunking.
The slim design means that it is one of the lightest units on the market at a mere 136g. The radio also has a tidy USB connector for convenient charging from a variety of electronic devices in much the same way as a mobile phone.
Even though it is a small unit, it does still feature plenty of screen real estate, and it boasts an LCD screen Battery life is impressive too, offering 29 hours on standby, charging back up to full in 3 hours. It is not a DSC radio and does not have built-in GPS, so is not particularly a safety-feature heavy radio, but for those looking for a reliable, budget, but dependable handheld VHF, this will do the job.
The Retevis RM20 is a fixed mount VHF radio with built-in GPS, allowing you to view exact coordinates, and also transmit your location. Simply power on and press DCS for 1 second, and your radio will instantly and accurately receive your GPS location no matter where you are, a feature especially important when in an emergency situation.
The radio is IPX7 waterproof, IP67 waterproof (1 m depth of water for 30 minutes) and Vibration drainage function(While pushing and holding [▲] and [▼], turn power ON. " VIB WATER " appears.)
NOAA Weather alarm, This radio has 10 weather channels. When the weather alert function is on, 24 hour access to national All-Hazards and weather information on weather channels;NOAA Weather alarm Alerts you to nearby threatening weather.
25W high power,and has long range communication, the radio can connect external speaker, when the noise is big, you can get the sound clearly.
What to Look for When Buying a VHF Marine Radio
It is important to pick up a good marine radio to accompany on your off the shore trips. You might wonder what makes a perfect radio, or where you can find the best fixed mount VHF marine radio. Apparently, there are many factors to consider when buying a new device.
I understand that each customer has a personal demand and preferences for a perfect marine radio. However, compiling a list of the most important criteria to choose out the best VHF radio is never an easy task. So the easiest way is to rely on our article with a VHF marine radio buying guide and detailed reviews to lessen your burden.
Waterproof Quality – I believe this is the most critical factor when it comes to good marine radio. It is safer to own a product with a high waterproof rating to keep on the job even being dropped in the water. Currently, most VHF radios on the market have been tested and recognized for good blocking water ability. Higher waterproof rating better protection against water, so you should grab a radio with a waterproof standard from IPX7 to IPX9.
Transmission range – This is more related to the antenna and power output of VHF marine radios. Basically, a good VHF device should have access to all the essential marine and emergency channels. It's for alerting users with the changing weather conditions nearby or being instantly connected to key channels such as channel 16 or channel 9 to get help in case of emergencies. In terms of the transmit power, they support you in having short to long range communication so that everyone can notify you via the radio. This feature is strongly attached to your safety on board, so aim to get a product that got most of this.
Portability – Marine radios are often used on a boat, a ship, or other vehicle types. Under those circumstances, I suggest that you go for something compact and lightweight for a better experience. Just choose the one that is most convenient and you can have instant access, put your safety on top.
Price – Practical advice is that the most expensive product is not necessarily the best product. Therefore, there is no need to splurge on a pricey one that might not fit your needs. You should do careful research and understand what you want before making any purchase.