While ham radios aren't as popular as they were in the '70s and '80s, there is still a robust hobbyist community. Gone are the days of having a dedicated closet or garage workbench for giant, clunky radio setups. Modern ham radios feature compact, mobile designs that can be tucked away on a shelf when not in use, mounted on a car dashboard or console, or even clipped to a belt and slipped in a pocket. Ham radio novices should look for a simplified model that lets you communicate over shorter distances and on fewer channels as you learn the different communication frequency requirements and output power.
Those with more experience can pick up models with tons of features like message encryption, built-in GPS units, and even text messaging. All ham radios require a license to use, so make sure to check with your local government for testing and permit laws. So whether you're looking to join a local hobbyist group or chat with folks across the globe, check out our top picks below to see which ham radio is right for you.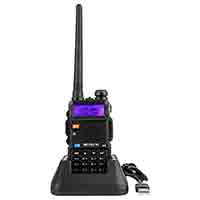 The Retevis RT5R is the perfect ham radio for beginners. It sports a retail price only $23, so you won't break the bank starting your new hobby. This radio allows you to access 128 channels, including 7 NOAA weather alert channels, and includes a microphone headset for easy communication. The front keypad features a lock function to protect against accidental input, and the easy-to-read LCD display has three backlighting colors to suit your preferences. RT5R 2 way radio has a U&V frequency band, the frequency range: 144-148MHz and 420-450MHz, almost the configurations can be realized by the walkie talkie, you can program it by yourself without software or cable. The handheld design makes this radio ultra-portable, so you can take it with you almost anywhere, and the included belt clip helps keep it close at hand when you aren't using it. The top of the radio also has a built-in LED flashlight for emergency use. And FM Radio: RT5R walkie talkies can be used as a radio, the FM frequency is 65-108MHz. Clearer sound, easy to use, ergonomic design, is suitable for adventure, camping, hiking, and etc.The battery can be removed for recharging while you use a fresh power source, or it can be charged within the radio if you don't plan on using it.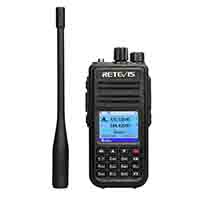 The RT3S is a tier I and tier II DMR radio, so it will work with DMR repeaters in the US. In addition to DMR digital modulation, it also has analog support with CTCSS/DCS tone encode and decode, and DTMF encoding and decoding. The radio weighs in at 285 grams and is a little heavier, but not much bigger than the venerable Baofeng handhelds and a touch smaller than it's big brother, the Retevis RT82. In fact, in comparing it with the RT82, the RT3S has many of the same internal features, but lacks the IP67 waterproof designation and the roller ball interface. But with that being said, the ergonomics are very good and I do like the front panel buttons, channel selector, and volume control knob. The radio has a familiar 2 pin Kenwood style mic connector, so if you have a collection of 2 pin accessories, they should all work. Battery is a 2000 mah 7.4 volt lithium ion battery. Battery life is good, giving me all day use on a single charge.
I mentioned that the RT3S has a slew of new features as compared to the RT 3. Notably, the new model is now a dual band radio, so it has built-in coverage for the 136-174 Mhz VHF and 400-480 Mhz UHF bands. Of course you can only transmit where your license allows. As for new features, the RT3S has a function called lone worker. You can set the radio to signal an alarm at the push of a button if the operator is in distress. I guess this would be good in a commercial setting, but it really doesn't have an application for amateur radio operation. The new model also supports more contacts and channels: 3000 channels and 10,000 contacts, in fact.
The RT3S has a built in voice recorder. You can store up to 8 hours of digital voice transmissions in the radio's internal memory.
So what do I think about the Retevis RT3S? So far, I like it. doesn't have the IP67 waterproof designation, but it is also a bunch cheaper too. I prefer the buttons and knob interface over the track ball and found this radio quite easy to use. The speaker is loud and it has a good audio quality. We'll have to see what the long term durability is. It's at a good price point, so I've got no problem recommending this as a first DMR radio for a newcomer or a second DMR handheld for someone looking for a spare.