RT3S dual band digital ham radio uses Digital Mobile Radio (DMR) Tier 2 Standard protocol. It is compatible with the popular MOTO TRBO series Tier I and II using standard encryption, It is also compatible with any existing analog two-way radio operating on the supported UHF and VHF frequencies for easy migration to digital technology.
It is compatible with the popular MOTO TRBO series Tier I and II using standard encryption, as well as other makes and models of DMR supported radios.
Up to 3000 channels ,for extremely complex organizational communications.
lone worker is an employee who performs an activity that is carried out in isolation from other workers without close or direct supervision.Helping people minimize risk and injury.
GPS gives you a clear idea of your location even in the wild. Use it to find your way or to help others find you.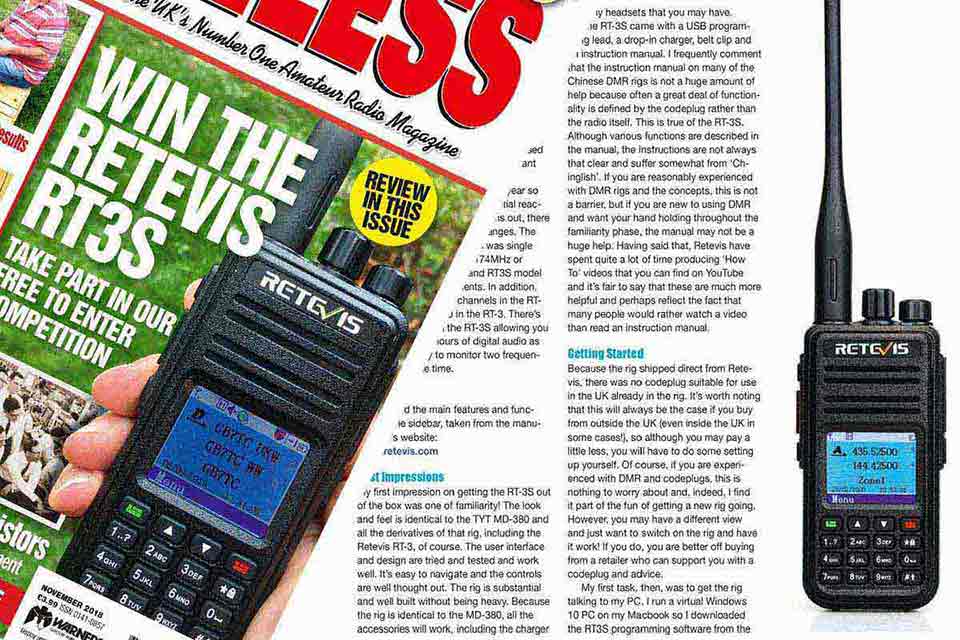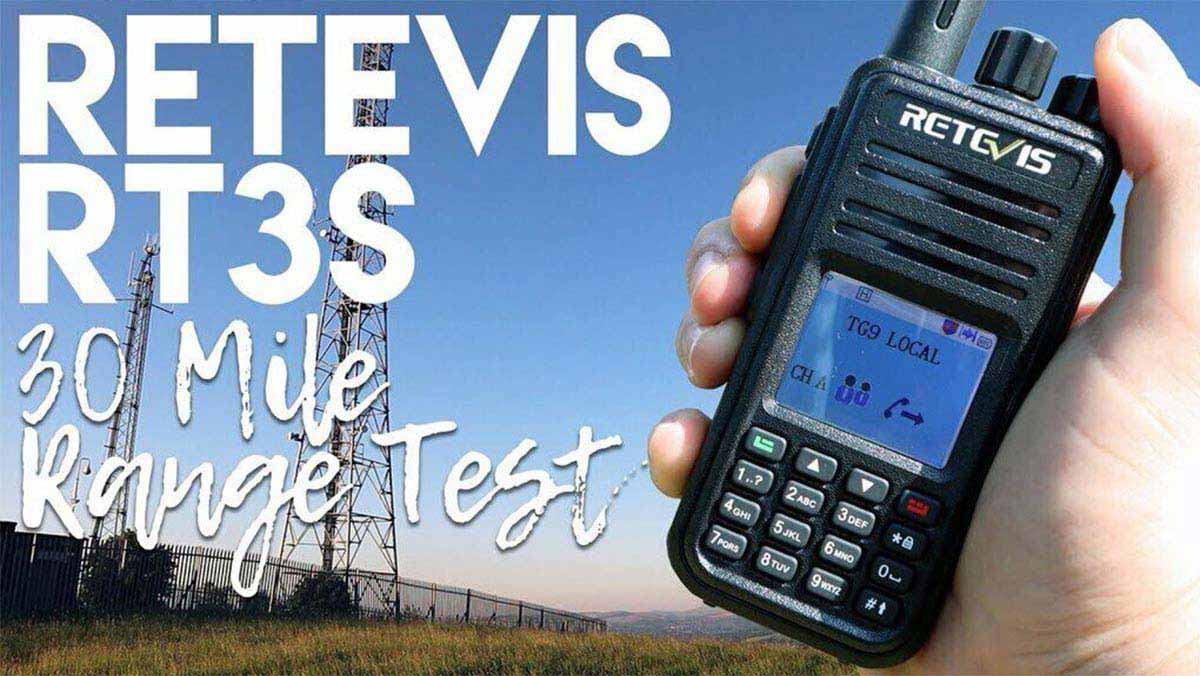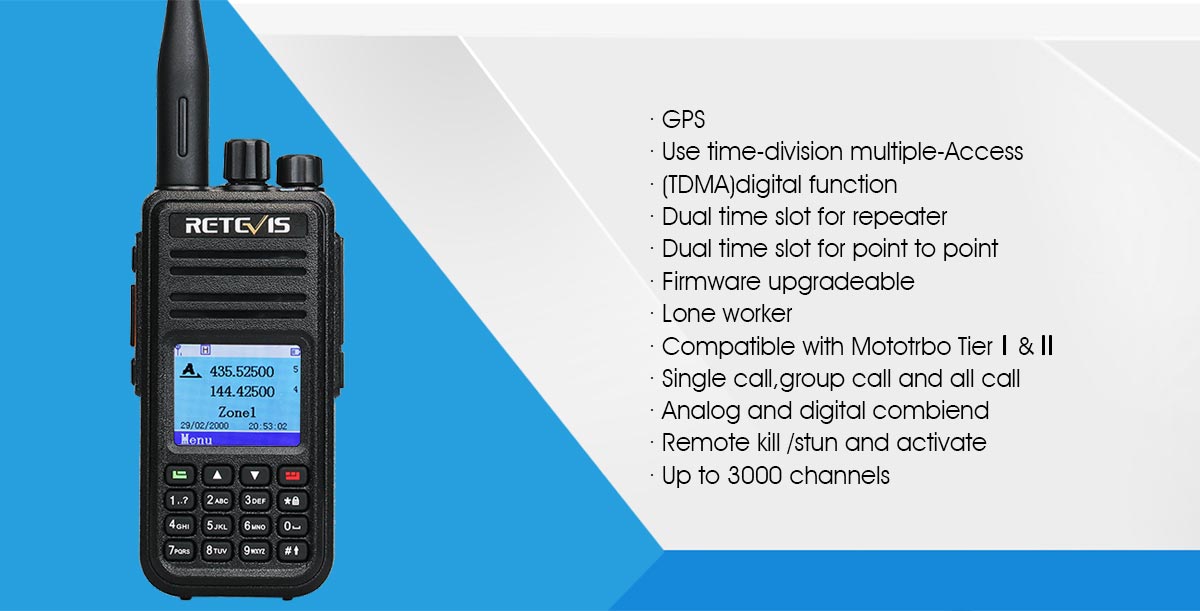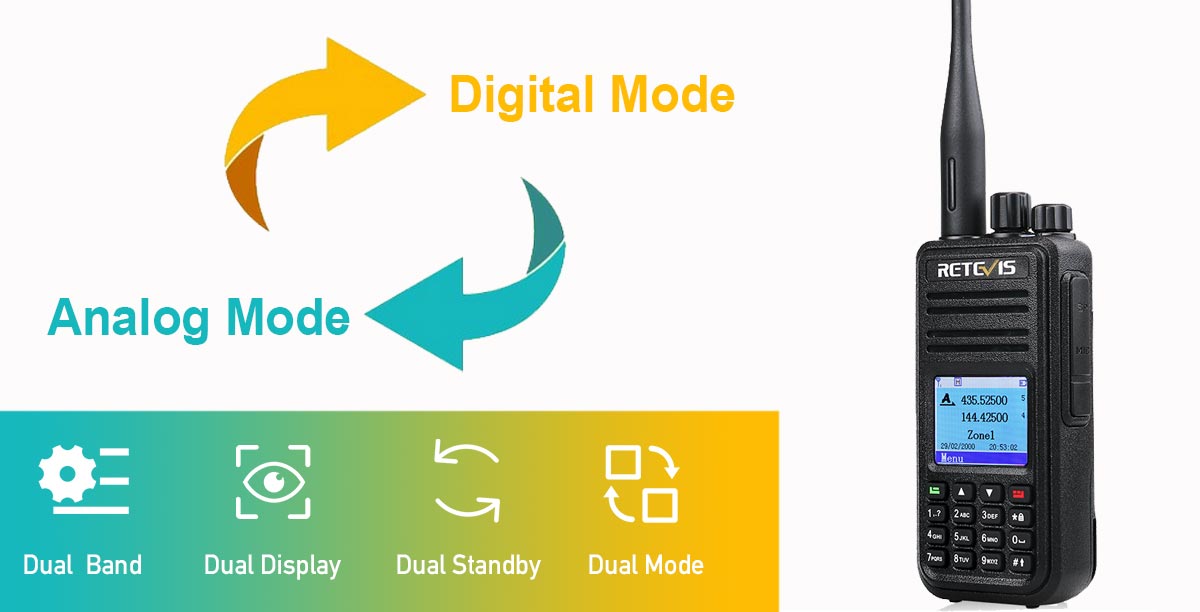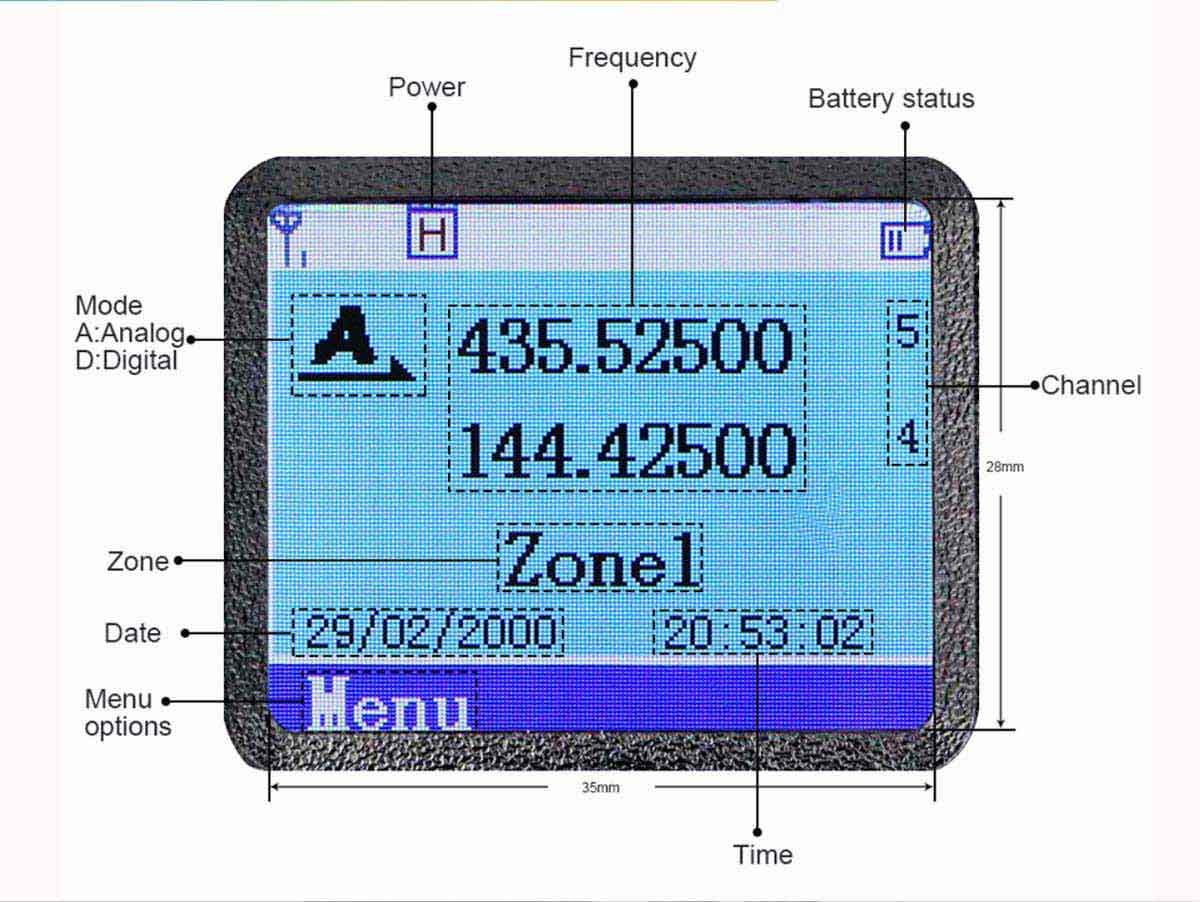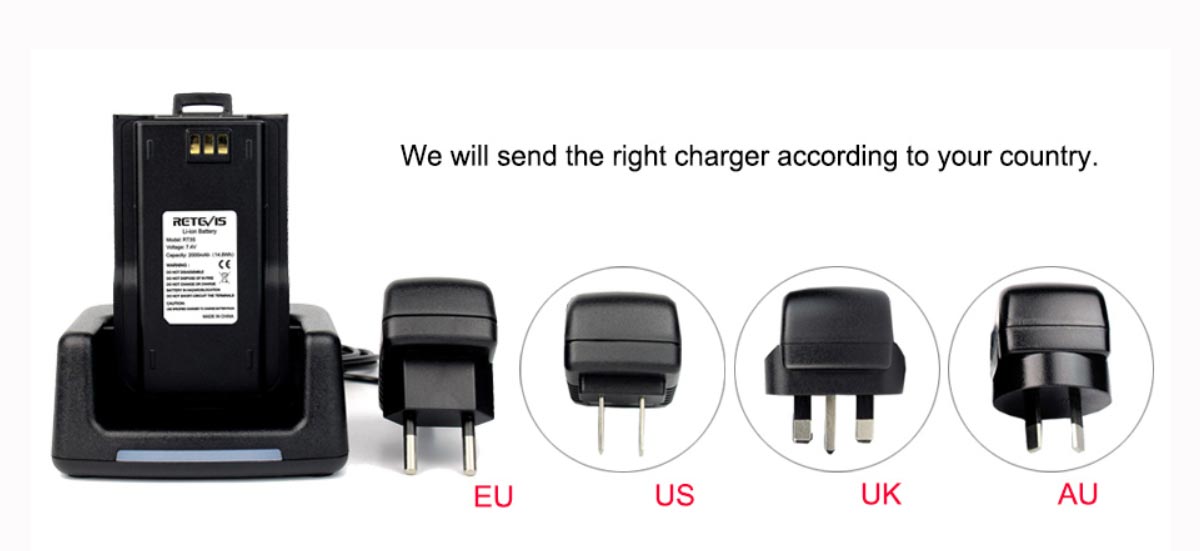 General specifications
Frequency
136-174&400-480MHz
Channels
3000
Frequency Stability
±1ppm
Operating Temperature
-30℃~+60℃
Operating Voltage
7.4V DC
Dimension
131 x 61 x 36mm
Weight
258g (with battery)
Battery Type
Li-ion
Battery Capacity
2000mAh
Antenna Impedance
50Ω
Audio Impedance
1W@16Ω
Channel Spacing
12.5KHz
Vocoder
AMBE+2™
Transmitter
Power
High≤5W, Low≤1W
Frequency Stability
±1.0ppm
Adjacent Channel Power
≤-60dB
Free Time Slot Power
TDMA:≤57dBm
Hum and noise
-40dB@12.5KHz
Spurious radiation
Antenna:9KHz-1GHz ≤-36dBm 1GHz-12.75GHz ≤-30dBm
FM modulation mode
11K0F3E@12.5KHz
4FSK digital mode
12.5KHz(data only):7K60FXD12.5KHz(data and voice):7K60FXW
Modulation maximum deviation
2.5KHz@12.5KHz
Nonactive slot power
-57dBm
Digital Protocol
ETSI-TS102 361-1,-2,-3
Audio Response
+1~-3dB
Modulation BER(bit error rate)
≤5%
Receiver
Analog Sensibility
0.2µV@12dB SINAD
Digital Sensibility
0.25µV(BER:5%)
Adjacent Channel Selectivity
≤-60dB@12.5KHz
Intermodulation
≤60dB
Spurious Response
≥70dB
Audio Response
+1~-3dB
Rated Audio Distortion
<5%
Rated Audio Power
1W
Modulation
≥45dB@25KHz≥40dB@12.5KHz
GPS
Use time-division multiple-Access
(TDMA)digital function
Dual time slot for repeater
Dual time slot for point to point
Firmware upgradeable
Lone worker
Encryption function
Compatible with Mototrbo TierⅠ&Ⅱ
Single call,group call and all call
Analog and digital combiend
Remote kill /stun and activate
Up to 3000 channels
Transmit interruption
Group call match(promiscuous)
Private call match(promiscuous)
Record
Emergency Alarm
VOX
TOT
Please Choose GPS or Non-GPS as your requirement
Order Handling Time within 3 Working days(Pre-sale products excluded).
175848 PEOPLE ARE LOOKING FOR THIS PRODUCT
---
What's in the Box?
1 x RT3S GPS two way radio
1 x Battery
1 x Antenna
1 x Adapter
1 x Charger
1 x User's manual
1 x Belt clip
1 x Sling
Product Reviews
---

ypatios

Nice little DMR radio, excellent value for money

Reviewed in United States

on

Oct 16,2018

Very robust, dropped down twice and nothing bad happened. Sound quality is very good, both transmit and receive. Sounds like a much more expensive radio. Operates on analogue as well, which is very nice since you can have both analogue (many repeaters out there and many radios) and DMR on one device. You absolutely need the programming cable to configure. Note that you need a license to use it, such as an amateur radio operator license, depending on which country you line in. The only thing I don't like is that the battery only lasts for two days in listening mode or one day if you transmit as well, so you need to put it on the charger frequently AND the charger is really slow, takes hours to charge fully. If you intend to use it in the field often, buy a second battery (which can be a challenge due to the recent strict post legislation). Other than that I really love this radio and wait to see its long term reliability.

LynxZ

Really nice radio,defective out of the box, but immediately replaced by Retevis.

Reviewed in United States

on

Oct 16,2018

Item came on time, but when I was using it I noticed that when pushing the PTT button, the screen would completely distort and then go white. I had to turn radio off and back on to fix this. So,back it goes. Bad QC? Contacted Retevis, they responded in a timely manner but wanted me to take a video of the issue and sent it to them. If I buy an item I want it to work out of the box. So I will return the radio. Update: 9/21/18. Immediately after I posted my review, I was contacted by Angela from Retevis Direct and they shipped me a new unit, no Questions asked. I received it yesterday and I must say I am so happy and excited, Retevis really stands behind their products and they want the customer to be 100% satisfied. They apologized numerous times and I am really impressed by their customer service. This is my 2nd Retevis product and I will be a customer for life after this experience.

Jarette H

starsGood device for cost and use.

Reviewed in United States

on

Oct 16,2018

I have digital and analog devices so the setup was easy out of the box. The device runs and operates as expected to and the battery so far has been lasting 2+ days depending on use. The only issue I have was not being able to add channels from the device, but being able to edit them is possible. The other features of the radio seem a little confusing at first, but once you get past the learning curve it's much better. Overall it's a great radio and I would definitely recommend it.

DG1JC

Top item for less money

Reviewed in United States

on

Dec 26,2015

Chinese manufacturers have arrived in the luxury class. This device does not need to hide from brand manufacturers. The large-signal immunity is perfect. The storage facility, and the battery life is better than the brand-name manufacturers. Qualitatively better than any ICOM, YAESU, or similar device. Have the device now for 3 months and I am absolutely satisfied. Die Chinesischen Hersteller sind in der Oberklasse angekommen. Dieses Gerät braucht sich nicht vor Markenherstellern zu verstecken. Die Großsignalfestigkeit ist perfekt. Die Speichermöglichkeiten und die Akkulaufzeit ist besser als bei den Markenherstellern. Qualitativ besser als jedes ICOM, YAESU oder ähnliches Gerät. Habe das Gerät nun seit 3 Monaten und bin absolut zufrieden.

W6CSP

The Next Version Needs to be Dual Band

Reviewed in United States

on

Dec 25,2015

I strongly recommend the designers start working on a dual band unit (if they have not already started.) Thank you

Reviewed in United States

on

Dec 23,2015

I bought 2 of the RT3 for DMR mode , very good products ! Many thanks for your very good RT3 modell for DMR

M6SEU

Top Quality. Not Expensive

Reviewed in United States

on

Dec 15,2015

I bought my RT3 3 months ago it has worked flawlessly ever since. This is a sensitive radio in receive mode and has good audio in TX and RX. Easy to program for the Amateur DMR networks. Strongly built High Class Radio.

db9pz

Not expensive, let not say, cheap!

Reviewed in United States

on

Dec 14,2015

I Nougat my Retevis RT3 one month ago, I never regret, my desicion. Best buy for the Euro.

Matthew M

Affordable Alternative to Motorola

Reviewed in United States

on

Dec 13,2015

I was skeptical at first about the quality of a DMR radio from China, but after using it for a few weeks, I'm a fan. Yes, it's a clone of the XPR 7550 in a lot of ways. No, it doesn't have the selectivity or sensitivity of a Motorola. But it is a very usable radio for a very good price. The software is easier to use than MOTOTRBO CPS, too. The FPP features can be a bit buggy, and if they fixed those issues I'd happily give it 5 stars. I also wish they'd document what encryption algorithm the enhanced privacy feature uses. The key is MUCH larger than 40 bits, so it's not ADP. It may very well be AES256 based on the key length. At any rate, two of the MD380 radios will successfully talk encrypted to each other when the key information matches. I have not been able to make encryption work between a MD380 and a Motorola XPR 6550 though.

Phil Reams

Radio is exactly as described. Great radio to get your feet wet with DMR

Reviewed in United States

on

Nov 10,2015

Its not the revered bathead product, but for a sub-$200 product that supports MOTOTrbo DMR, its wonderful. The radio has good heft, solidly made and works as advertised. The radio is flawless when examined on my Motorola service monitor. Everything was in spec. The CPS software, like all CPS programming software requires a doctorate to understand and is not for the faint of heart. Not a big deal--if you are a newcomer to DMR, you might want to get an example codeplug to start out and use it for an example to learn from. I was an absolute noob to DMR and I was able to figure it out by using Tennessee's VolNet codeplug to work off of. It only took me a couple of hours to get the hang of it. Now I can help friends out pretty easily customizing codeplugs to their liking. Thus far, the radio has performed flawlessly.