AILUNCE HD1 DMR Digital VHF/UHF Handheld Radio With CTCSS/DCS TONE SQUELCH long range waterproof walkie talkies for Business, outdoor activities.


Supports both digital and analog modes, compatible with existing analog systems, users can gradually switch analog terminal settings according to budget and actual communication needs.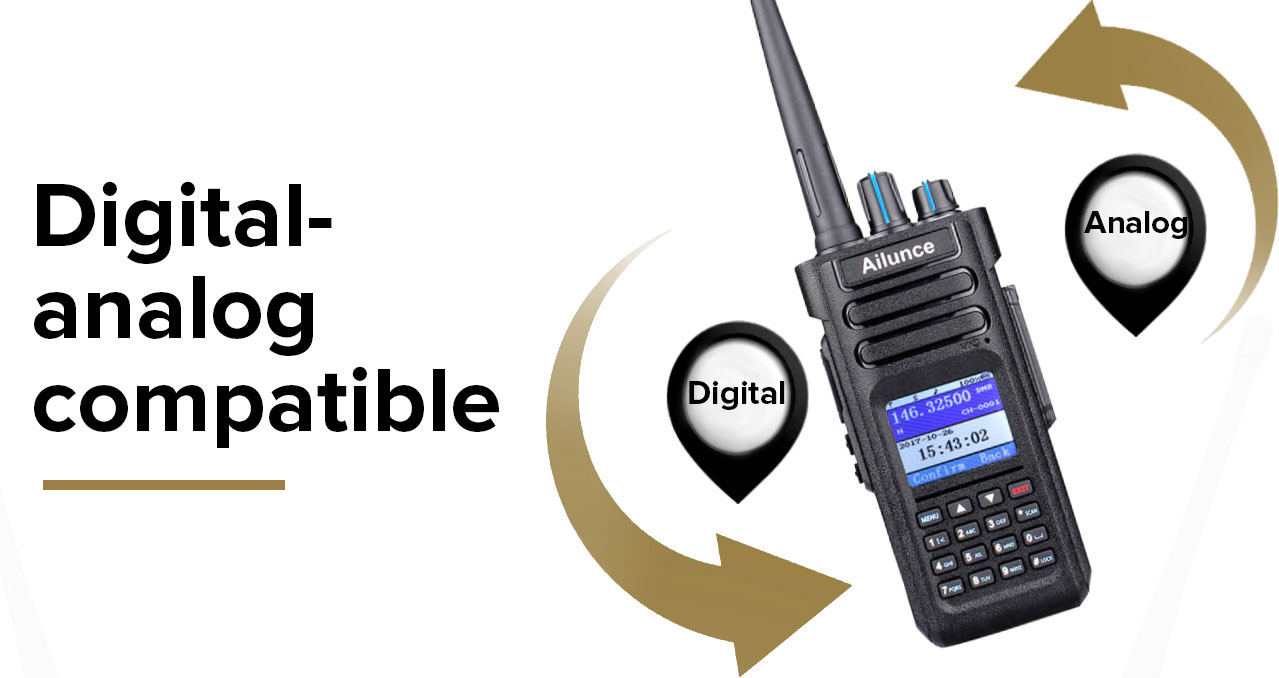 Dual time slot for point to point supports two group calls in one channel under direct model; 3000 channels, 20000 priority contacts enable you to call the people important to you more convenient.


Waterproof walkie-talkie HD1 has VFO mode; very easy to learn and use.3200mAh battery enable normal use 7 days standby / 2-3 days typical use / Continues use 12-16 hours.0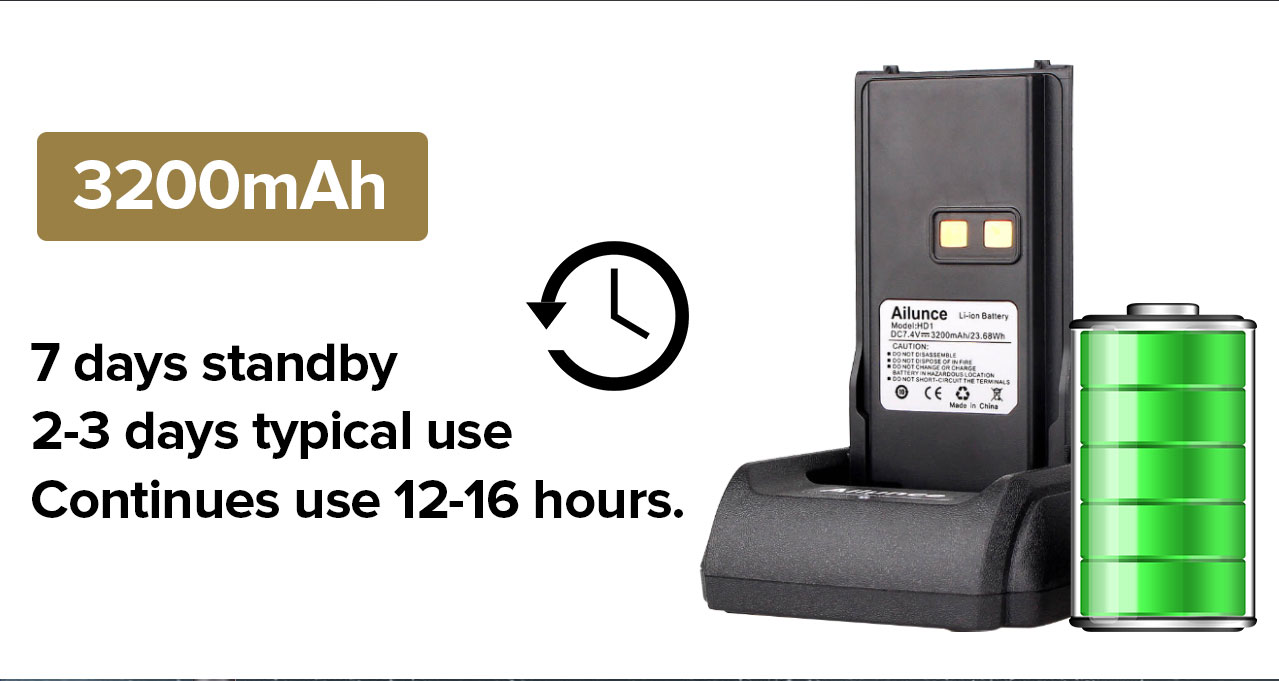 HD1 has GPS positioning function, GPS function gives you latlong; altitude; bearing; and speed information SMS function support to text the information to another radio with the same DNA protocol. In the event of an emergency, GPS can be used to locate the team's location for emergency rescue.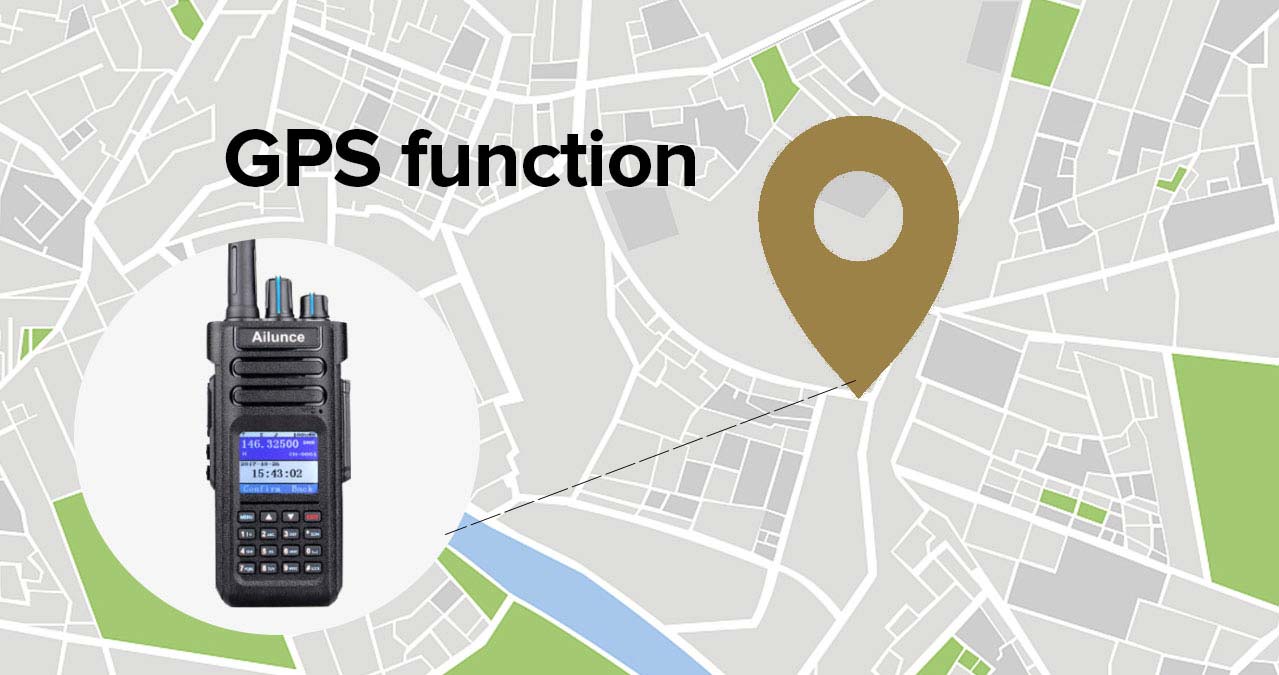 IP67 waterproof rating, can be immersed in 1 meter of the water for 30 minutes,waterproof and dustproof function, can be used in rainy and snowy weather, very suitable for outdoor skiing activities.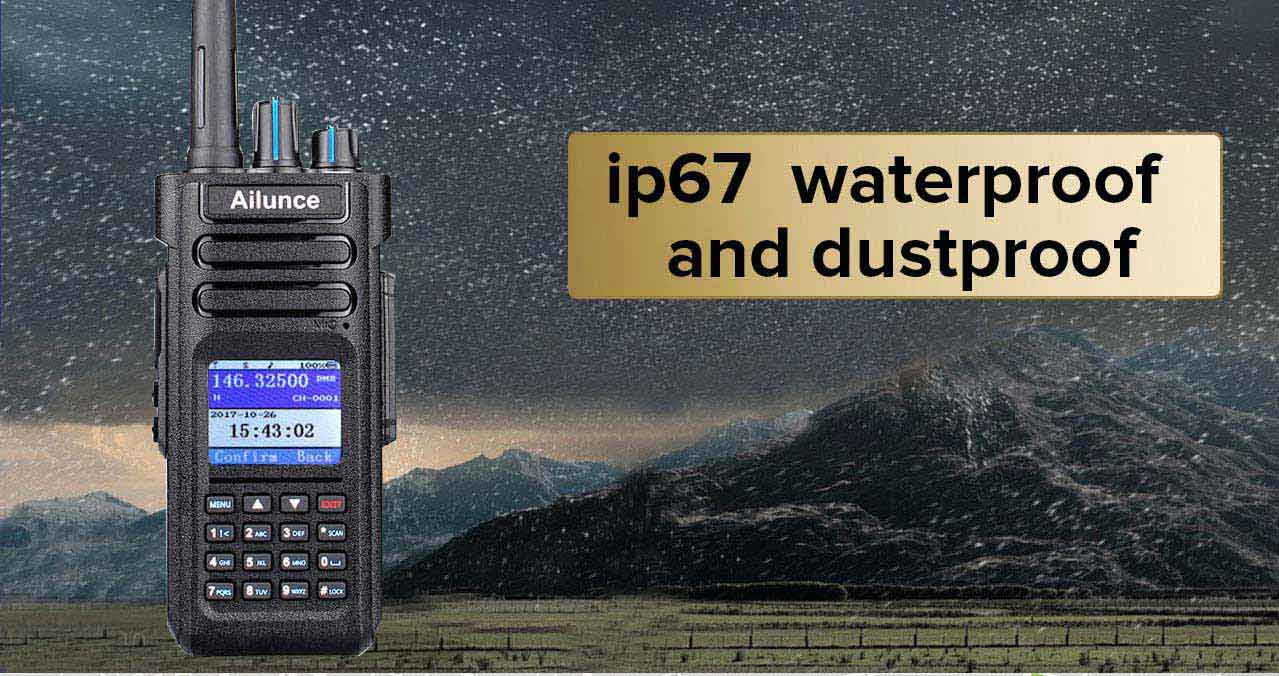 package and details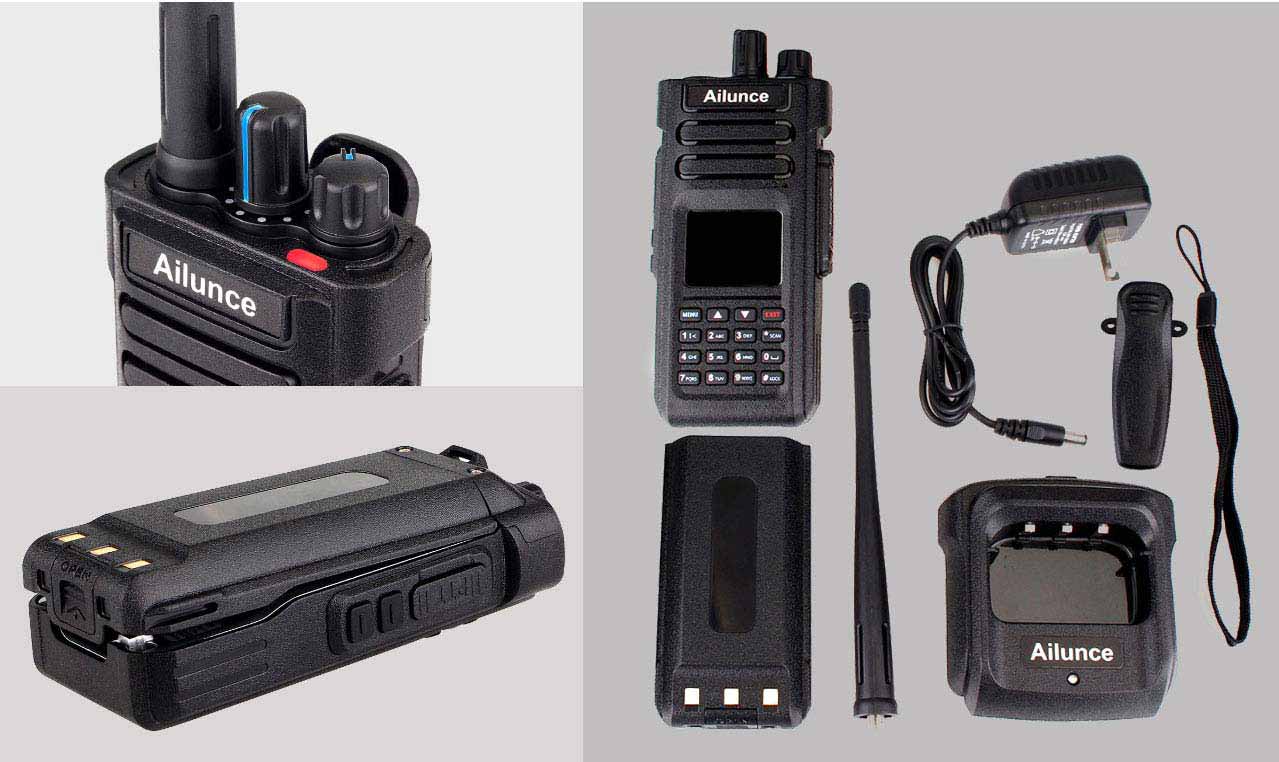 Frequency
136-174 /400-480MHz /76-107.95MHz (Receive only )
Channels
3000
Operating Temperature
-30℃~+60℃
Operating Voltage / Power supplied voltage
7.4V DC / 12V DC
Dimension / Weight / Display
150 x 64x 40mm / 360g (with battery ) / LCD Colour
Channel Spacing
Analog 25/20/12.5KHz / Digital 12.5KHz
Battery Type / Battery Capacity
Li-ion / 3200mAh
Global Position System (GPS)
TTFF – 49sec Cold start / 8sec Warm start / Horizontal accuracy ≤2.98meter
Antenna Impedance
50 Ω
Transmitter
Transmit Power/ Current
VHF 10W/5W/1W / UHF 8W/4W/1W - Selectable
Frequency Stability
+ - 1.0 ppm
FM modulation mode
12.5KHz@11K0F3E 25KHz@16K0F3E
4FSK Digital Mode
12.5KHz(data only):7K60 FXD / 12.5KHz (data and voice):7K60FXW
Modulation distortion
<5%
Vocoder
AMBE+2TM
Adjacent channel power
60dBm@12.5KHz / 70dBm@25KHz
Audio Response
+1~ -3dB
Digital Protocol
ETSI-TS102 361-1,-2,-3
Receiver
Analogue Sensitivity
0.16 uV (12dB SINAD)
Digital Sensitivity
0.14 uV (5% BER)
Inter modulation
70dB
Spurious Response
TIA603C:75dB ETSI:70dB
Audio Response
+1~-3dB
Rated Audio Distortion
≤3% (Type)
Audio Power
≥500mW
General Specifications:
GPS Function: Gives you lat long, altitude, bearing, and speed Support to text the information to another radio with the same DMR protocol.
VFO mode: Supports VFO and Channel model switch easily via EXIT key.
Group call match: Call freely without group restrictions.
Dual time slot: Supports Dual time slot and point to point
ID Setting: Supports save and edit radio ID via keypad FM Function: Support receive signal from other radios when you listening radio
Dual Band DMR Radio
Analog and Digital Combined
Compatible with Motorola Tier Ⅰ&Ⅱ
200000 Contacts
1000 Priority Contacts
Dual Time Slot for Point to Point
Firmware Upgrade-able
IP67 Waterproof
Scan:Time/Search/Carrier
Lone Worker
Single/Group/All call
Remote kill/stun/activate
Color LCD Display
Transmit/Transceiver interruption
CTCSS/DCS
Analog Monitor
Comply with Digital Protocol ETSI TS 102 361-1,-2,-3
VOX
TOT
Talk around
Squelch
Keypad Lock
LED Indicator
Password Lock
Battery Save
Voice Annunciation
long range waterproof walkie talkies
Order Handling Time within 3 Working days(Pre-sale products excluded).
141401 PEOPLE ARE LOOKING FOR THIS PRODUCT
What's in the Box?
1 x AILUNCE HD1 DMR Radio

1 x 3200mAh Rechargeable Battery

1 x Battery Charger

1 x Antenna

1 x Belt clip

1 x Wrist wrap

1 x UK Power Adapter

1 x English Manual
Product Reviews
---

You can program the entire radio from the front panel there was no need for a computer which makes it an excellent feature. Their customer service Department is excellent

Reviewed in United States

on

Mar 28,2020

I received my HD1 2 days after placing the order. I am very impressed with the build quality and the overall features with this radio. You can program the entire radio from the front panel there was no need for a computer which makes it an excellent feature. Their customer service Department is excellent. I had a minor issue with the radio getting hot when using high power I contacted customer service and they responded to me in less than 24 hours on how to remedy the problem, that being said I would recommend this radio to anyone with an amateur radio license that is looking for a handheld DMR radio

Reviewed in United States

on

Mar 28,2020

The hardware alone would make this a 5 star product. Has more capabilities than others in it's field. I can't wait for the software to mature. The CPS is not intuitive and it's hard to find good instructions on how to get a good code plug made. There is a lot of support on their Facebook page from other users as we as You Tube videos. Sturdy construction and battery life are some of it's good qualities. I would recommend this radio. One person found this helpful

Great professional radio for DMR ham radio operators.

Reviewed in United States

on

Mar 28,2020

Great DMR radio for ham radio. It has a professional build that you would expect on high end professional radios. The brightly lit screen is filled with color. The software is always updated. The battery life is also very good. Retevis has provided awesome customer service. They are also always working on improving the radio. The ability to program the radio from the front panel is definitely a plus. I hope to see in a software update the ability for the scan to be faster as well as promiscuous mode to have the ability to scan with multiple functions at one time to pick up all DMR signals. All and all it is a great radio for DMR and analog needs. I am a student and use this radio on weekends for social reasons. In the summer I work outside. Having an extra set of communication helps with safety, as well as constant updates of information which really allows me to work confidently in the great outdoors.

Reviewed in United States

on

Mar 28,2020

Everything you love about the md2017 is here. Everything you hate about the 2017: fragility, short battery life, and that dreadful track ball are not in the hd1. More power, sturdier, the option to forego zones and a more straight forward code plug. Only disappointment so far is only 2 color codes and 2 choices of bandwidth. Some analog repeaters prefer narrow deviation than 25 khz. 2 whole days on a single charge!

Ailunce HD1 GPS radio the best radio for someone new to DMR radio

Reviewed in United States

on

Mar 28,2020

I'm New to DMR radio. this radio (HD1) is very easy to program with the software they have on their site. the radio has plenty of power with 10 watts on VHF and 8 watts uhf. the radio can be programed from the front panel when you are on the go or at a swap meet without having to take your Laptop. Now for the bad: guess what there is no bad. If your looking to get into DMR radio this is the one you need to buy. 3 people found this helpful

Great DMR radio with excellent support from Retevis

Reviewed in United States

on

Mar 28,2020

This is an excellent radio for both DMR and analog. The build quality is very good. The audio is excellent. It works flawlessly with my hotspot. I love the fact I can upload 100,000 contacts with the stock firmware. Other reviewers go into more detail on why this particular DMR radio is so good so I won't repeat their comments. I would like to point out that Retevis provides excellent support which also deserves five starts. I had a problem transferring radio setting from my PC to the Ailunce HD1. It was very frustrating. I contacted their support department and got a reply within a few hours. They tracked my issue in their system and provided a solution that completely solved the problem. I am very happy with the radio and the excellent support. I wouldn't hesitate to buy it again.

XLNT tech support. To hear analog transmissions using the HD-1, use a custom setting

Reviewed in United States

on

Mar 28,2020

I bought the Ailunce HD-1 at the end of June with the intention of using it as my primary H/T radio for both DMR and FM. Configuring the HD-1 code plug with the proper DMR settings took some time. Fortunately, there are lots of helpful websites and YouTube videos that explain the unique terms used for DMR communication such as the Talk Groups and Color Codes. To date, I have made three contacts on DMR and plan to expand my activity in this area. On the other hand, I was frustrated for many weeks in being unable to hear live transmissions that were being routed through local FM repeaters. I could not figure out why this was happening, as I had entered the same PL (CTCSS) codes that worked fine in my other H/T radio that only does FM. I originally thought my HD-1 had a defective speaker, so I was able to connect with Angele, Retevis' Support Representative for Amazon, who graciously arranged to exchange my original radio with a new replacement. At first, the replacement radio didn't fare any differently than the original one I bought from Amazon. Angela provided me with early access to a firmware update that had not yet been released on its website. Installing the new firmware didn't provide audio reception functionality, either. Finally, I was asked to email a copy of my code plug so that it could be analyzed by Retevis' engineering staff. That proved to the game changer. Angela emailed the engineer's suggestion that I disable the CTCSS receive (RX) and transmit (TX) codes f

4.0 out of 5 stars Good Amateur Tansceiver!

Reviewed in United States

on

Mar 28,2020

Reviewed in the United States on February 23, 2018 Verified Purchase Update: 25-August-2018: Ailunce creates a new firmware and addressed many issues reported in my review; hence, I updated my review from 4-stars to 4.5-stars. I purchased the HD1 and the HD1GPS; and, my experiences with both transceivers have been positive. The reason I purchased this transceiver is I needed a back-up to my Motorola XPR 7550e (UHF), XPR 7550 (VHF), and XPR 7580 (UHF); and, I was hoping the Ailunce HD1GPS would be the back-up to my Motorolas for my ICS-based Emergency Comms Operations. Unfortunately, because the Ailunce HD1GPS is Direct Conversion without an effective front-end filter (I don't know if it has a front-end filter), I cannot use it for my ICS-based Emergency Comms Operations. Since, Ailunce marketed the HD1GPS as a HAM transceiver and not as an emergency mission-critical transceiver, I will not ding it for desensitize communications. My Motorolas are Super Heterodyne, and I, now, have FPP; hence, they are my only comm tools for my ICS-based emergency comms. While the HD1GPS is not a Motorola, it is a step in the right direction; and, it does a good job in the stuff it's suppose to do for social HAM operations and personal emergency comms when isolated from other operators: RX and TX. - Audio Quality: 5-Stars: The speaker provides clear and hi-quality RX. It is loud and can overcome any competing background noise out in the field. Audio RX is inbalance in that it favors high-

Reviewed in United States

on

Sep 29,2019

It's work good

Reviewed in United States

on

May 10,2019

These are nicely made and fit well in hand. The various accessories included make the units more versatile. Perfect for what we needed them for, no issues with use.