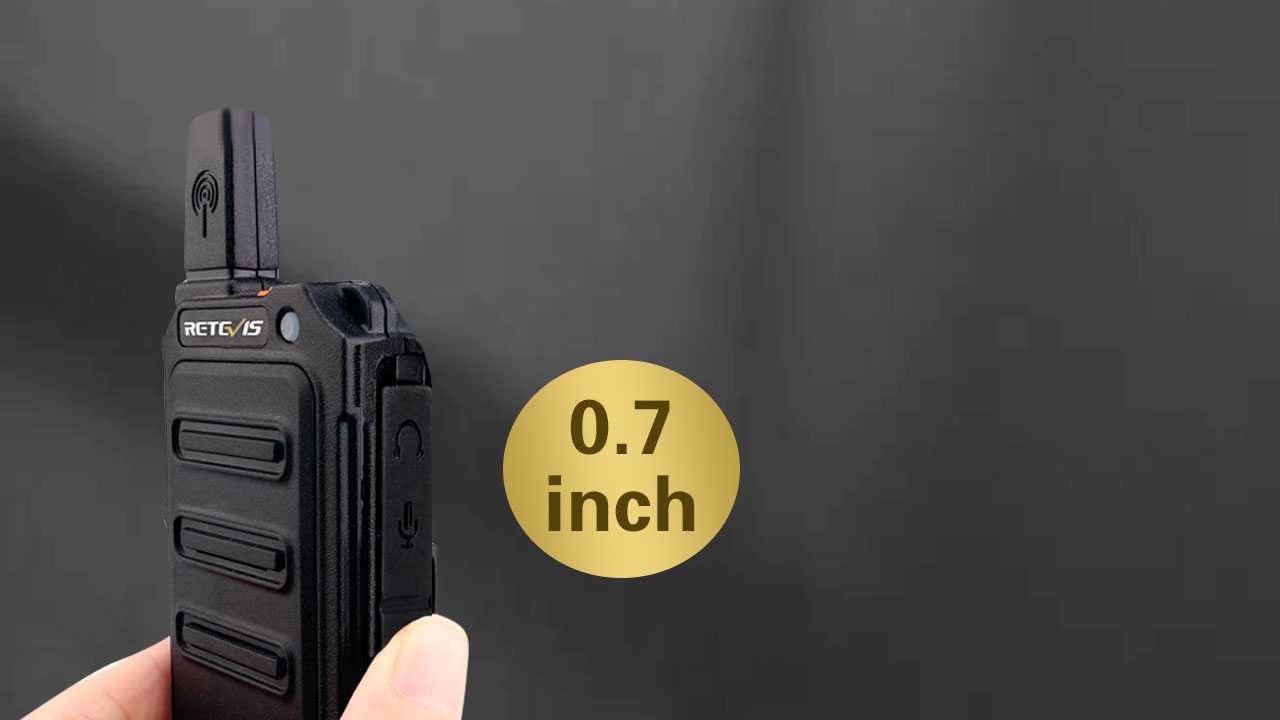 Compact and slim design
The body is 0.7 inches thick; it weighs only 0.2 pounds; which can fit your palm well.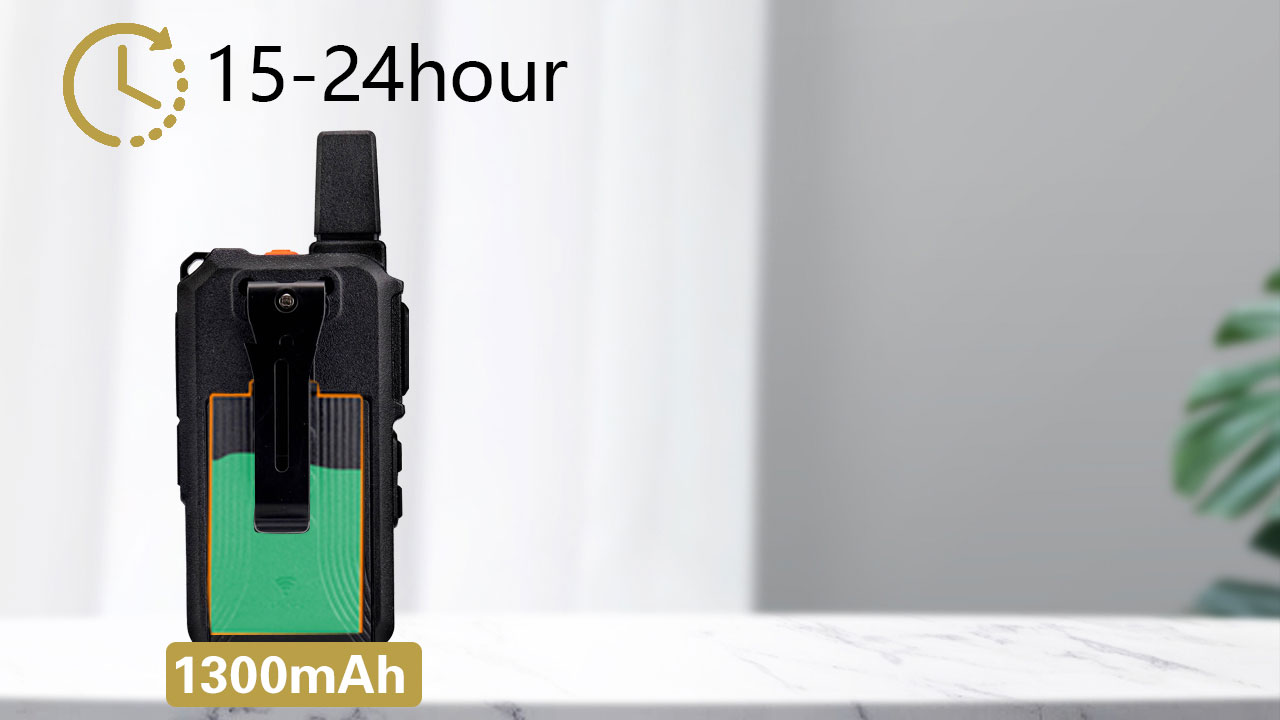 Long life battery
Small body, built-in 1300mAh battery; provides 15-24 hours of use time, fully meet the daily working time.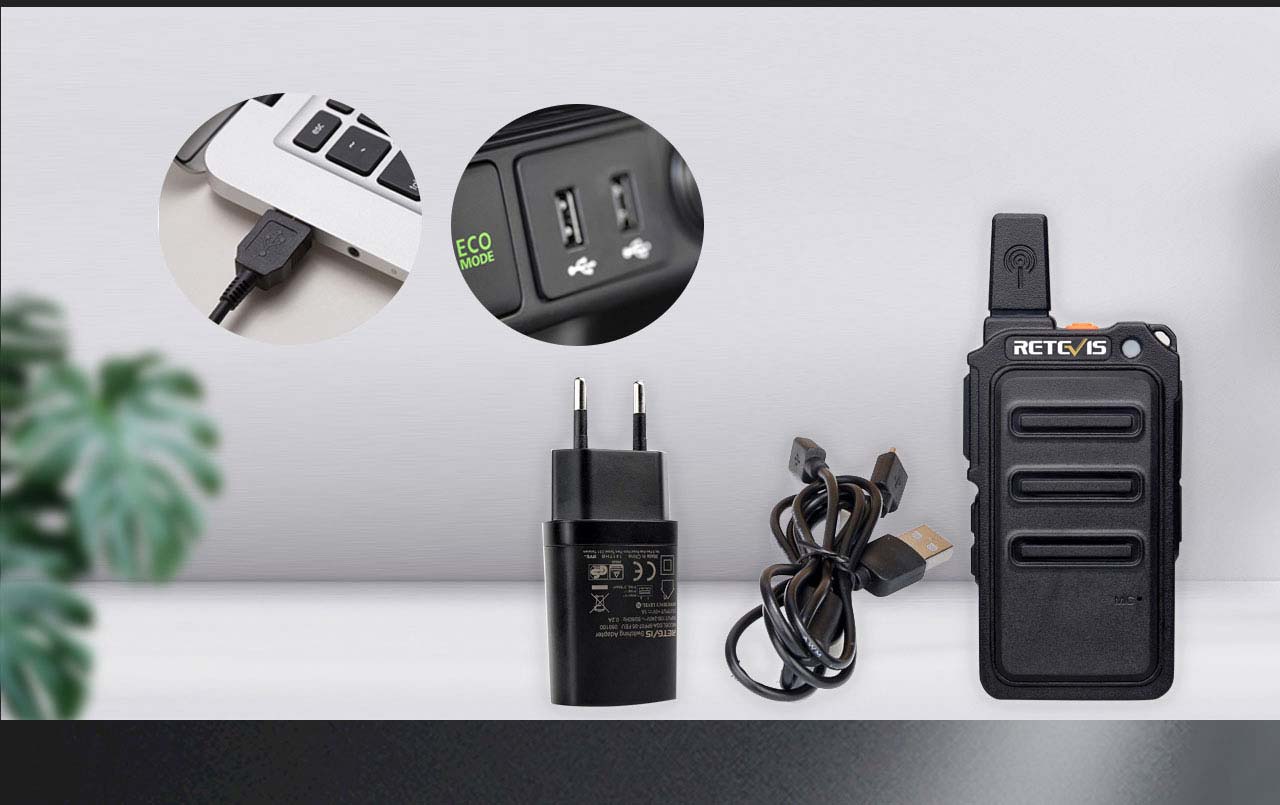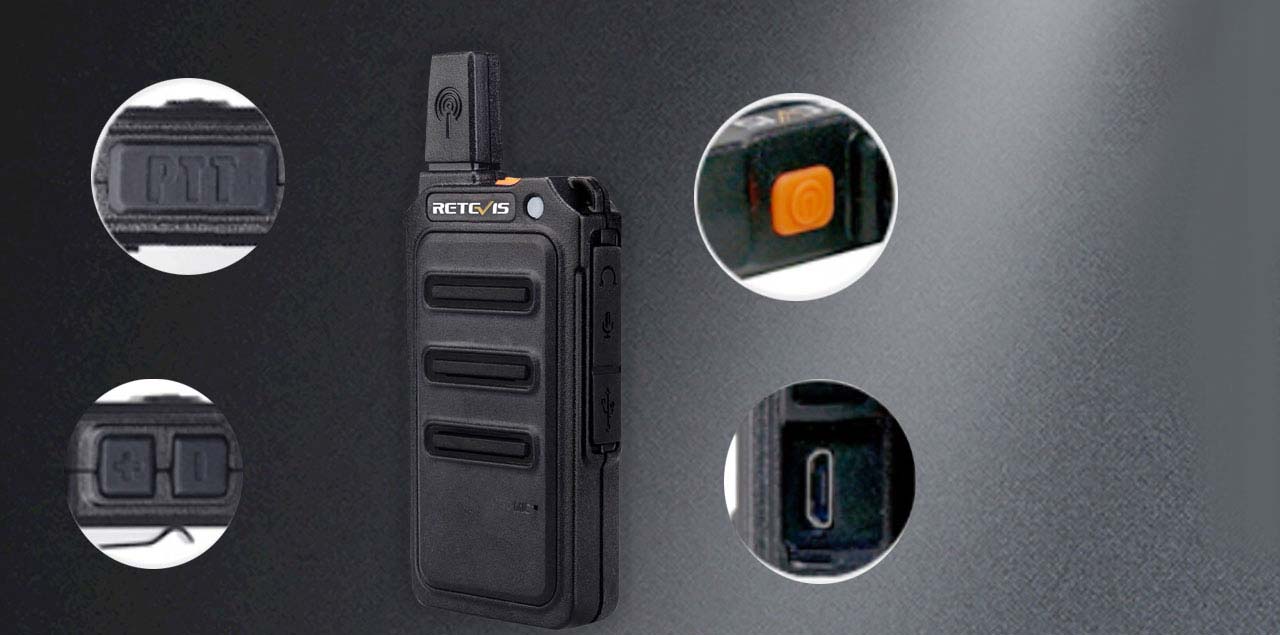 Easy to use
The body only has PTT button, channel, volume adjustment, power button, suitable for children and adults.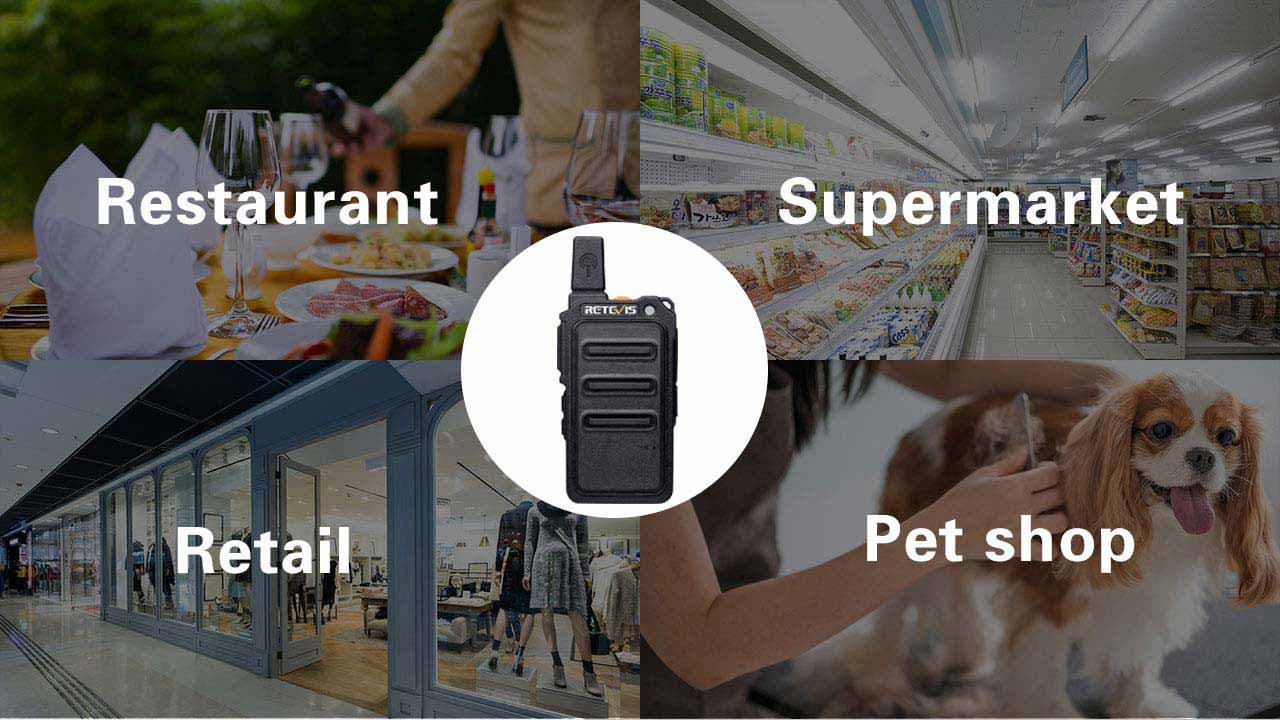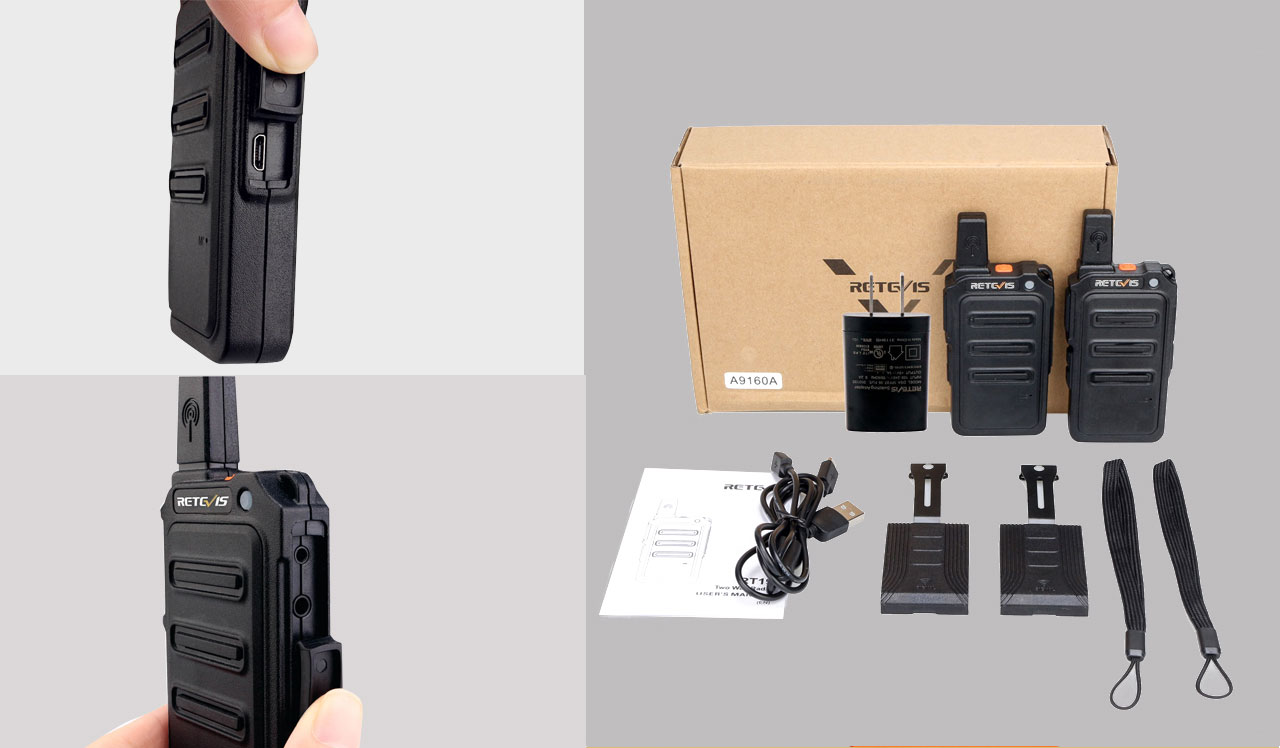 General
Model Number
RT19
Frequency Range
US:FRS
Channel Capacity
22
Battery Capacity
Li-ion 1300mAh
Working Voltage
DC 3.7V
Antenna Impendence
50Ω
Working temperature
-20-60℃
Weight (Include battery)
90g
Size(Include antenna)
122x50x18mm
Transmitter
Output Power
≤2W/≤0.5W
Modulation
16K F3E / 11K F3E
Maximum Frequency Deviation
1≤5KHZ / ≤2.5KHz
Remanent Radiation Mode
≤7uW
Electric Current
≤1.2A
Modulation Distortion
≤5% (300-3000Hz)
Receiver
RF Sensitivity
≤0.25uV / ≤0.3uV
Audio Frequency Power
≥200mW
Audio Distortion
≤5%
Inter-Modulation
≥60dB
Adjacent Channel Selectivity
≥65dB
Spurious Rejection
≥55dB
Firmware/Software
---
win11-DriverInstaller

The win11 driver is compatible with win10, win8 and win7 systems.
Accreditations
---
Accreditations
---
RT19-FCC-Certificate
RT19-IC-Certificate
RT19-UL62368-Certificate
Portable
Ultrathin fuselage
License free
NOTE: Programming software: please click "

support

" to download
Order Handling Time within 3 Working days(Pre-sale products excluded).
25950 PEOPLE ARE LOOKING FOR THIS PRODUCT
What's in the Box?
2 x RT19/RT619 Two Way Radio

2 x Battery

2 x Belt Clip

2 x Strap

1 x Micro-USB cable

1 x User manual

1 x

Adapter
Product Reviews
---

Reviewed in United States

on

Apr 23,2020

2 pcs Retevis H777 Cheap Walkie Talkie Radio 3W UHF Handheld Transceiver Two-way Radio USB Charging Walkie-Talkie Communicator

Reviewed in United States

on

Mar 31,2020

cs Retevis RT15 Mini Walkie Talkie Portable Two Way Radio Station UHF VOX USB Charging Transceiver Communicator Walkie-Talkie

Reviewed in United States

on

Oct 28,2019

Good radios easy to used very Light weight Comfortable to Carry it, Go for camping biking or walking. Great radio for family fun days I recommend it

SharonSwetha

Radio in from Garage to Bedroom :-)

Reviewed in United States

on

Oct 11,2019

The range is very good on this Walkie talkie. The setup is very easy, there is a belt clip on push the clip up and remove the clip.After waiting for sometime, I was truly excited to discover how right I was to buy these radio walkie talkies.

Wanda Tsang

Perfect for hiking

Reviewed in United States

on

Oct 11,2019

We bought them because our family loves hiking and thought they would be great for all outdoor activities. Our family had so much fun testing them. These walkie talkies work great! They are very simple to use and the signals are very clear with a pretty good range.

Michael Brightwell

Great to have around

Reviewed in United States

on

Oct 11,2019

There are a lot of FRS/GMRS personal radios, but in my use of these radios, these are great, especially for outdoors use. I was excited to receive these radios to use during outdoors activities. I spend a lot of time outside, including walking, hiking, nature, farming, traveling and more. If you're looking for radios to keep in touch while outdoors.

Andrew B

Great radio, feels nice in hand

Reviewed in United States

on

Oct 11,2019

We bought these for our 5 and 7 year old to be able to communicate with each other and with us while playing in the neighborhood. Has great range... even in a some what urban area with lots of houses and building we can hear each other crisply from blocks away.

knitting ninja

Very nice for camping, for the car in winter, or for the home!

Reviewed in United States

on

Oct 11,2019

It's nice to have a radio, FRS radio available for emergencies and that is what this is. I keep mine plugged in and its always ready. From the ground up this is built to be an emergency tool

Gems

Perfect for what I need it for.

Reviewed in United States

on

Oct 11,2019

This walkie talkie is a great investment. I bought it for work because we use the same brand but all staff must share them. The morning shift and afternoon shift interchange. I was so frustrated with going to work and not finding the same walkie I had the day before so I bought this one. It also great for my home emergency kit.

Reviewed in United States

on

Oct 11,2019

like very much! The radio is very practical. Satisfied with battery life, you can also install batteries.