RT30 High Quality Paired Owl Walkie Talkie Toy
1.Owls shape, ears will flash
RetevisRT30 is developed for children over 2 years old. The mouse is very cute and easy to operate. When the child talks, the mouse ears will flash different colors. Use it brighter at night. The children like it very much.
2.Simple operation
RetevisRT30 is a basic walkie-talkie. The production material is safe, the walkie-talkie is very light, and it can be used after installing the battery.
3. Educational toys that children must grow up
Walkie-talkie is a toy product with good knowledge of radio and electromagnetic waves. Discover children's interest in radio and electromagnetic waves. In addition, the walkie-talkie toy is the perfect holiday gift.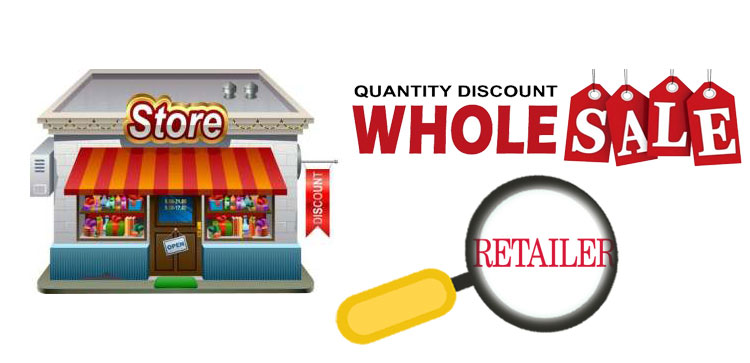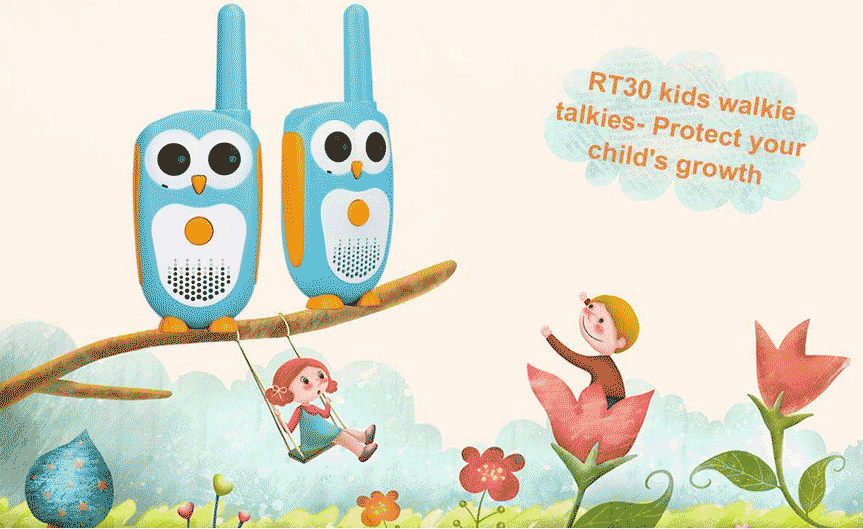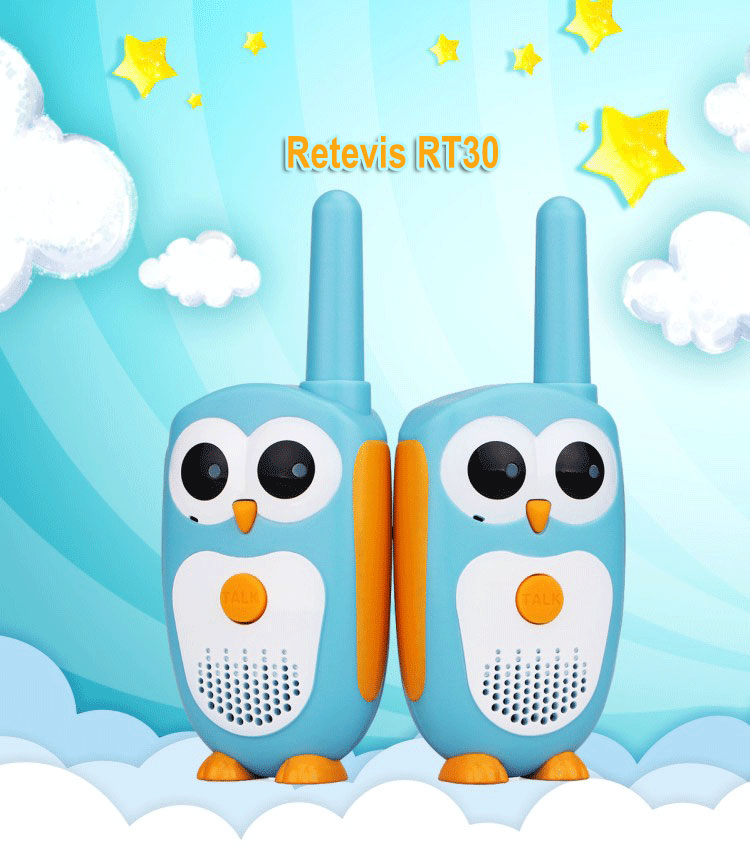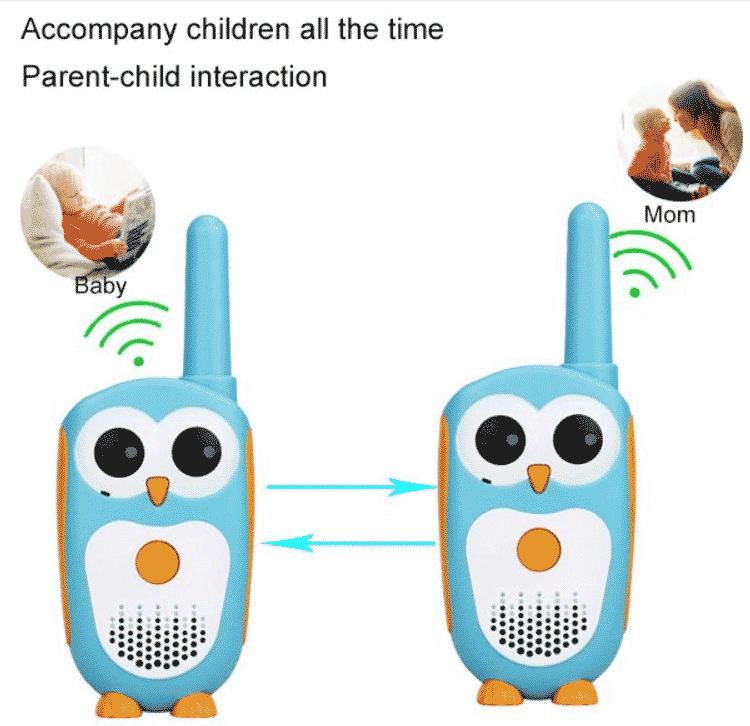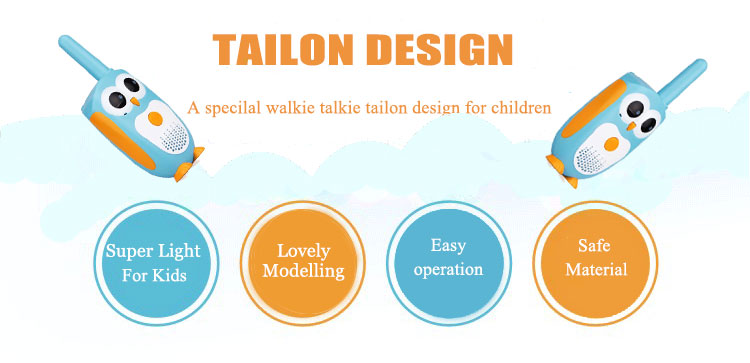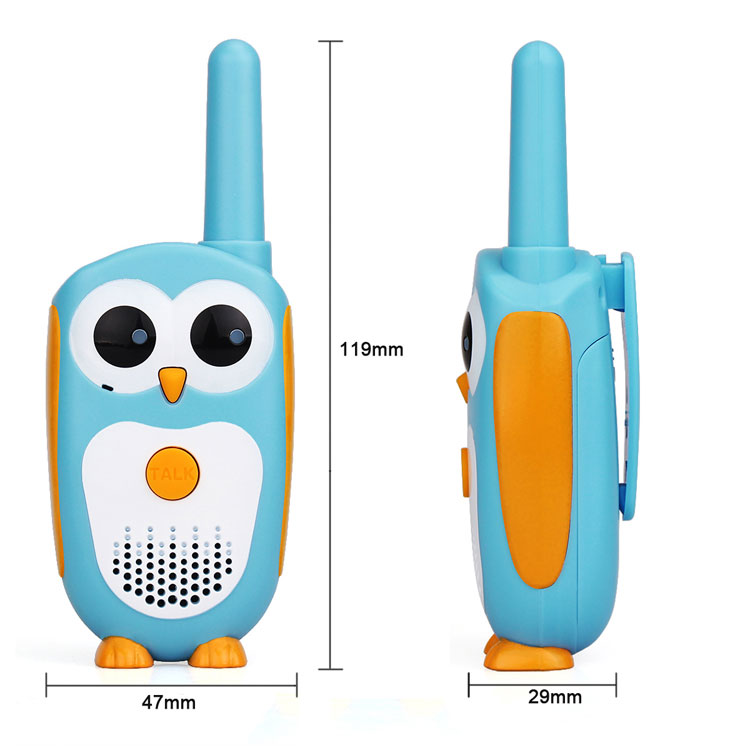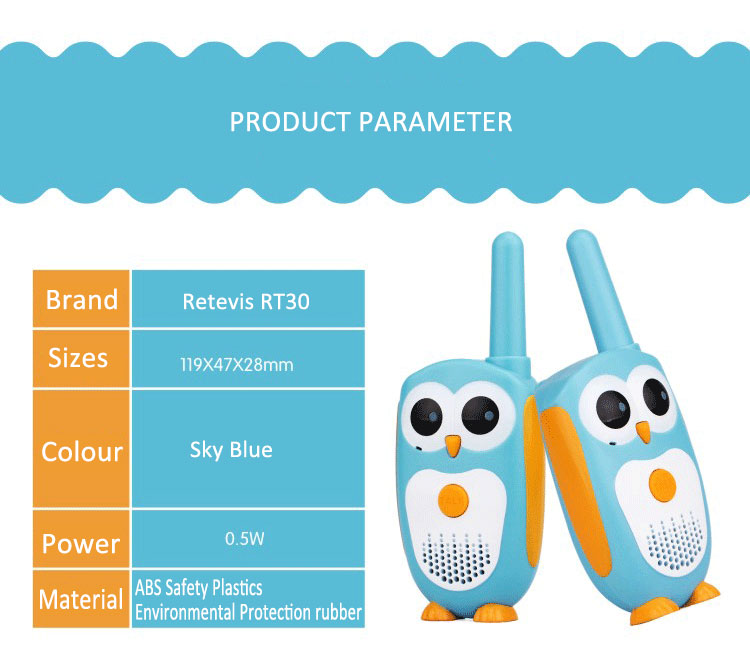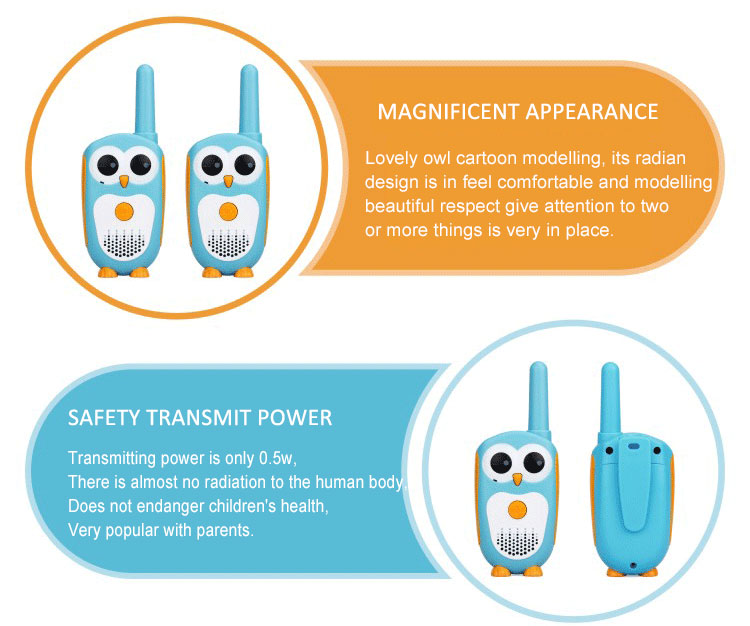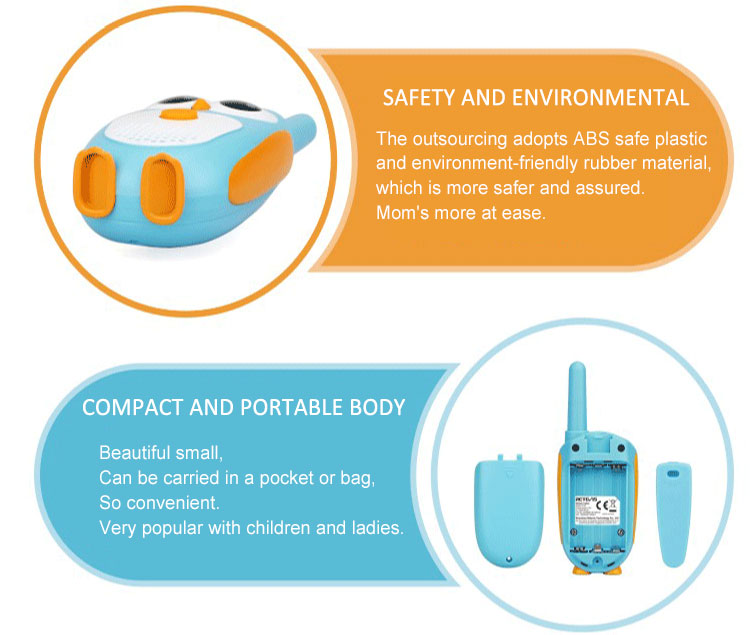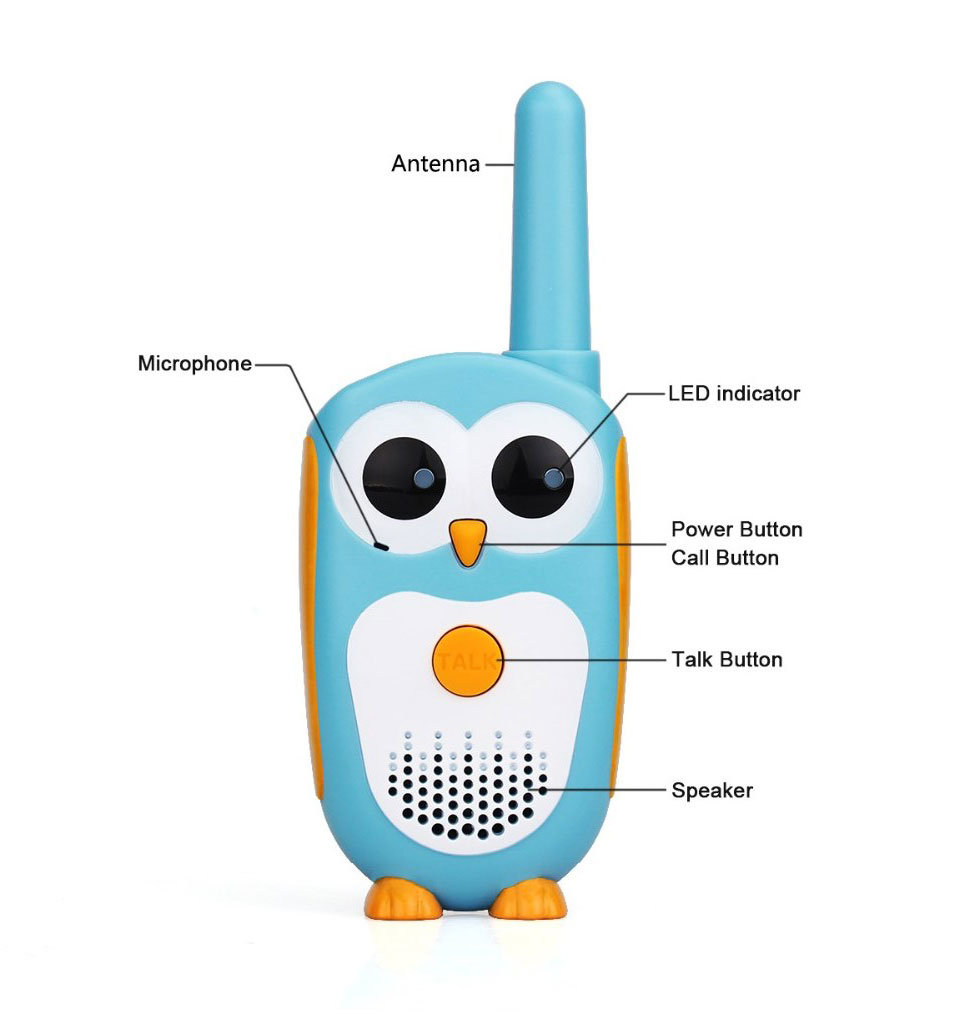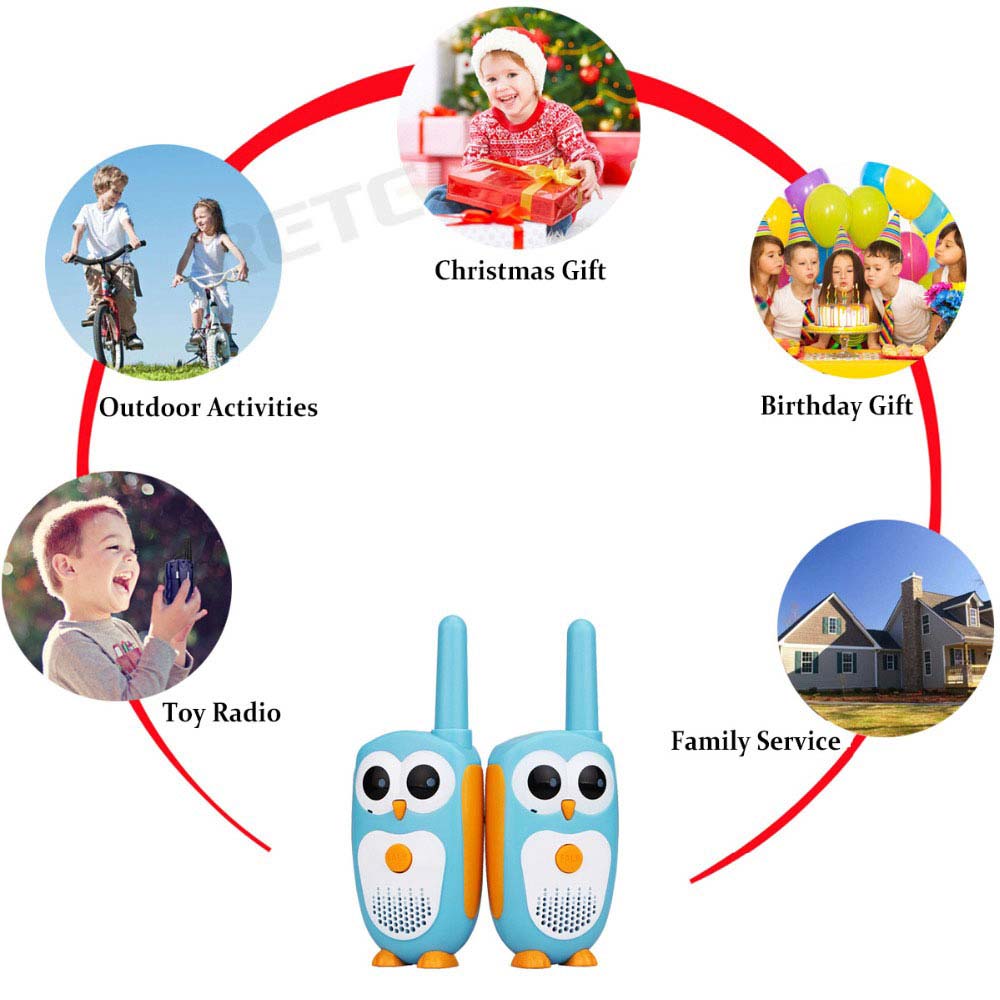 Specifications
| | |
| --- | --- |
| Product number | RT30 |
| Frequency | FRS |
| Working voltage | 4.8V |
| Battery Type | 3* "AAA" batteries (Not Included) |
| Frequency stability | ±2.5ppm |
| Operating temperature range | -20℃~50℃ |
| Antenna impedance | 50Ω |
| Overall dimensions | 140*55*28mm |
| Weight | 79g |
| Rf power | 0.5W |
| Modulation method | 11k∅F3E |
| Noise and harmonic | <-40dB |
| Residual Radiation | ≤-35dB |
| Modulation distortion | ≤7% |
| Maximum deviation | ≤±5KHz |
| Sensitivity | ≤0.2uV |
| Modulation receiver bandwidth | ±5KHz |
| Adjacent selective | ≥40dB |
| Intermodulationinterference resistance | ≥35dB |
| Spurious response inhibition | ≥70dB |
| Audio output power | ≥300mW |
| Audio distortion | ≤8% |
Feature:

Call Tone
CTCSS&DCS Encode/Decode
Automatic shut-down
Long standby
PTT key to talk
Talking ear flashing
easy to use
Accreditations
---
Accreditations
---
RT30-CE-Certificate
RT30-FCC-Certificate
RT30-IC-Certificate
RT30-DoC-Copy
CPC-RT30
Hot sale cartoon walkie talkie toy
Clear calls, easy to carry
Suitable for 3+ kids indoor and outdoor, school and camping use
Order Handling Time within 3 Working days(Pre-sale products excluded).
14554 PEOPLE ARE LOOKING FOR THIS PRODUCT
Product Reviews
---

Cassie

This seller is Fantastic!,items got here super fast!!

Reviewed in United States

on

Dec 21,2018

Perfect for my grandkids..to be honest they are better quality than I had hoped for!!..and just the perfect size for small hands to work them!....

emanymto

Good times, Good Buddy!

Reviewed in United States

on

Dec 21,2018

We got these for a 4 year old and an 8 year old and the yellow one for their mother!

Kathleen Renzi

Small hand size for little hands

Reviewed in United States

on

Dec 21,2018

What a great little set of walkie talkies! Kids can play and mom or Dad have one also.

Carol A. Collins

Highly recommend these walking talkies

Reviewed in United States

on

Dec 21,2018

Delivered on time and as promised. Price was great. Distance it covers was as promised. The three grandkids are having a ball!!

Heather

Great product for kids!!!

Reviewed in United States

on

Dec 21,2018

The product came earlier than expected, which was wonderful for my kids waiting for them. The product was just as expected and has worked great!

Candyallure

These are battery operated and not rechargeable. That's the only downside.

Reviewed in United States

on

Dec 21,2018

They are exactly what you see in the picture. Very bright colors and heavy duty. My kids love them!

Everett J.

Very good size and easy for kids to use

Reviewed in United States

on

Dec 21,2018

These were ordered for six year old twin girls birthday present. They to contact the girls or their 2 year old brother if left out in the open. The units have been in constant use for days as the girls use them to update each other when bike riding, hide and seek, and many new things daily.

Jazzy zarina

Love the colors

Reviewed in United States

on

Dec 21,2018

This is a Christmas present for my granddaughter so at this point I'm not sure how easy they will be for a 4yr old to use. Also not sure how durable they will be. But the colors are nice and bright. I put batteries in them and they worked fine. I will say that there are a lot of extra buttons that she doesn't need to fool with. But that lets the walki talki be less a toy and more something that can be used for years.

Cayla B.

A fun gift for my son!

Reviewed in United States

on

Dec 21,2018

We purchased these after my son's other walkie talkies bit the dust. We've just started using them, but so far, so good. They are small and cute, bright colored (which he loves), and have good sound quality. The light on the top is pretty convenient for an adventurous little guy! I also love that this comes in a pack of two, so I can play along with my kid

Anil Swain

Nice one for kids

Reviewed in United States

on

Dec 17,2018

A very nice product for the kids to play their spy games. My son is really happy getting this gift.