RT30 High Quality Paired Owl Walkie Talkie Toy
1.Owls shape, ears will flash
RetevisRT30 is developed for children over 2 years old. The mouse is very cute and easy to operate. When the child talks, the mouse ears will flash different colors. Use it brighter at night. The children like it very much.
2.Simple operation
RetevisRT30 is a basic walkie-talkie. The production material is safe, the walkie-talkie is very light, and it can be used after installing the battery.
3. Educational toys that children must grow up
Walkie-talkie is a toy product with good knowledge of radio and electromagnetic waves. Discover children's interest in radio and electromagnetic waves. In addition, the walkie-talkie toy is the perfect holiday gift.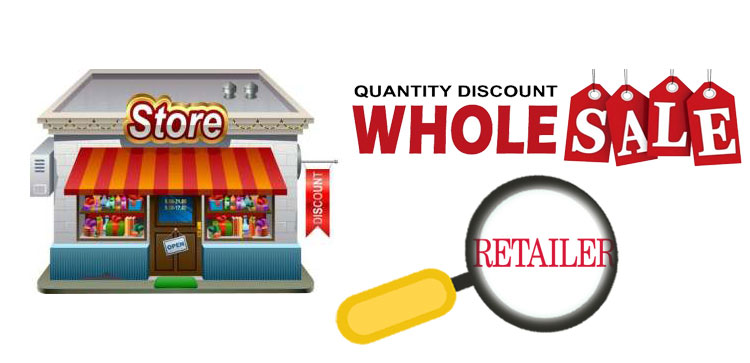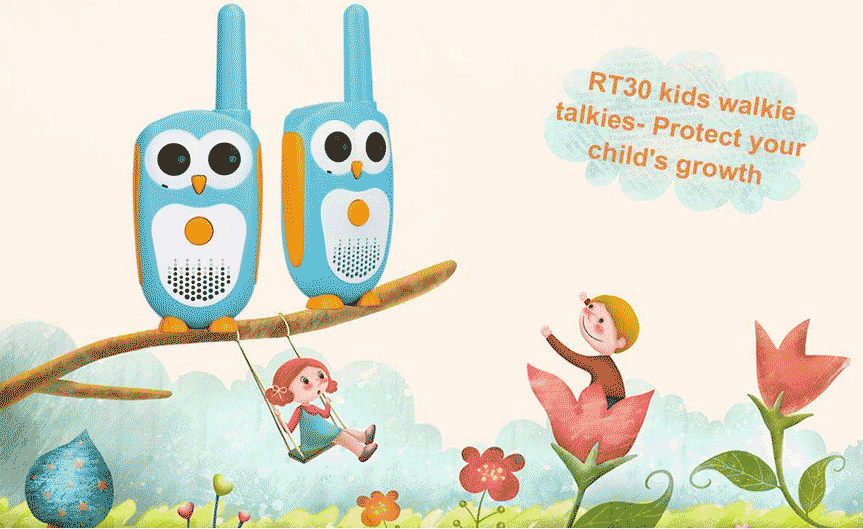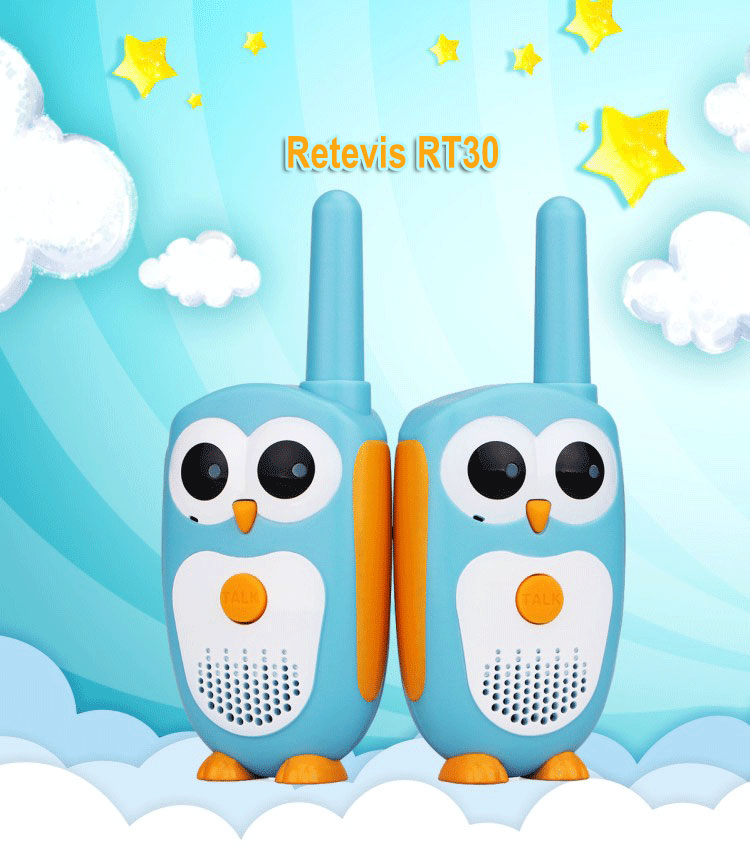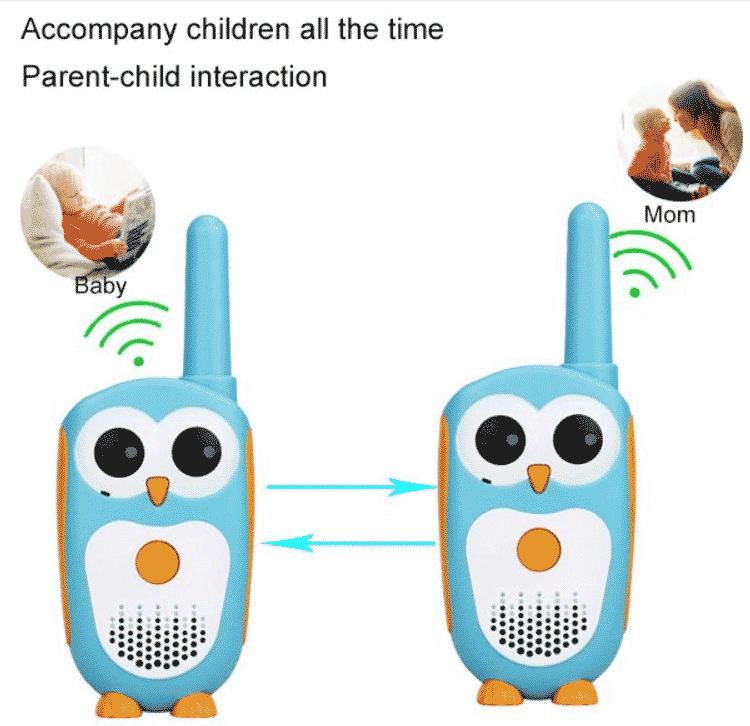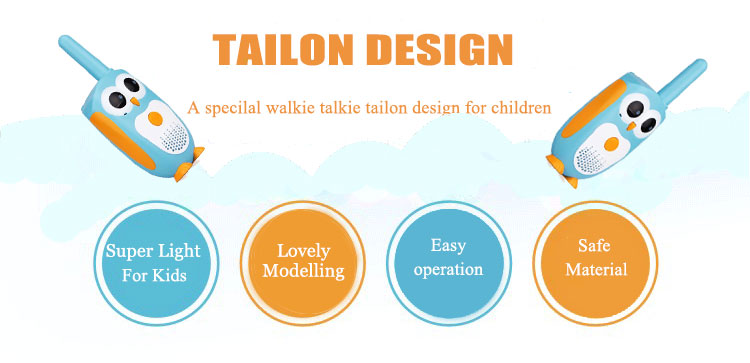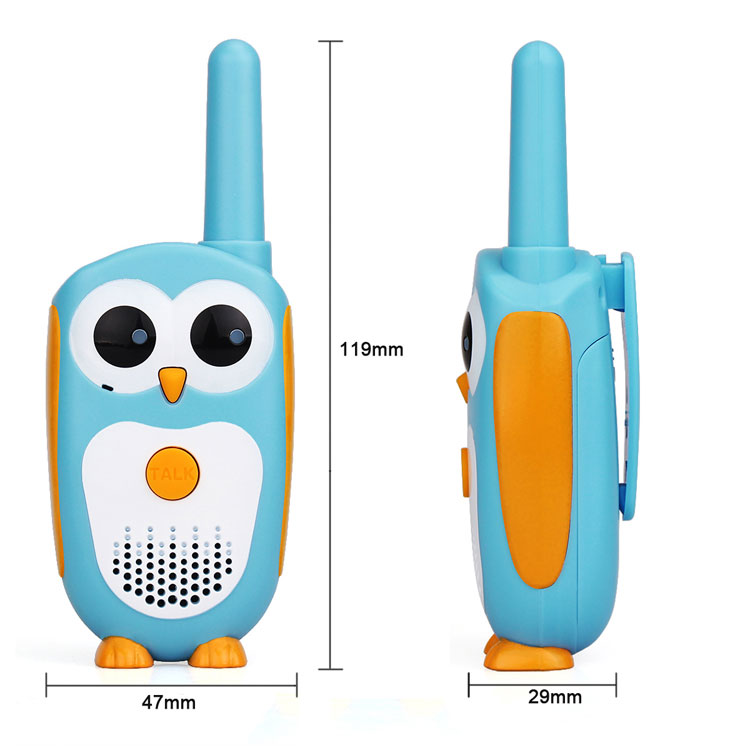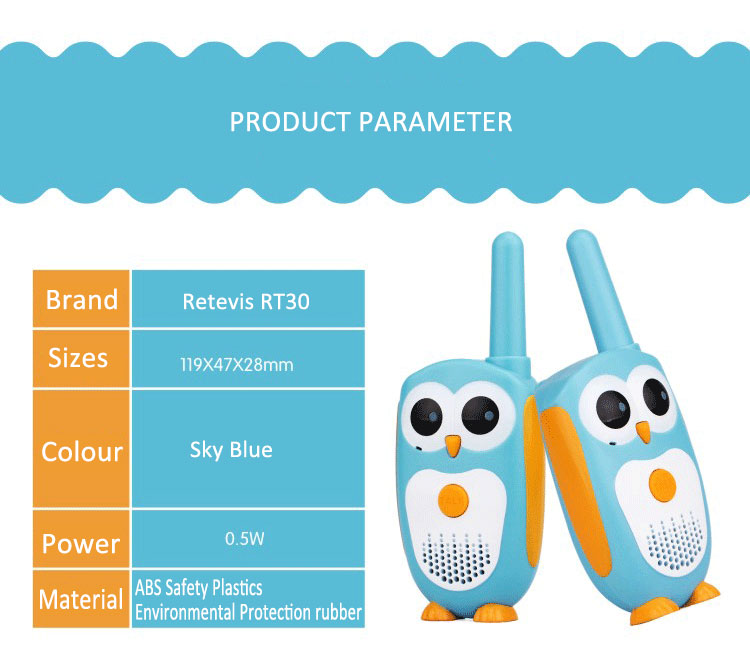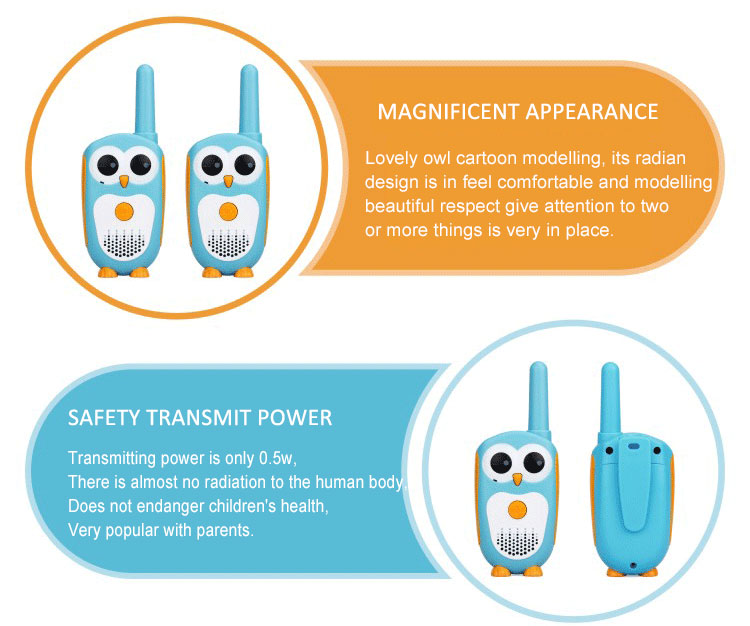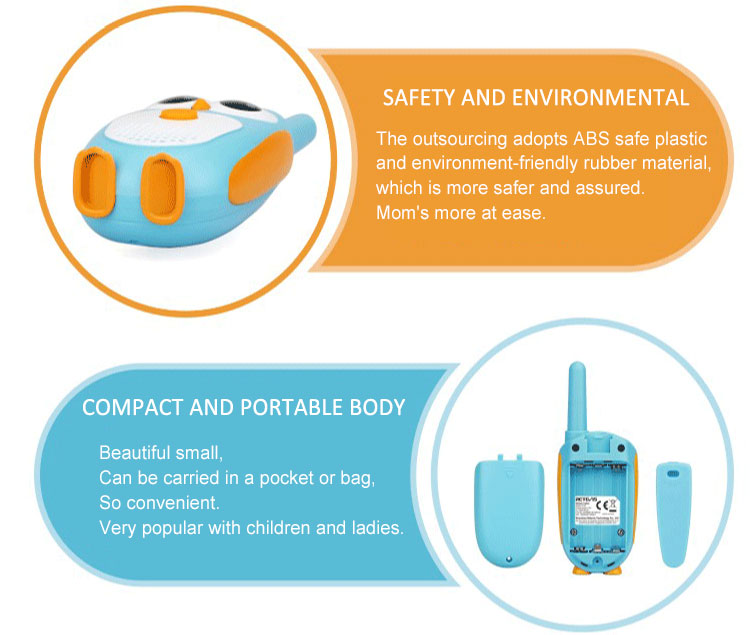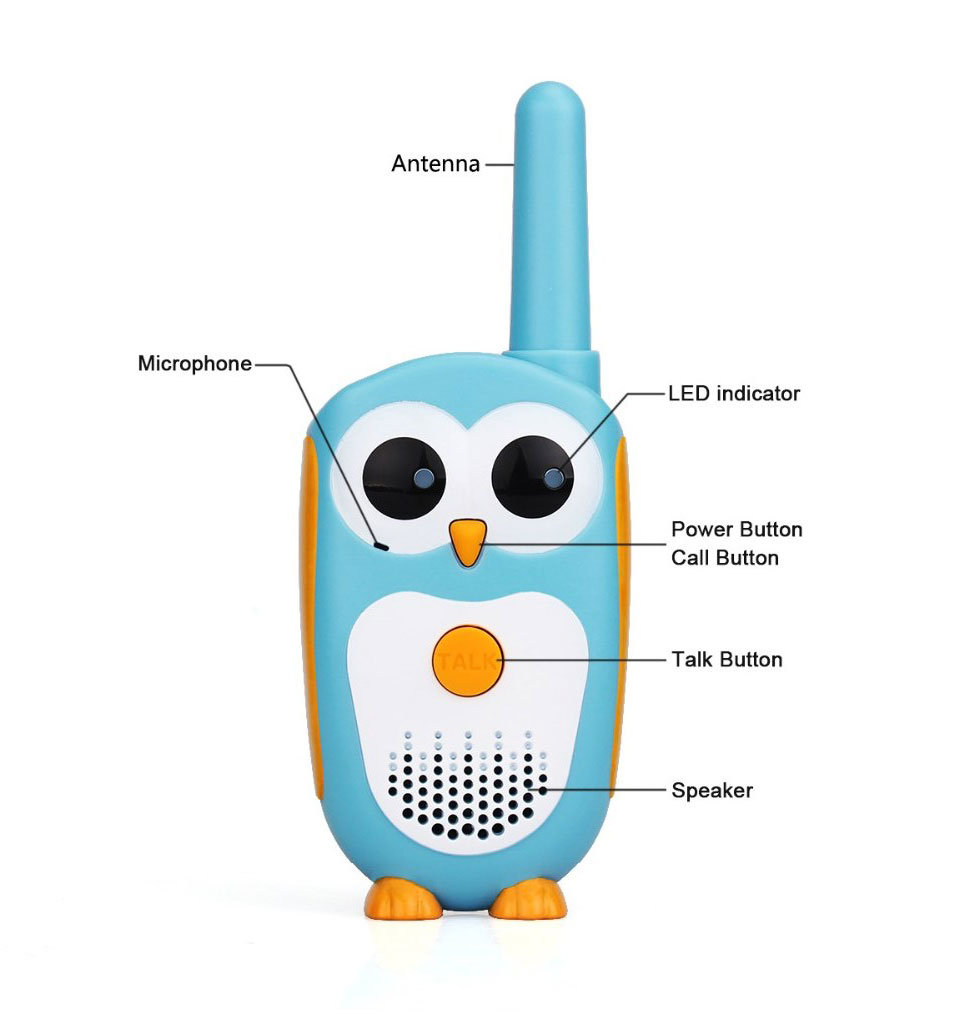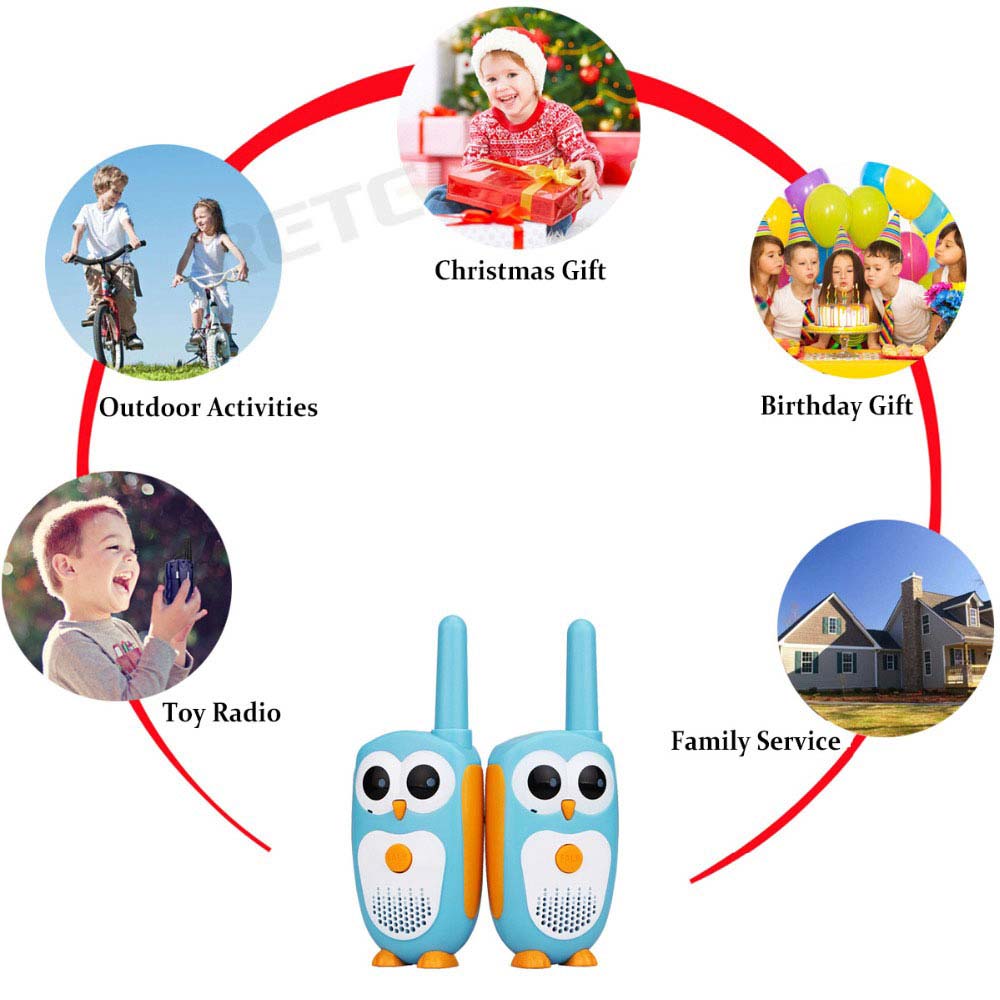 Specifications
| | |
| --- | --- |
| Product number | RT30 |
| Frequency | FRS |
| Working voltage | 4.8V |
| Battery Type | 3* "AAA" batteries (Not Included) |
| Frequency stability | ±2.5ppm |
| Operating temperature range | -20℃~50℃ |
| Antenna impedance | 50Ω |
| Overall dimensions | 140*55*28mm |
| Weight | 79g |
| Rf power | 0.5W |
| Modulation method | 11k∅F3E |
| Noise and harmonic | <-40dB |
| Residual Radiation | ≤-35dB |
| Modulation distortion | ≤7% |
| Maximum deviation | ≤±5KHz |
| Sensitivity | ≤0.2uV |
| Modulation receiver bandwidth | ±5KHz |
| Adjacent selective | ≥40dB |
| Intermodulationinterference resistance | ≥35dB |
| Spurious response inhibition | ≥70dB |
| Audio output power | ≥300mW |
| Audio distortion | ≤8% |
Feature:

Call Tone
CTCSS&DCS Encode/Decode
Automatic shut-down
Long standby
PTT key to talk
Talking ear flashing
easy to use
Accreditations
---
Accreditations
---
RT30-CE-Certificate
RT30-FCC-Certificate
RT30-IC-Certificate
RT30-DoC-Copy
CPC-RT30
Hot sale cartoon walkie talkie toy
Clear calls, easy to carry
Suitable for 3+ kids indoor and outdoor, school and camping use
Order Handling Time within 3 Working days(Pre-sale products excluded).
12557 PEOPLE ARE LOOKING FOR THIS PRODUCT
Product Reviews
---

Patrick Ferree

Great range, and fun size

Reviewed in United States

on

Nov 28,2018

Bought as gift, no complaints

Reviewed in United States

on

Nov 28,2018

I bought this for my 6 year old for Christmas and he loves them. They have great range and don't have a lot of static. He loves playing "spy" and the flashlight on it is a great extra!

Reviewed in United States

on

Nov 28,2018

I loved these! Had so much fun with the little ones with these!

Reviewed in United States

on

Nov 28,2018

Good walkie talkies for children. Our grandson loved them. They worked well.

Reviewed in United States

on

Nov 28,2018

I bought this as a gift for a little boy, and he LOVED it I didn't want to buy the battery operated ones because that make the parent have to buy more batteries for this to be used.

Ashley

Great quality especially for the price!

Reviewed in United States

on

Nov 13,2018

I love these so much that after I bought them for a child birthday present and tried them, I got a pair for us adults! They're cool! The range is very good and the battery claims 4 hours but lasted through an 8 hour on and off zoo day. The kids couldnt stop playing with them except for lunch and a nap. After reading the instructions, they are pretty easy to use. Out of the package they are a little tricky to navigate. I would say if you are getting them for kids, they should probably be able to read or have the patience for someone to show them how to use. The girls we gave them to were a little young to get the hang of holding down the buttons (ages 3 and 5) but just loved hearing their sister talk on the other end. The 7 year old did just fine! I would say the quality of this product is very good. I would recommend for sure!