Rechargeable walkie talkies toy for kids

With Li-ion battery and charger

Small and exquisite, easy to carry

2 sets of power-saving 2 way radios
Order Handling Time within 3 Working days(Pre-sale products excluded).
14947 PEOPLE ARE LOOKING FOR THIS PRODUCT
Retevis RT602 orange rechargeable walkie talkies for kids
1. With buttons, children can set up calls at any time
The new orange rechargeable toy walkie-talkie has four buttons, which can set the frequency and channel at any time, which is convenient for talking; in addition, at night, you can turn on the flashlight to illuminate it, which is very popular with children.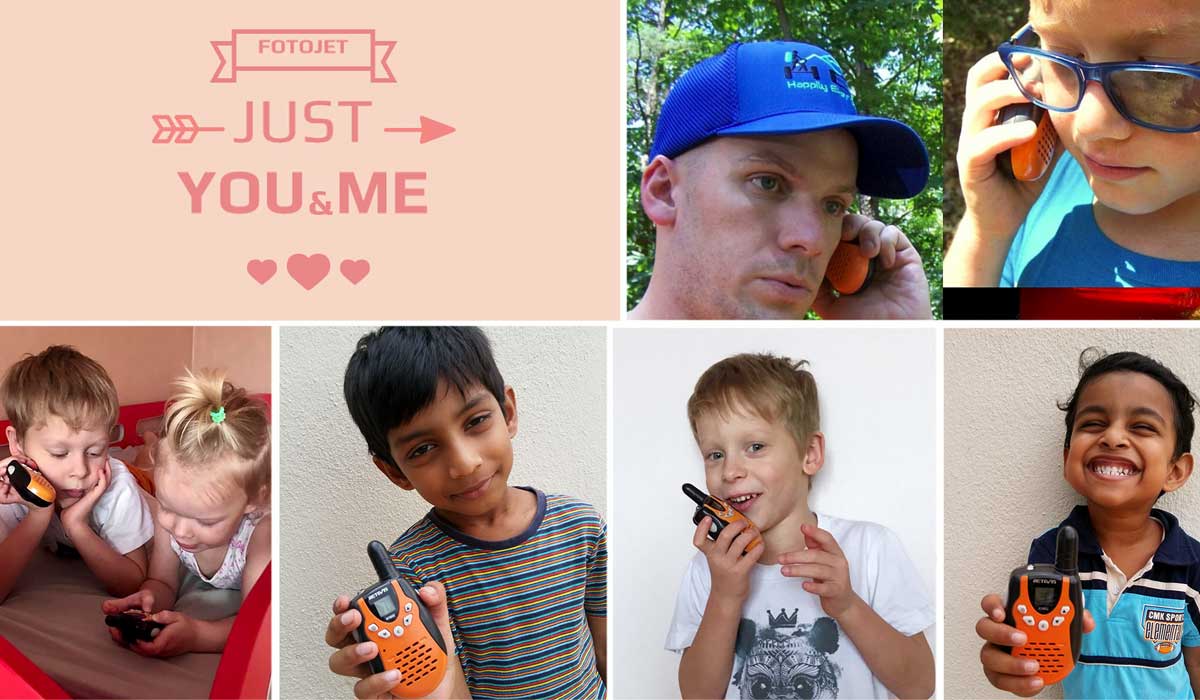 2. With lithium battery and charger, very power saving
RetevisRT602 is a low-power walkie-talkie, low power consumption for receiving and sending information, and power saving. And the walkie-talkie has a low-battery reminder function to charge in time.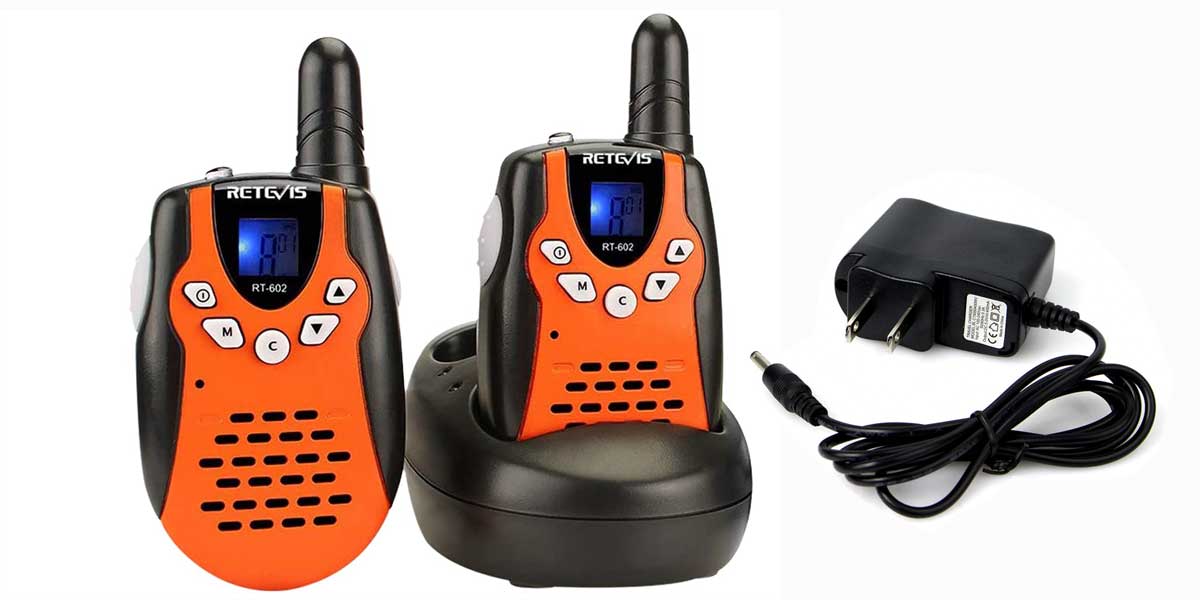 3. Complete functions
RetevisRT602 is exquisite in appearance, easy to carry, and has complete basic functions. VOX, CTCSS/DCS, Auto squelch, Keypad tones and Mute function, etc. This is a cost-effective toy walkie-talkie.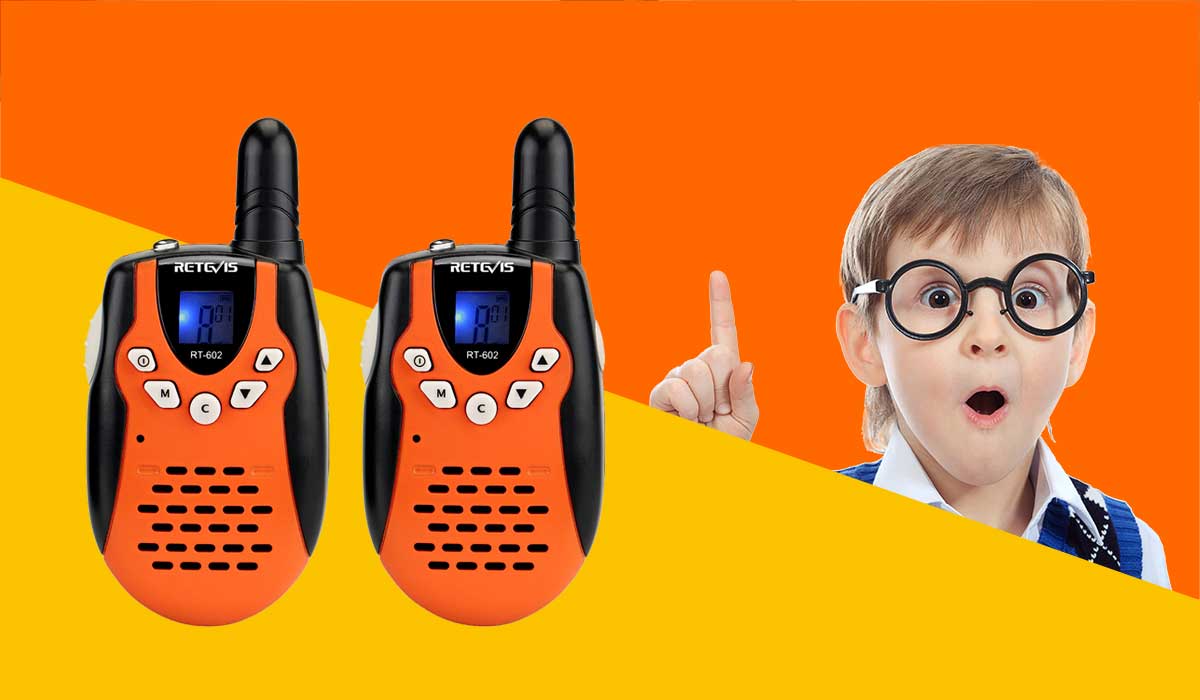 Product is for my god daughter she loves it, deliver was on time and product was is in prefect condition, Thank you
Great sound quality! I bought this for my daughter's birthday (7 years old) and she loves them! The seller was also fantastic!
I LOVE that these come with rechargeable batteries! I have not yet had to recharge them, but so far everything is working perfectly with the walkies. Very easy to use; my two-year-old was able to grasp the concept of pushing the button to talk. I was actually surprised by how the voice quality was! Very clear. I got these originally for the kids to play around with, but now that I see how well they actually work, I'm going to use them for my husband and me to keep in contact when he is outside working. Great purchase!
I couldn't' be more excited about these! I got these for my boys for Christmas and I think they will love them. They are nice and small and I love the orange.
Sometimes I hiking with my family or friends , but the phone usually have no signal in the mountains , this item solved the problem. With a rechargeable battery, Frequency adjustment is very simple. I try it with my wife at home, the sound is good. Thanks for the seller to provide nice items.
My daughter and her friend are on these all the time. They started the trend for their dads who now have a set
My granddaughters received these as a Christmas gift. They work great! BEWARE! The signal was so strong they picked up several different truckers talking to each other. Thankfully, they weren't talking trashy
I'm having so much fun with these walk-in talkies LOL. My hubby and I live in a 4200 sq ft home and 1/2 acre yard and I spend so much time searching for him and yelling that now I don't need to! He thought I was crazy but says even after 2 days it's been helpful and fun. These are great and so easy to use. We just put both of them on the same channel and it has worked great. The one charger charges both of the talkies. I would recommend for kids or adults alike. They will be great when we go camping or even to the flea markets because I get him there also LOL.
Great little walkie talkies. Happy to have rechargable batteries. We had an issue with one not recharging. The company quickly took care of the problem. Great customer service!!!
My baby really like this, and he is very enjoy to play it with cousin. Now, he is like it more than my iPhone and iPad, is good for parents who wants kids not watching TV too long!
Specification
Model
RT602
Frequency range
FRS
Output power
0.5W
Channel
22
Color
Orange
Battery Type
Li-ion Battery
LCD display including battery status indicator
Yes
Adjustable volume level
Yes
CTCSS/DCS
Yes
Transmitting and receiving icons
Yes
Channel number and scan status display
Yes
Earpiece connection
Yes
Auto squelch
Yes
Call alert
Yes
Built in flashlight
Yes
Channel lock
Yes
Low battery alert
Yes
Power selection
Yes
5 Call tones
Yes
Mute function
Yes
Battery saving function
Yes
Backlit display
Yes
Keypad tones
Yes
VOX function
Yes
Talk confirmation tone
Yes
Size
Approx:165x165x65mm
Weight
390g/piece
Features:
1、LCD display
2、10 Call tones
3、Adjustable volume level
4、Battery status indicator
5、Monitor function
6、Double Channel Monitor
7、Auto Squelch
8、Key lock function
9、Low battery alert
10、VOX Function
11、Auto battery save