We live in a mobile-centric world where establishing communication is just a few buttons away. Dissemination of information has become a breeze due to mobile phones, but that isn't necessarily the case in every area. A set of long-range walkie-talkies can easily bridge the gap in places where mobile phones don't work well.
Furthermore, walkie-talkies help users remain in constant contact without worrying about any data usage limit. They are easy to use, require no cell phone signal, and offer unlimited call time in contrast to mobile phones. retevis will command 5 Best Long-Range Walkie-Talkies (Two-Way Radios) 2022.
Built for the FRS band, the Retevis RT21 set of super long-range walkie-talkies is well-known for its strong body that can withstand a harsh collision. The sound is pretty loud and clear, so you don't need to strain your ears while listening.
The walkie-talkie comes with a 2-pin acoustic radio acoustic tube headset that helps avoid unnecessary sound in your environment. The belt clip is pretty sturdy, so it's okay even if you accidentally drop it.
The Retevis RT21 also has 16 channels and a 1100mAh battery that ensures you can use it for a long time period. The standout feature in this sturdy heavy-duty device is the covert air acoustic earpiece that allows you to keep your hands free and your radio attached to the belt clip.
The Retevis RT21 is one of the best long-range walkie-talkies that can be used for healthcare, retail, hotels, distribution services, and other business activities.
The Retevis RT68 has made quite some name for itself when it comes to choosing super long-range walkie-talkies with robust design and excellent sound quality. With 16 channels available, it can be used in multiple places such as schools, hospitals, malls, warehouses, and more.
The RT68 features a 1200 mAh battery that can deliver up to 12 hours of battery life. It is also smaller in size as compared to other walkie-talkies on this list. This makes it a great fit for your palms.
The controls are fewer and a cinch to understand for beginners. The Retevis RT68 is a recommended product if you're working in a manufacturing environment. Since these are places filled with a lot of noise, you can use the earpieces to ensure the din doesn't affect your communication.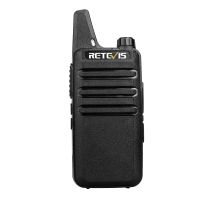 At four ounces a pop, the Retevis RT22 are a very lightweight and compact solution for those looking to purchase an affordable radios. Many users report loving these radios, and the internet is flush with 5-star reviews on this multi-unit pack.
They include a convenient charging dock and feature great audio and battery life for the price. I would purchase this six-pack if I had a family outing in a crowded area or wanted to stay in touch with others in a group at a festival.
The Retevis brand may not stand out as an example of extreme durability and quality like others on this list, but they'll do what you ask of them, all without breaking the bank. Pull the trigger on these if you don't plan on relying on these radios in rugged outdoor situations like hunting, hiking, or camping.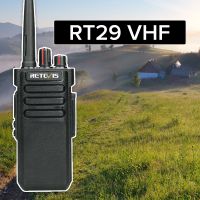 RETEVIS RT29 is a cost-effective solution for long-range communication along with 16 channels and UHF tuner technology.
On a coastal bay, you can establish a communication channel up to 3 miles long. Furthermore, you can do the same in a 30-story building with a clear and loud sound.
With 3200 mAh lithium-ion battery, it takes around five hours to fully charge this walkie-talkie;Li-ion high-capacity rechargeable battery for over 24 hours daily usage and last 250 hours standby time.
IP67 Waterproof rating,A stand-out feature is that you can submerge this walkie-talkie into three feet of water for up to 30 minutes.
RETEVIS RT29 are better for managing events, outdoor activities like trekking and camping, sports, marine observation, and more.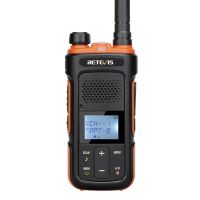 The best long-range walkie-talkies have the power to penetrate through any material to give you the best possible sound quality and reception. Retevis RB27 have been made with precisely this thought in mind; 5W transmitting power makes sure you have clear audio reception irrespective of the environment you are in.
They can be used in control centers, airports, construction plants, factories, or police offices as a part of surveillance. These handheld anti-drop radios come with 30 channels and 11 NOAA Weather alert chanhels and a powerful 1500mAh battery.11 NOAA Weather channels, can help you know the weather in advance.
Also, the speaker offers a loud and clear sound for seamless communication. The VOX support ensures you can enjoy hands-free transmission.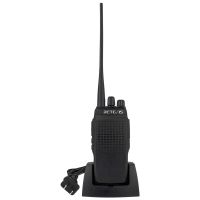 If you're looking for an affordable solution to establish long-range communication, you can give this two-way radio set a try. Equipped with 99 channels, 3000mAh large battery , you can use it continuously for 24 hours, you can use it during working hours Charge.
RETEVIS RT26 Two Way Radio set can work in a highrise of up to 50 stories. It's a lightweight device, useful in security for large events, hiking, camping, etc. High power, can penetrate all solid buildings, range increases, The sound effect is enhanced, and the efficiency can be greatly improved when used in business.
Also, the speaker offers a loud and clear sound for seamless communication. The VOX support ensures you can enjoy hands-free transmission.