All band transceiver, you can transmit and receive information in all band.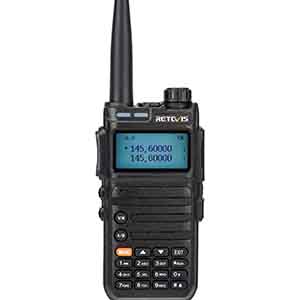 Default Dual band Ham band Radio: 144-146MHZ(RX/TX) 430-440MHZ(RX/TX) ,and you can use retevis RA685 programming software to spread spectrum into full-segment full-featured two way radio.
Dual Display, Dual Standby
High power long range walkie talkies for hams and outdoor activities
The RA685 amateur radio with the power 5w, make the radio's communication range longer than the license-free radios. If you go out for hiking, camping or as your first ham radio, it will be a good choice.
Dual standby and dual band display
RA685 comes with the 1.6 inch display, and also supports dispaly two channels. So you can set two channels at the same time. Also dual standby function, can help you monitor two channels at the same time.
128 Channels can be saved
RA685 allows you to save up to 128 channels. Also offers the multi CTCSS/DCS codes groups. It will easy to seek same frequencies which are talking. Or help you find the free channels to talk with your friends.
Easy to operate
RA685 offers the full keypad, so you can program your RA685 by its keypad. Very easy and convenient to set your radios when you are out.
please you want to spread the retevis RA685 to dual band,please eamil me kam@retevis.com.