Listen up. It's time to slow your roll and check out this guide to the best long-range walkie-talkie two-way radios of 2022. Why? Because when it comes to these high-tech gadgets, it can get downright confusing considering all the specs and information you need to absorb.
So listen closely, and retevis will point you in the right direction.
If you need to communicate over long distances without a cell signal, a high-quality set of long-range walkie-talkies or two-way radios is necessary (unless you've mastered smoke signals). It's pretty simple: two-way radios are a must when you need rapid communication, whether covering long ranges or short distances.
No matter your application — whether it be outdoors, recreation, commercial or professional — we hope you come across a product that'll hit the mark.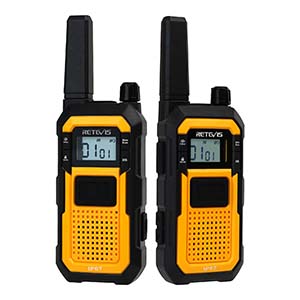 These are my favorite FRS radios for those that need an extremely durable, weather-resistant, and reliable solution for the most demanding conditions. I've seen these used on construction job sites for years, and they sure can take a beating.
Not only are they tough, but they can transmit a signal through floors and floors of concrete. This makes them great not only for construction but businesses that occupy multi-story buildings.
Retevis RB48 is built on the FRS platform. Heavy-duty 2W Walkie Talkies are ideal for jobsites, contractors, businesses. Ultra long run time, continuous use up to 12 hours. Shock resistant, built to withstand 2 meter drop. RB48 Waterproof Heavy Duty radios are smart, simple, reliable, high-performance and tough.
Pros: Extreme durability, rugged grip, can be used on 20+ floor buildings
Best for: Construction sites, multi-story buildings, people who are rough on their gear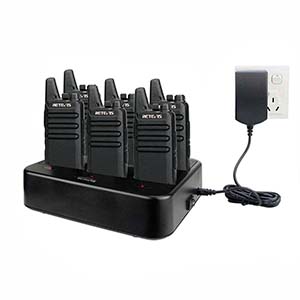 At four ounces a pop, the Retevis RT22s are a very lightweight and compact solution for those looking to purchase an affordable six-pack of radios. Many users report loving these radios, and the internet is flush with 5-star reviews on this multi-unit pack.
They include a convenient charging dock and feature great audio and battery life for the price. I would purchase this six-pack if I had a family outing in a crowded area or wanted to stay in touch with others in a group at a festival.
The Retevis brand may not stand out as an example of extreme durability and quality like others on this list, but they'll do what you ask of them, all without breaking the bank. Pull the trigger on these if you don't plan on relying on these radios in rugged outdoor situations like hunting, hiking, or camping.
Pros: Inexpensive, excellent audio for the price, super compact and lightweight
Cons: No bells-and-whistles, plain jane, not extremely durable
Best for: Outdoors events, group events, keeping in touch with children in a crowded environment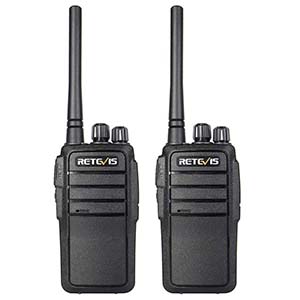 Wrapping up my recommendations is an option for commercial users. It delivers value for money as it comes with ten radios in one set, each with an individual charging base.
It may not be the best for long-range walkie-talkies 1000 miles, but the coverage is pretty decent for its price. This radio is only for short distances, making it ideal for applications like catering and concerts.
The large-capacity battery is also worth mentioning. The 1,100 mAh lithium-ion batteries deliver a continuous runtime of 10 to 12 hours. When it is time to recharge, there is an instant reminder, making sure that there is always juice.
More so, it has plenty of features that ensure user-friendliness. For instance, the frequencies are set upon delivery, so there is no need for configuration out of the box. It is ready to use in an instant.
From audio clarity to privacy, it has features to deliver top-notch performance. I can customize the squelch function from zero to nine, which will minimize interference. Additionally, it has a voice transmission for hands-free operation.
You will receive secret service earpieces when you purchase this radio set. The latter is designed to fit comfortably while being discrete. It is for private listening, which is handy in industries like restaurants and hotels.
Pros:Affordable, out of the box,Adjustable squelch to eliminate background noise
Cons:The antenna easily loosens
Best for: Outdoors events, small business area