A lot of walkie-talkies on the market today are poorly engineered and have a limited range. Buildings, topography, forests, and other obstructions can also get in the way and wreak havoc with weak signals from poorly designed units. The best walkie-talkies, by contrast, have the engineering and power behind their signal to provide true long-range capabilities, even under less than ideal circumstances and with obstacles blocking a clear path. Rescue crews and emergency responders rely on the best long-range walkie-talkies for clear, reliable communication. And it's just those kinds of units we'll be looking at here.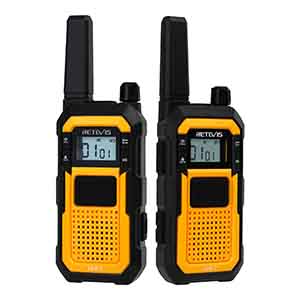 Reliable and easy to use, these long range walkie talkies will simply clip onto your clothing, so there's no need to fumble around for your communication device in cold and wet conditions.
Created by one of the better-known brands for construction workers in the industry, the retevis RB48 long range walkie talkies come with up to 100,000 square feet of long-distance signal range, although your actual distance will depend on conditions and terrain.
Sporting up to 10 hours of battery life with a built-in rechargeable battery, these IP67 water-resistant wearable walkie talkies are great for life on the move.
There's also a "roger beep " tone which lets you know the other person received your message,and call vibration, answer the other party's call information in time.
Features include:
Simple clip-on wearable design
Turnable belt clip
Shock resistant up to 2 meters
Voice prompts available
22 channels
Ultra-clear 100,000 square foot range
UHF/FM reception
Keystroke tone signal
Easy charging with up to 10 hours of battery
"Roger" signal included and call vibration
Great if you're working in conditions that require you to keep your hands free, these DEWALT wearable long range walkie talkies are clear and easy to use.
The battery in this product can drain a little quickly depending on how often you use it, and it's worth remembering that your range will depend heavily on your surroundings.
Pros:
Excellent wearable design
Splash and shock resistant
Convenient voice features and "roger" signal
Ultra-clear range up to 100,000 square feet
Designed for long-term use
Cons:
Range differs depending on surroundings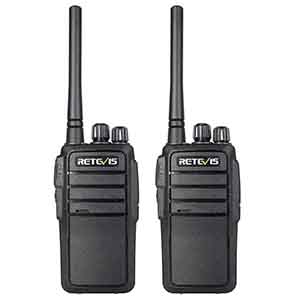 Built for the FRS band, the Retevis RT21 set of super long-range walkie-talkies is well-known for its strong body that can withstand a harsh collision. The sound is pretty loud and clear, so you don't need to strain your ears while listening.
The Retevis R21 also has 16 channels and a 1100mAh battery that ensures you can use it for a long time period. The standout feature in this sturdy heavy-duty device is the covert air acoustic earpiece that allows you to keep your hands free and your radio attached to the belt clip.
The Retevis R21 is one of the best long-range walkie-talkies that can be used for healthcare, retail, hotels, distribution services, and other business activities.
Pros:
small and portable radio
sturdy heavy-duty radio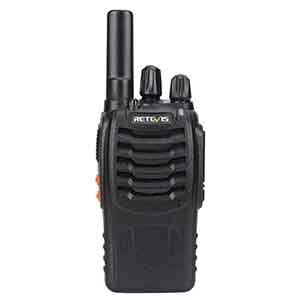 The company sells this walkie-talkie for long-distance for commercial users. From restaurants to construction sites, it will ensure reliable communication.
At its price, the value is unbeatable! For only $20, you can receive an easy-to-use long range walkie talkie. Meanwhile, the batteries have a capacity of 1,000 mAh. It can withstand up to 12 hours of continuous use.
I love the radio because it is user-friendly, perfect for people who do not have the patience to deal with complications. They are ready to use out of the box, eliminating the need for programming. It has an easily accessible button that you have to push to talk and release when you are ready to listen. Plus, it has voice control, so you can enjoy hands-free operation.
You can expect the best in terms of audio clarity. Aside from having a good built-in speaker, I also like how it has an adjustable squelch function. You can set it at nine levels, depending on how much background noise you would like to filter.
The rugged design is another good reason to choose this product. With a tough body, it is strong enough to withstand vibrations and harsh environments. Even with constant exposure to dust, salt, fog, and extreme temperatures, the radios remain in good condition.
Heads-up: If there is one thing that the manufacturer can improve, it would be the tightness of the locking mechanism. It is quite loose, leaving room to wobble. As a result, the battery can often detach from the main unit.
Pros:
Easy to use without complicated buttons
Rugged design to withstand extreme environments
Has a squelch to minimize background noise
Cons:
The locking mechanism is quite loose
Conclusion
The best long-range two-way radios make it easy to connect and communicate. Whether you are working in a construction site, hiking in the forest, or having fun in a theme park, a walkie-talkie saves the day. Consider the products listed above and you won't have regrets. They have many innovative features, making them worth every dollar.