When immersed in nature, we are constantly at the whim of the elements. We may look at the forecast, plan our trip accordingly, organize all of the necessary equipment, and still find that a storm has just popped up on the radar effectively ruining our trip. In the event of a significant alteration in weather patterns during our excursion, we need to put ourselves in the best possible position to get a leg up on the elements and make the necessary adjustments. Whether it be our campsite location, our date planned to return home, or any other aspect of our trip that can be impacted by the weather, knowledge truly is power.
In the great outdoors, plans can change in a moment's notice. It is difficult to form any sort of expectations regarding the world around us, and we have to do our best that we can make quick, swift adjustments when change occurs. One of the more volatile aspects of the world around us is the weather.
How to Check the Weather Forecast
If you want to know the weather forecast, please check NATIONAL WEATHER SERVICE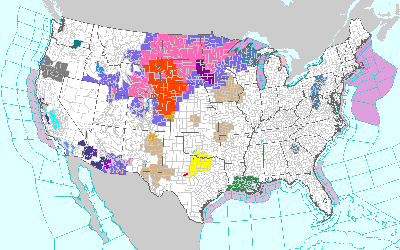 If we are on a trip with our family or friends and something comes up, we need to be able to communicate effectively with everyone on the trip. This is where two way radios come in.
This situation seems ideal right? The ability to check the weather and communicate with your children all from the same device is near impossible without a two way radio. Out in the wilderness, we can forget about our cell phones or our tablets working. There is often no service, and there is definitely no wifi. Two way radios with NOAA weather channels are the universal solution for any sort of communication and weather needs. These devices are efficient, light weight, cost effective, and can make your trip much smoother. But how do we know what two way radios to equip ourselves with? What are the best two way radios with NOAA weather channels, and which of these walkie talkies are best suited for our needs?
1.

Retevis RT45P:

Best outdoor walkie talkie




Dimensions: 184.5*60*34mm



Weight: 220g (include battery, belt clip)
Memory Channel: 22 FRS Channels + 11 NOAA Weather
Battery Capacity:1000mAh (NIMH AA rechargeable batteries x 3)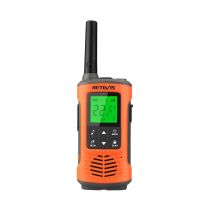 Retevis RT45P has a 1000mAh capacity rechargeable battery that can be charged three ways, USB charging supports computer, mobile phone, car charging. The radio may also be powered by 6 "AA" batteries as a backup. The retevis RT45P has support for AM and FM radio as well as the NOAA weather radio band.
The RT45P has a built in LED flashlight and a USB port to allow you to charge your smartphone or other USB powered devices. With a 1000mAh internal battery, regular use will net you about 24 hours of radio time.
With an IP67 waterproof rating, it can be submerged in water for 30 minutes, protecting the walkie-talkie from harm, helping you stay connected on land or at sea, and is the best outdoor walkie-talkie for outdoor water adventures
Other useful features include a strobe light SOS feature (flashes S-O-S in Morse code), and a belt clip design with Whistle function to assist search teams in finding you if you get lost. We think the Retevis RT45P is the best model for your emergency kit or outdoor adventures as it's reliable, robust and includes all of the essential features to help you survive any disasters.
11 NOAA weather channels are available to know the weather ahead of time. The NOAA Weather feature keeps the weather updated in real time by activating the NOAA feature and selecting the correct channel. Knowing the weather ahead of time and getting ready is the best NOAA Weather radio when you are on an outdoor adventure.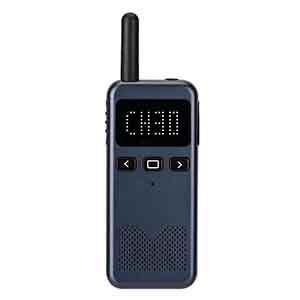 retevis RB19P have 1.7 inch led display, and you can check the channel information and battery capacity,and easy to use.
2000mAh Larqe-capacity battery, can be used for 8-10 hours.
11 channel NOAA, Know the weather in advance and take precautions. NOAA helps you to know the local bad weather in advance and prepare in advance to avoid unnecessary losses.
VOX enables normal calls without the need for PTT keys. and vox can free your hands. the function is very important.
Emergency alarm + weather alarm, when you come across WeChat, you can turn on the emergency alarm to seek help from other teammates, for dangerous situations and bad weather, to better handle crises.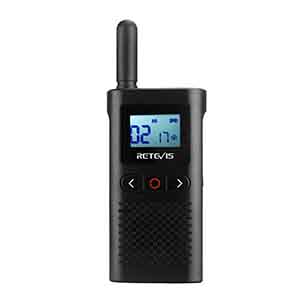 FRS license-free two way radio, 22 channel can compatiable other brand frs radio, easy to use and operate.
Retevis RB28B FRS license-free two way radio, with 1.28 inch screen, you can check the channel information and battery capacity, easy to use and operate.
1500mAh li-ion battery can last whole day use once be fully charged; low battery alert function helps you keep the walkie talkies always in power
Designed with VOX hands free, supports PTT push to talk and voice activation talking.
11 NOAA Weather chanel, NOAA Weather alarm, You can predict severe weather conditions and prepare in advance to avoid unnecessary losses.