Ham radios occupy a unique niche in the technological landscape. These amateur radios are designed for personal use.
You can use them to chat with your friends. Or, you can use them to meet and chat with strangers across incredible distances. They're not authorized for commercial use, so you won't be listening to music on one.
And while they're not designed for emergency services, they're often used in the aftermath of a disaster.
No-one is really sure where the term "ham" came from. One popular theory dates from the 1930s and 40s.
During this time, amateur radios were booming in popularity. The industry was still poorly-regulated, with radio bands used for both commercial and amateur purposes. Commercial operators would often complain of "hams" – or amateurs – crowding out their signals.
Today, ham radios are far more regulated. Amateur and commercial traffic are separate, so that kind of interference is a non-issue.
We're about to review three of the best magnetic mobile dual-band ham radio antennas we could find. These can extend the range of your vehicle's radio handset, putting you in touch with more people.
To find out which one is the best, we'll have to look at each antenna's unique features, benefits, and downsides. After that, we can render a fair verdict. Let's begin!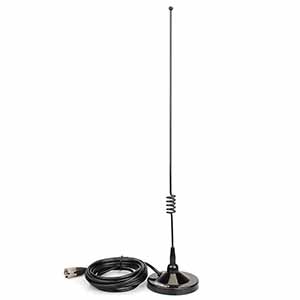 The Retevis MR100 is a surprisingly functional HAM radio antenna available at a great price. It's a dual band antenna and works impressively well on both VHF and UHF. It's designed for mobile and handheld HAM radios, and it a complete antenna product for them with max power of 80 watts.
This is because it includes a massively long cable, a magnet, and an SMA adapter all at a very modest price tag. It's also very durable and is weatherproof, and is easy to install even for beginners.
It measures 13 inches which is pretty long at this price point and also much thicker than other comparable antennas at 2.5mm. The SWR readings come out great with this antenna even in less-than-ideal conditions.
Pros:
Dual band antenna works great on both VHF and UHF
Surprisingly functional and long for the price
Complete antenna product with a long cable, magnet and SMA adapter
Great SWR readings
Cons:
The SMA adapter is not as durable as the rest of the unit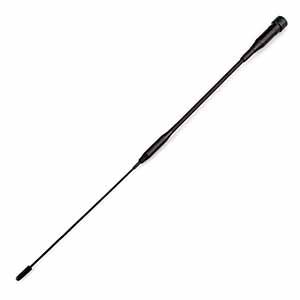 Here's another affordably priced antenna that offers a lot in terms of functionality and performance. It's a dual band antenna for handheld HAM radios.
It offers a great performance on both UHF and VHF. The max power is 20 watts which is more than enough for handhelds.
It's also very efficient for transmitting, and users report how it turned out to be much better for their HAM radios than stock antennas.
Pros:
Affordably priced but offers solid UHF and VHF performance
Surprisingly efficient for transmitting
Good build quality
20 watts of power
Cons:
Very disappointing on the VHF band