Severe weather can strike at any time, and when it strikes, communication networks may go down. We have no access to information and no communication with the authorities, Don't be caught off guard—be prepared with an NOAA weather radio in your home and workplace.
1. Retevis RT45P: Best outdoor walkie talkie
Dimensions: 184.5*60*34mm
Weight: 220g (include battery, belt clip)
Memory Channel: 22 FRS Channels + 11 NOAA Weather
Battery Capacity:1000mAh (NIMH AA rechargeable batteries x 3)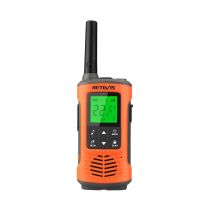 Retevis RT45P has a 1000mAh capacity rechargeable battery that can be charged three ways, USB charging supports computer, mobile phone, car charging. The radio may also be powered by 6 "AA" batteries as a backup. The retevis RT45P has support for AM and FM radio as well as the NOAA weather radio band.
The RT45P has a built in LED flashlight and a USB port to allow you to charge your smartphone or other USB powered devices. With a 1000mAh internal battery, regular use will net you about 24 hours of radio time.
With an IP67 waterproof rating, it can be submerged in water for 30 minutes, protecting the walkie-talkie from harm, helping you stay connected on land or at sea, and is the best outdoor walkie-talkie for outdoor water adventures
Other useful features include a strobe light SOS feature (flashes S-O-S in Morse code), and a belt clip design with Whistle function to assist search teams in finding you if you get lost. We think the Retevis RT45P is the best model for your emergency kit or outdoor adventures as it's reliable, robust and includes all of the essential features to help you survive any disasters.
11 NOAA weather channels are available to know the weather ahead of time. The NOAA Weather feature keeps the weather updated in real time by activating the NOAA feature and selecting the correct channel. Knowing the weather ahead of time and getting ready is the best NOAA Weather radio when you are on an outdoor adventure.

2. Retevis RT49P: Best walkie talkie for kayaking
Dimensions: 10.2 x 9 x 2.5 inches
Weight: 134g
Memory Channel: 22 Channels
Battery Capacity:1200mAh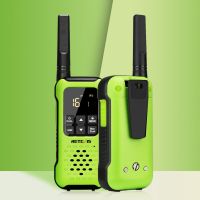 The Retevis RT49P Not only is the best kayak radio, it's also the best NOAA weather radio. 22 different channels, 121 privacy codes, 5 miles of open water range, 2 miles of neighborhood range.
USB charging, charging base charging, spare NiMH batteries and other charging methods, USB supports mobile charging methods such as computers and cars.
IP67 Waterproof rating, Count On The retevis RT49P Two-Way Waterproof Radio To Keep You Connected Whether On Land Or At Sea. With Its Ip67 Standard, The RT49P Withstands Constant Submersion Of Up To 1M For 30 Minutes And Repels The Heaviest Rain.
Press the SOS button on these units, the red led automatically flashes out the Morse code SOS signal. the US Coast Guard accepts such an automatic signal as meeting the required emergency equipment for operating a boat after sunset, and NOAA Weather alert, which acts as a leather Rowing is absolutely not wrong.
Retevis RT49P is a very handy option for a two-way radio with 11 NOAA weather channels. Prepare for any environmental changes with ten different NOAA channels so you don't have to react in a pinch.
Come and buy the NOAA Weather Radio that suits you, enter the coupon code (20220525) to save $5: https://bit.ly/3Gb2zcn