Once the ultimate tech for communicating with companions who were beyond shoutin' distance, walkie talkies remain a valuable outdoor tool. Today's rugged two-way radios are purpose-made for coordinating ongoing trip details when you're doing activities like hiking, cycling, climbing or skiing. Cellphones may be everywhere, but cellphone coverage is not—and even a high-end two-way radio costs far less than a flagship cellphone model. Two-way radios can also be employed as communication tools during disasters when cellular networks are damaged or overwhelmed.
This overview offers buying and usage tips, and covers key two-way radio features:
Types of two-way radios: Most noncommercial outdoor users choose license-free Family Radio Service (FRS) units; General Mobile Radio Service (GMRS) units offer slightly more power but require a license.
Transmission range: Advertised ranges help in comparing radios, but real-world range is often a fraction of claims; line-of-sight use is best because obstacles impede signals.
Communication enhancements: Features like voice-activated transmission, privacy codes, easy pairing, a settings lock and "ring tones" help make communication go more smoothly.
Weather and hazard alerts: These let your radio receive NOAA weather reports, as well as broadcast alerts for a broad range of civil emergencies and natural disasters.
Texting and navigation: Some models work in tandem with a phone app to allow you to send text messages and location coordinates to nearby group members with the same model of radio.
Rechargeable batteries: Most mid- and high-price radios have rechargeable batteries; many also let you bring along AA or AAA alkaline batteries as a backup.
Water resistance: Most radios are water resistant; some (expensive) models designed specifically for snow or watersports use offer higher water protection ratings.
Prices: Not surprisingly, paying more can get you more advanced features and better performance; radios built for snow and on-the-water use also have higher prices.
Weight/size: Radio size and weight varies, so check these specs carefully if you watch every ounce and cubic inch in your kit. The smallest, lightest model might not have the same level of performance or features, though, as a bigger, bulkier radio.
Call distance and range are the most critical factors in choosing a walkie-talkie. This article will introduce several best long-distance walkie-talkies.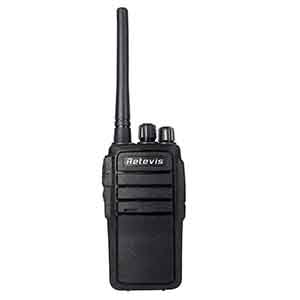 Wrapping up my recommendations is an option for commercial users. It delivers value for money as it comes with ten radios in one set, each with an individual charging base.
It may not be the best for long-range walkie-talkies 1000 miles, but the coverage is pretty decent for its price. This radio is only for short distances, making it ideal for applications like catering and concerts.
The large-capacity battery is also worth mentioning. The 1,100 mAh lithium-ion batteries deliver a continuous runtime of 10 to 12 hours. When it is time to recharge, there is an instant reminder, making sure that there is always juice.
More so, it has plenty of features that ensure user-friendliness. For instance, the frequencies are set upon delivery, so there is no need for configuration out of the box. It is ready to use in an instant.
From audio clarity to privacy, it has features to deliver top-notch performance. I can customize the squelch function from zero to nine, which will minimize interference. Additionally, it has a voice transmission for hands-free operation.
You will receive secret service earpieces when you purchase this radio set. The latter is designed to fit comfortably while being discrete. It is for private listening, which is handy in industries like restaurants and hotels.
Heads-up: Despite the good things, one of the problems is that the antenna loosens quickly. This means that I have to tighten it frequently, which can be annoying.
What We Liked:
Affordable package with ten radios and individual chargers
Instant reminder when there is a need to recharge
Set on the same frequency out of the box
Adjustable squelch to eliminate background noise
Comes with a secret service earpiece
What We Didn't Like:
The antenna easily loosens
2. Retevis H-777 Two-Way Radio
The company sells this walkie-talkie for long-distance for commercial users. From restaurants to construction sites, it will ensure reliable communication.
Since it is meant for business use, one pack includes ten radios. At its price, the value is unbeatable! You will also receive ten charging stations. There is an individual dock for each unit. Meanwhile, the batteries have a capacity of 1,000 mAh. It can withstand up to 12 hours of continuous use.
I love the radio because it is user-friendly, perfect for people who do not have the patience to deal with complications. They are ready to use out of the box, eliminating the need for programming. It has an easily accessible button that you have to push to talk and release when you are ready to listen. Plus, it has voice control, so you can enjoy hands-free operation.
You can expect the best in terms of audio clarity. Aside from having a good built-in speaker, I also like how it has an adjustable squelch function. You can set it at nine levels, depending on how much background noise you would like to filter.
The rugged design is another good reason to choose this product. With a tough body, it is strong enough to withstand vibrations and harsh environments. Even with constant exposure to dust, salt, fog, and extreme temperatures, the radios remain in good condition.
Heads-up: If there is one thing that the manufacturer can improve, it would be the tightness of the locking mechanism. It is quite loose, leaving room to wobble. As a result, the battery can often detach from the main unit.
What We Liked:
Great value for money in a pack of ten radios
Easy to use without complicated buttons
Rugged design to withstand extreme environments
Has a squelch to minimize background noise
What We Didn't Like:
The locking mechanism is quite loose