From festival organizers to hikers, in construction sites and restaurants, the best long-range two-way radios are essential. They are crucial tools for communication, making it easy to stay connected to people within a specific distance.
Why opt for long range two way radios?
Enjoy superior range and secure communications with long range walkie talkies!
Buying a long-range radio is overwhelming. Different brands and models are available. It can be tempting to choose the cheapest, but that should not be the case. Instead, consider the following factors:
Range: Most of the radios in this review have a range of up to 10 miles. They are good for wide and open spaces, such as concert grounds. When there are obstructions, such as buildings and trees, the distance coverage can be significantly shorter.
Ease of Use: An intuitive radio offers a seamless operation, which is one thing that beginners will love. It should come with a seamless control panel with easily accessible buttons. Voice detection is also nice, which enables hands-free operation.
Battery: The battery life will differ from one model to another, with most lasting anywhere from ten to 36 hours. Some have battery-saving features to automatically turn off when inactive.
RETEVIS RT29 is a cost-effective solution for long-range communication along with 16 channels and UHF tuner technology.
On a coastal bay, you can establish a communication channel up to 3 miles long. Furthermore, you can do the same in a 30-story building with a clear and loud sound.
With 3200 mAh lithium-ion battery, it takes around five hours to fully charge this walkie-talkie;Li-ion high-capacity rechargeable battery for over 24 hours daily usage and last 250 hours standby time.
IP67 Waterproof rating,A stand-out feature is that you can submerge this walkie-talkie into three feet of water for up to 30 minutes.
RETEVIS RT29 are better for managing events, outdoor activities like trekking and camping, sports, marine observation, and more.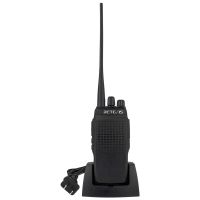 If you're looking for an affordable solution to establish long-range communication, you can give this two-way radio set a try. Equipped with 99 channels, 3000mAh large battery , you can use it continuously for 24 hours, you can use it during working hours Charge.
RETEVIS RT26 Two Way Radio set can work in a highrise of up to 50 stories. It's a lightweight device, useful in security for large events, hiking, camping, etc. High power, can penetrate all solid buildings, range increases, The sound effect is enhanced, and the efficiency can be greatly improved when used in business.
Also, the speaker offers a loud and clear sound for seamless communication. The VOX support ensures you can enjoy hands-free transmission.