These headsets for two-way radios are commercial-grade devices. They're an ideal solution for many industries, including noisy environments such as race tracks, airports, construction, manufacturing, and industrial worksites. A two-way radio headset with microphone facilitates convenient hands-free communication. You can also keep your communications discreet, ensuring that only those authorized can hear incoming and outgoing transmissions.
QUALITY HEADSETS
Retevis stocks top-of-the-line headsets that are trusted by informed industry professionals. Whether you need one replacement headset or a large quantity for the whole team, we also keep a large inventory on hand and ready to ship fast. Shop the lowest possible prices for reliable two-way radio headsets with mics—guaranteed.
1,
Retevis Walkie Talkies Earpiece for RT22
RT21 H777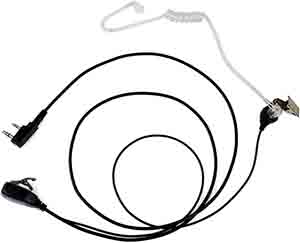 If you have a retevis long range two-way radio and you want to make it truly hands-free, the Retevis Walkie Talkie Earpiece 2 Pin Covert Acoustic Tube Earpiece Headset is a great choice. Designed specifically for Motorola devices, this headset and earpiece is durable, comfortable, and easy to use.
An ear bud headset, this device truly blocks out environmental noise so that you can clearly hear the transmissions on your long range walkie talkie. The ear bud is soft and malleable, so it will conform to your ear, so it's comfortable to wear, even over prolonged periods of time. The large PTT features a built-in line microphone and is super easy to use; in fact, you can easily use it even when you're wearing bulky gloves.
Since the microphone is sensitive, it will easily transmit your conversations, too. The cords are long, so you won't feel constricted; the PTT cord is 39.37 inches long and the speaker mic cord is 44.88 inches long. Attach the earpiece to the short color and the PTT to your belt with ease.
The length of the cords doesn't minimize transmission and reception, either; you will be able to enjoy crystal clear communication with this headset and earpiece. The two clips firmly clamp closed, so there's no need to worry about the wires falling off; and since the cords are so long, you won't have to deal with snags.
What We Like About It
2 pin standard diameter
Soft and comfortable ear bud
Large PTT features a built-in line microphone
Long cords for worry-free hands-free communication
Effectively blocks out environmental noise
Backed by a 60 day warranty and a 30 day return policy
Affordably priced
Reasons to Complain
It can only be used with Motorola walkie talkies
Some users said that it wasn't as durable as they hoped it would be
Final Verdict: The Retevis Walkie Talkie Earpiece 2 Pin Covert Acoustic Tube Earpiece Headset is designed specifically for Motorola two-way radios. Long cords and a large PTT allow for convenient use and the highly sensitive microphone and ear bud offer super clear transmission and reception.