Retevis RA685 5W Dual band Two way Radios Amateur Radios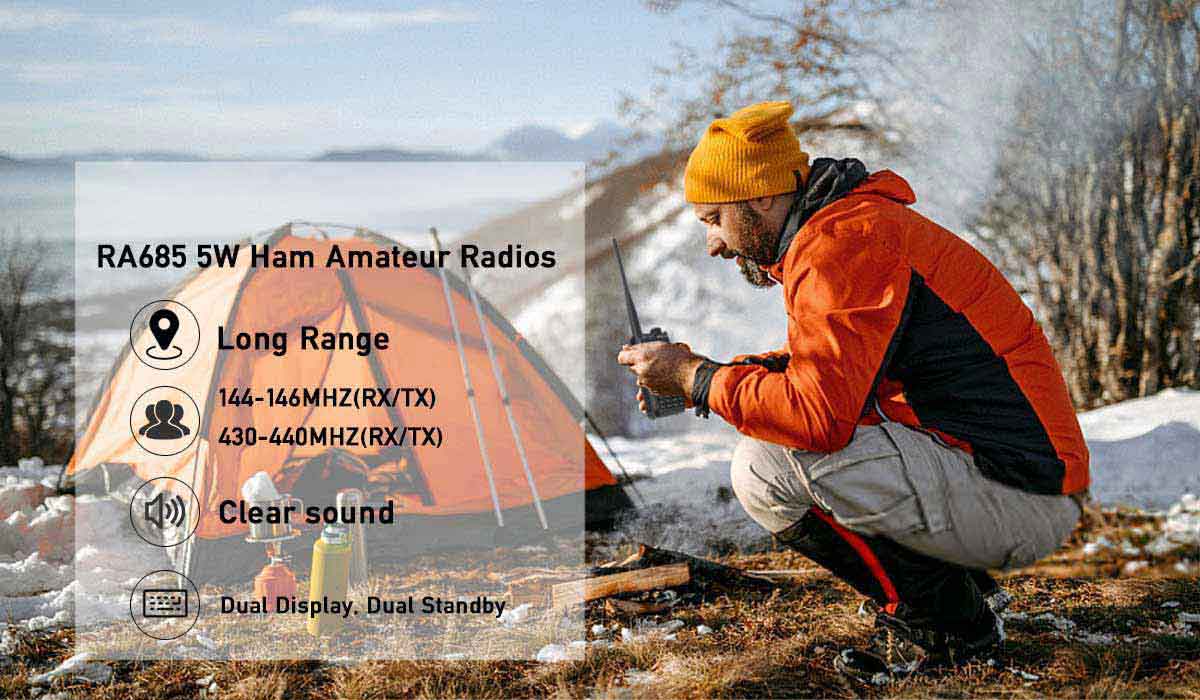 1, The dual band UHF and VHF amateur band Two way radio
Retevis RA685 with the frequency range: 144-146MHZ(RX/TX) 430-440MHZ(RX/TX). The Analog mode Ham radio.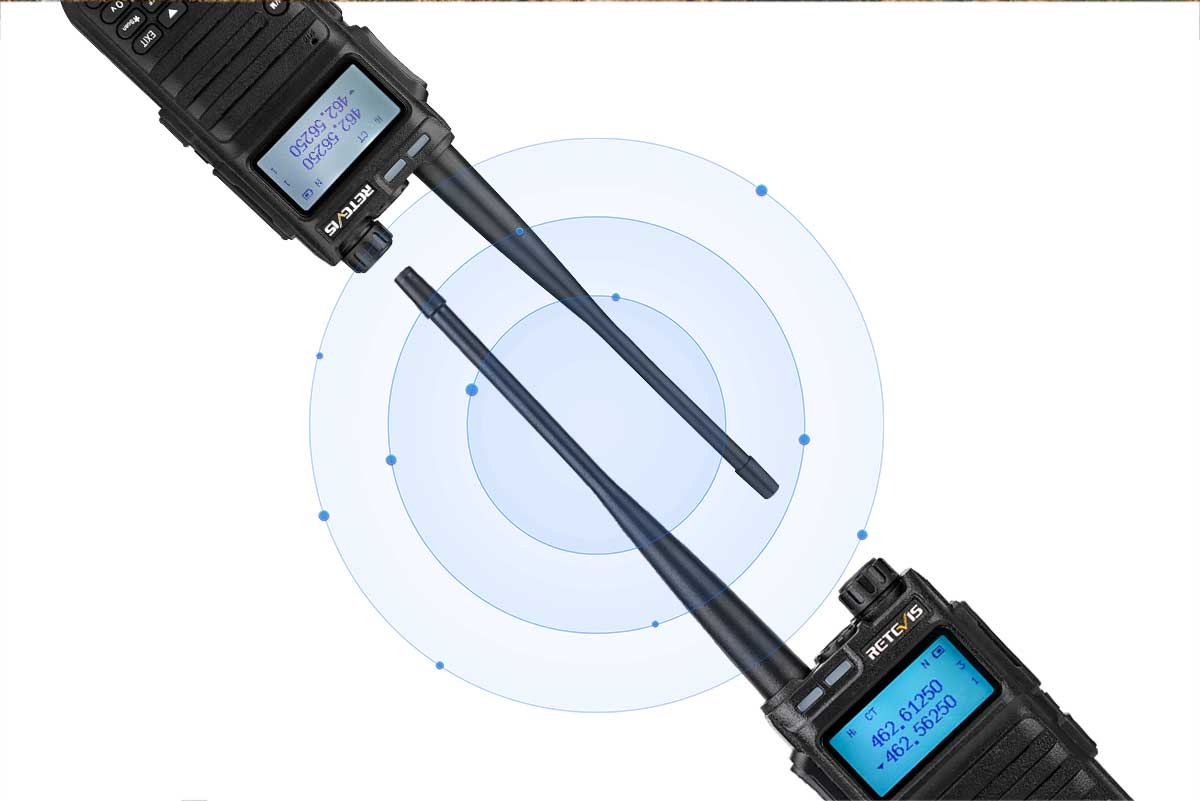 2, High power long range walkie talkies for hams and outdoor activities
The RA685 amateur radio with the power 5w, make the radio's communication range longer than the license-free radios. If you go out for hiking, camping or as your first ham radio, it will be a good choice.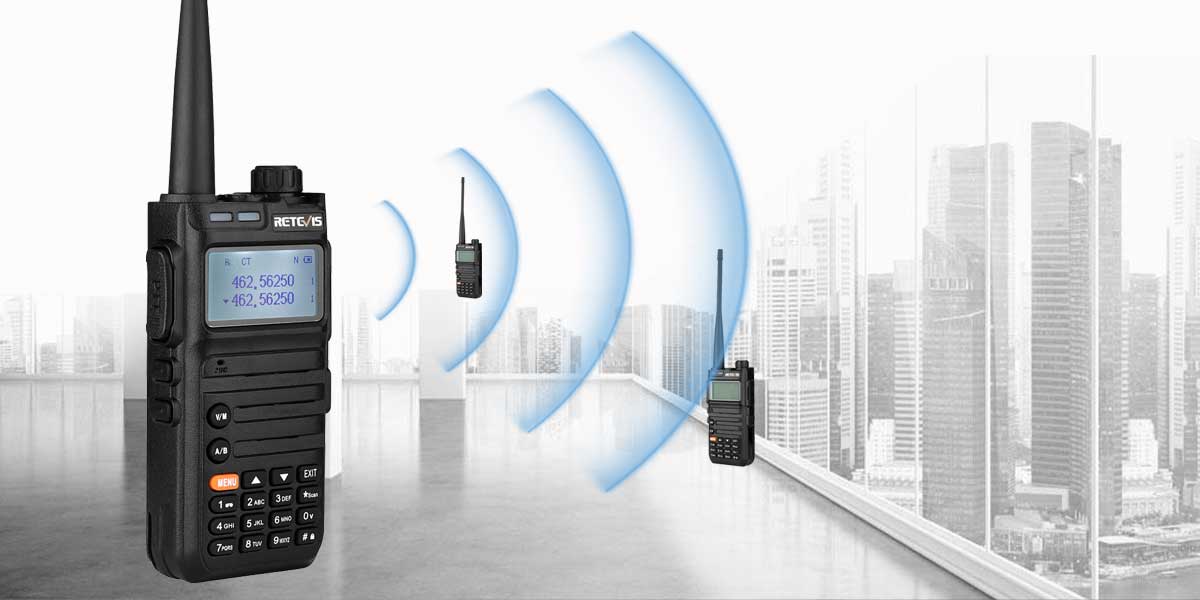 3, Dual standby and dual band display
RA685 comes with the 1.6 inch display, and also supports dispaly two channels. So you can set two channels at the same time. Also dual standby function, can help you monitor two channels at the same time.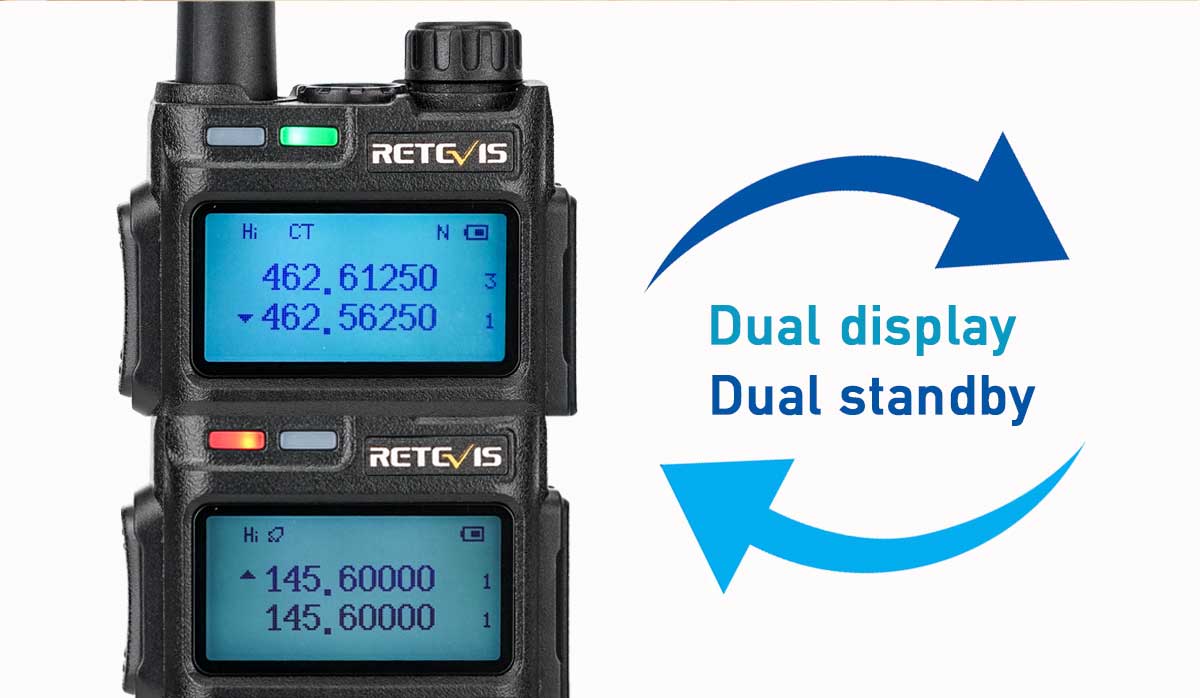 4, 128 Channels can be saved
RA685 allows you to save up to 128 channels. Also offers the multi CTCSS/DCS codes groups. It will easy to seek same frequencies which are talking. Or help you find the free channels to talk with your friends.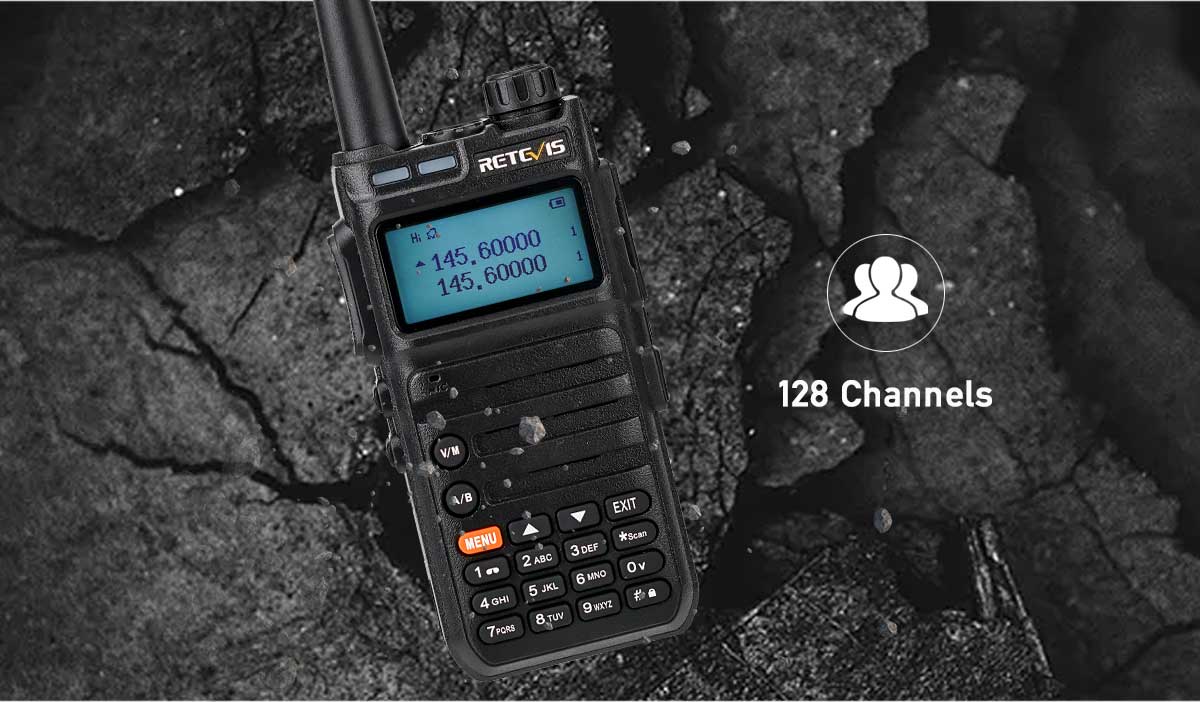 5, Easy to operate
RA685 offers the full keypad, so you can program your RA685 by its keypad. Very easy and convenient to set your radios when you are out.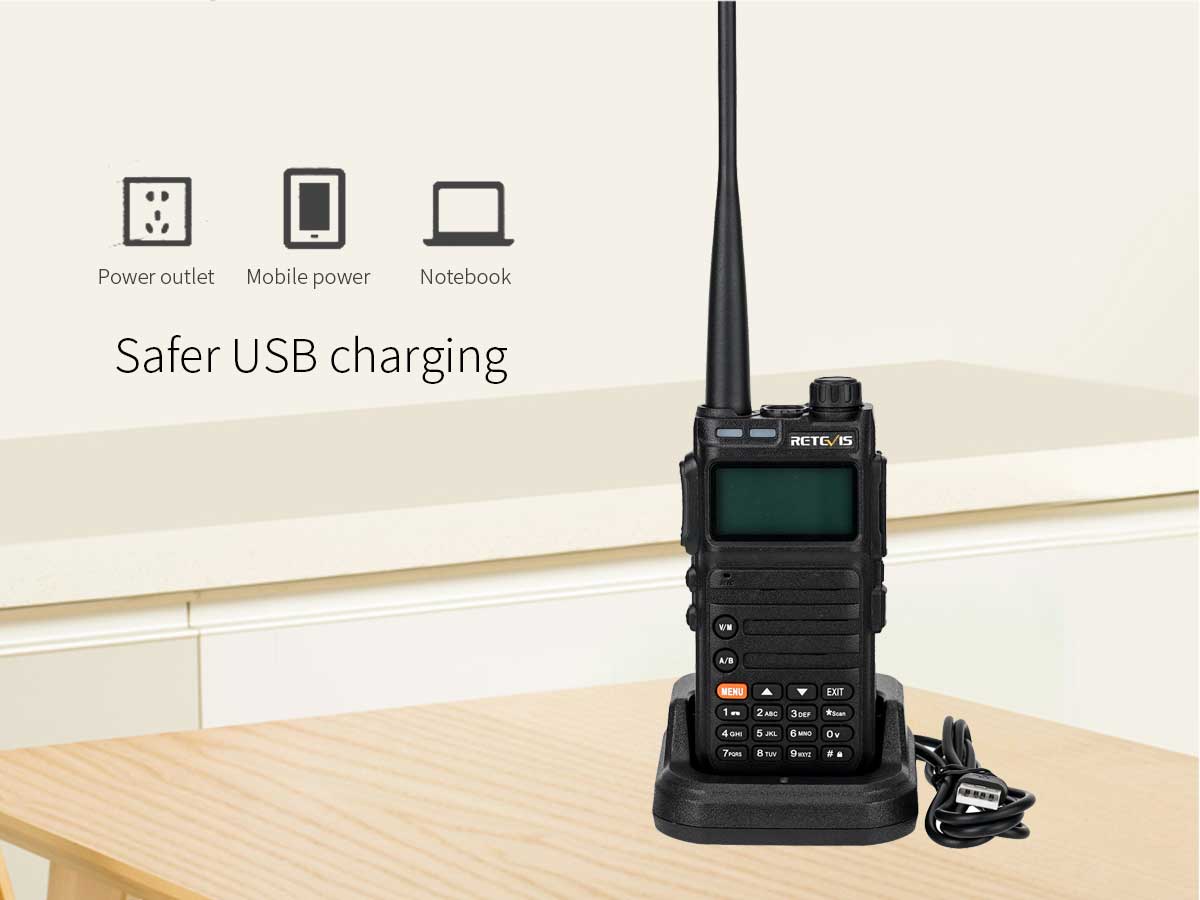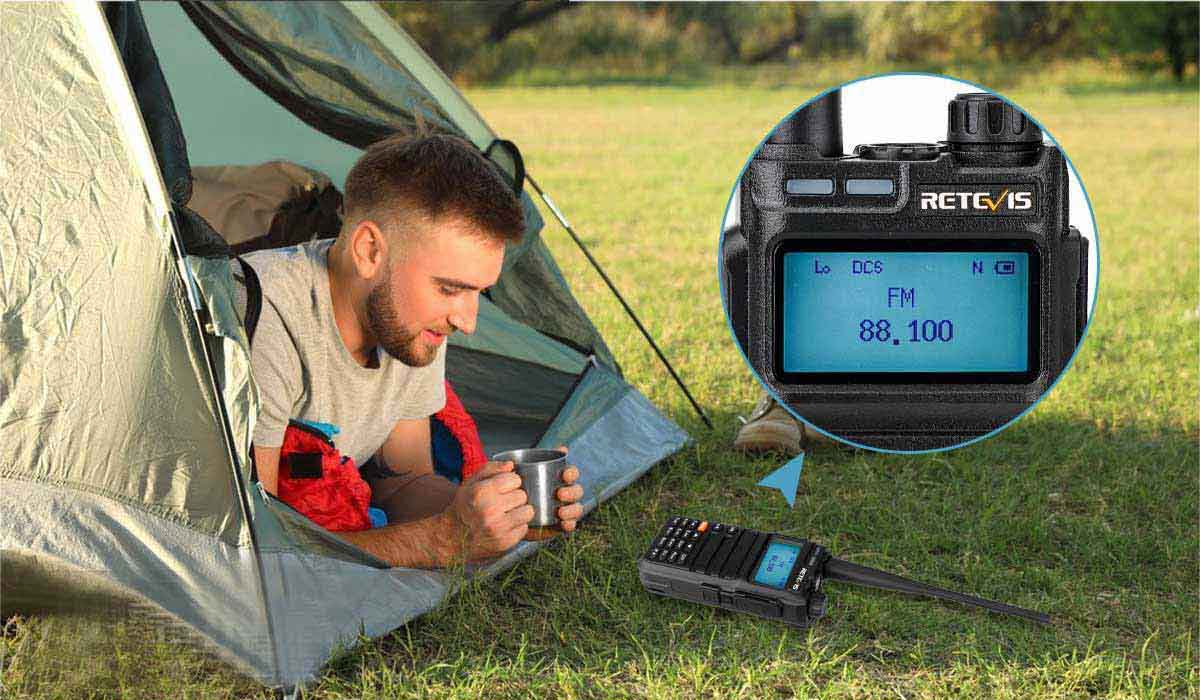 TOTAL
Frequency Range
144-146MHZ(RX/TX) 430-440MHZ(RX/TX)
Channel No.
128
Channel Spacing
25/12.5kHz
Input voltage
7.4 VDC
Battery (standard configuration)
1800mAH(Li-Ion)
Battery Life(5-5-90, High power transmission)
About 14 Hours
Current
Standby
≤65mA
Receive
≤450 mA
Transmit
≤1.8 A @high power,850 mA @ low power
Frequency stability
±2.5ppm
Operating temperature
-20℃ to +60℃
Antenna impedance
50Ω
Walkie-talkie size(With battery, but without antenna)
121×61×33mm
Walkie-talkie weight(Including antenna and battery)
223g
TRANMIT PART
Transmit output power
5W/3W/1W
Modulation
16K0F3E@25KHz, 11K0F3E@12.5KHz
Spurious emission
-36dBm<1GHz, -30dBm>1GHz
FM signal-to-noise ratio
45dB@25KHz, 40dB @12.5KHz
Audio distortion
≤5%
Modulation limit
±5.0 KHz@25 KHz,±2.5 KHz@12.5 KHz
Adjacent channel power
70dB @ 25KHz,60dB @ 12.5KHz
(300-3000Hz) Audio response
+1~3dB
RECEIVE PART
Receiving sensitivity
0.25μV (12dB SINAD)
Adjacent channel selectivity
≥60dB@25KHz ,≥55dB@12.5KHz
Intermodulation immunity
≥60dB@25KHz , ≥55dB@12.5KHz
Conducted spurious emissions
≤-57dB@25KHz, ≤-57dB @12.5KHz
FM signal-to-noise ratio
≥45dB@25KHz, ≥40dB @12.5KHz
Audio output power
1W @16ohms
Audio distortion
≤5%
Audio response(300-3000Hz)
+1~-3dB
1, Frequency range: 144-146MHZ(RX/TX) 430-440MHZ(RX/TX)
2. Dual band, Dual Display, Dual Standby
3. High, middle, and low power switching to meet the power requirements of users at different distances, more energy-saving and power-saving
4. Up to 128 memory channels for programming frequency and other various data
5. Multiple display modes such as channel number, frequency, channel frequency, channel name, etc.
6. CTCSS/DCS, DTMF signaling, reject redundant calls from other stations
7. The tail tone is eliminated to avoid the impact noise from the speaker after the call is over
8. VOX voice-activated transmission, no need to press the PTT button to talk normally
9. Emergency alarm, ANI identification and other functions through DTMF
10. DTMF, CTCSS (60.0 -259.9 HZ), DCS signaling codec function
11. 8 step frequency selection (2.5K, 5.0K, 6.25K, 10.0K, 12.5K, 20.0K, 25.0K, 50.0K)
12. Automatic power saving function to extend battery life
13. SOS emergency alert function
14. Computer programming function
15. Wide/narrow band (25KHz/12.5KHz) selection function
16. Digital FM radio (receiving 65-108MHz)
17. Direct selection of keyboard numbers for menu items, the transmit and receive frequency can be manually input
18. Special CTCSS/DCS (frequency hopping function)
1, Dual band Ham band Radio: 144-146MHZ(RX/TX) 430-440MHZ(RX/TX)
2, Dual Display, Dual Standby
Order Handling Time within 3 Working days(Pre-sale products excluded).
4988 PEOPLE ARE LOOKING FOR THIS PRODUCT
What's in the Box?
Package includes:

1 x RA685 Dual band Two way Radios Amateur Radios
1 x Battery
1 x Antenna
1 x Manual
1 x USB charger
Product Reviews
---

Callum McCormick

Good Range & Good Aduio

I like its buttons. The buttons feel sturdy, sometimes you can tell a design if these sorted volume knobs wobble a bit and there isn't any wobble on there so it feels like it's nicely tight designed I'll tell what I liked about it the only thing I've got to point is that I liked the PTT. It comes with a charger with a USB because it' would be nice if you can charge this without having to rely on the charger. I played a hide-and-seek game with my buddy to test its range.What I reckon is that actually the audio quality was genuinely very good. Honestly I was quite surprised. I haven't done repeater work with it or anything.