RT22 Small
The RT22 portable walkie talkie restaurant two-way radio gives you instant communication—without the bulky look and feel of a traditional radio. At just 13mm, it fits easily in your hand, or discreetly in a suit jacket or pants pocket. At only 109g, you can move freely and comfortably without being weighed down. Sleek and attractive, the it blends with business attire and enhances your professional look.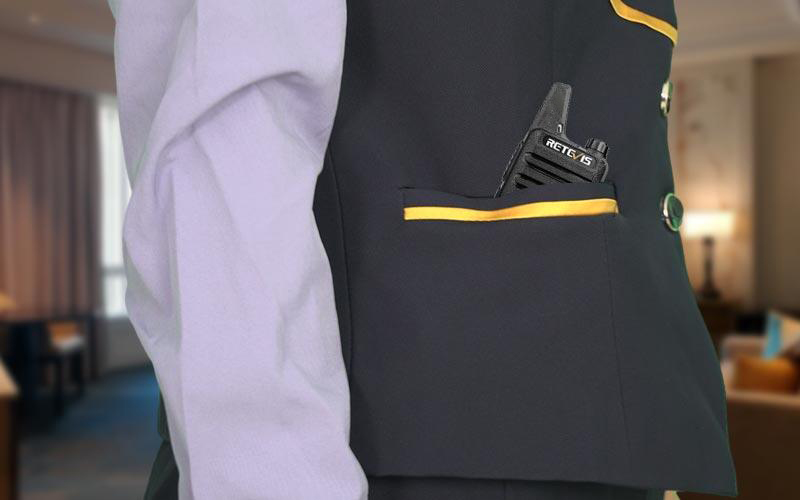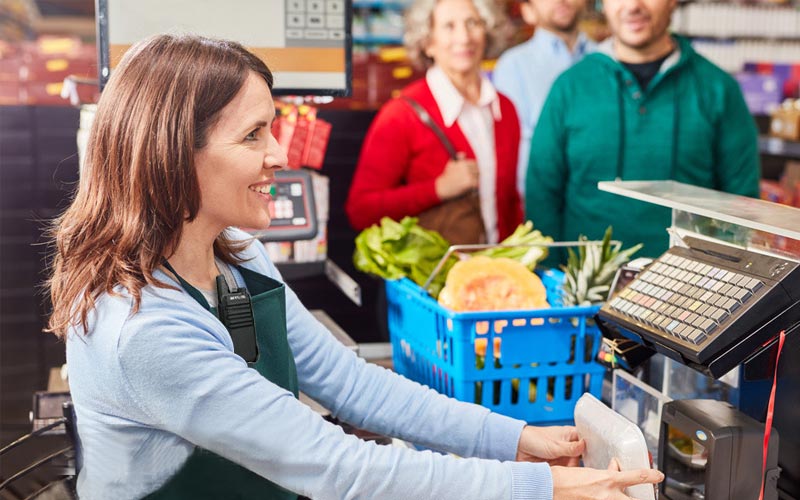 RT22 Good sound quality
The sound of RT22 is very clean and the content is clear. Let you communicate without barriers at work.
RT22 Easy to wear
Jacket-style back clip, securely installed and easy to remove. The RT22 is separated from the back clip after it is removed, and the RT22 remains thin and light without being dragged by the back clip.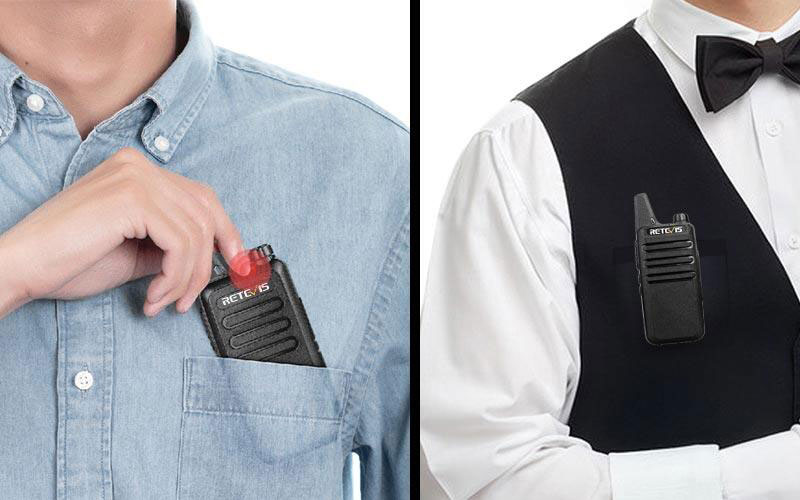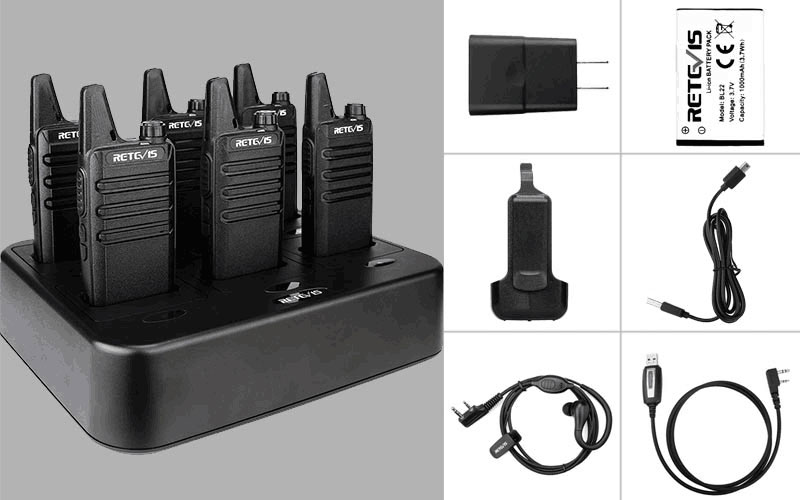 Package details
RT22 has 15 kinds of accessories such as charger, writing frequency cable, 6-way charger, earphone, back clip, hand microphone, battery, etc., which can meet your different needs in different work scenarios.
General
Model Number
RT22
Frequency Range
FRS
Power
2W
Color
Black
Channel Capacity
16
Battery Capacity
Li-ion 1000mAh
Working Voltage
DC 3.7V
Antenna Impendence
50Ω
Weight (Include battery)
113g/3.99oz
Size(Include antenna)
136x56x21mm/5.35x2.2x0.83in
Transmitter
Output Power
2W/1W
The Maximum Deviation
≤5KHz
Residual Radiation
<60dB
Current
≤1000mA
Audio Response
+7~-12.5dB
Receiver
Sensitivity
≤0.16μV(12dB SINAD)
Squelch Sensitivity
<0.2μV
Intermodulation
50dB
Audio Power
≥300mW
Current
≤100mA
Squelch Current
20mA
1, Easy to use and Easy to Carry
Retevis RT22 comes with the FRS band License-free radio, no need to program. With the pocket size, lightweight and thin. Portable and convenient
2, Clear communication
With the High-quality Audio design, make Retevis RT22 with the clear and long-range distance.
3, USB charging
Includes USB charging cable and dual port, the USB cable can charger Retevis RT22 with 2pcs at the same time.
4, The best Radios for Business and family

With the affordable price, will save much money for your business or family outdoor or indoor use. The best Low-Cost communication solution.
Firmware/Software
---
win11-DriverInstaller

The win11 driver is compatible with win10, win8 and win7 systems.
Accreditations
---
---
RT22 FCC Certificate
RT22 IC Certificate
The Mini, Thin, Lightweight License-free Radio
Order Handling Time within 3 Working days(Pre-sale products excluded).
98659 PEOPLE ARE LOOKING FOR THIS PRODUCT
What's in the Box?
2 x RT22 Mini and lightweight License-free Two Way Radios
2 x Battery
2 x Belt Clip
1 x Adapter
2 x USB charging cable
1 x User manual
Product Reviews
---

Reviewed in United States

on

Oct 19,2018

We ordered these radios for one of our customers and were very happy with quality of the product. Easy to use and seems to be well built for everyday use. They are being used inside of a facility and the coverage is great from different levels and areas.

NONE

Pretty nice little walkie

Reviewed in United States

on

Oct 19,2018

The product is really useful and easy to use. Using the cable you can program on chirp program as well. I wish they would provide charging bases and that the belt clips didn't break as quickly, however, for the price, these are top notch.

Doc RD

Retevis RT22 UHF HT's

Reviewed in United States

on

Oct 16,2018

Received these today in a most timely manner. Initially impressed with these RT22's straight out of the box. Will update as I use them in the upcoming days, but wanted to get a 'first impression' report out. In the USA, you will need to reprogram these to FCC approved frequencies - either what you are licensed for, or for FRS/GMRS use. Note that GMRS does require FCC licensing. Also note, if choosing FRS frequencies, there is a 2017 FCC Rules change (FCC-17-56A1) with new power out rules for FRS frequencies and FRS shared GMRS frequencies (increases to 2w out, however some frequencies are still power limited to 0.5w for all users; GMRS still has the 5w handheld, 50w mobile/base limits) .. Programming with CHIRP (free download for Windows and Mac, search for it using your favorite search engine) using the optional cable was straightforward. Check the Retevis site resources for current USB drivers. All in all, a good package. Units feel good in the hand, solid, and hopefully will have great utility around town and out on the trail.

George Fliger

5.0 out of 5 starsI particularly liked the belt clip in that it fastens very securely ...

Reviewed in United States

on

Oct 16,2018

Bought a pair of these to use at work to maintain contact between plant buildings. This is a very compact radio, about the size of a deck of cards. It comes with a belt clip, acoustic earbuds, and a dual cable charger. I particularly liked the belt clip in that it fastens very securely to your belt, a must in my work since I'm constantly climbing on and off a forklift and can get snagged on the seat rests. This has happened and I have yet to lose the radio. For the most part I had no problems with communicating across the plant's two buildings. I did find a couple of spots where reception was weak, but that was caused by transmitting while inside solid metal containers. I can't blame the radio for this. Charge length was excellent. Plenty of battery power for the whole day. I tried the acoustic earbuds and they worked as described, however, in my environment they weren't practical. Still, were the conditions right for their use, I believe they would meet the task. The charger is the typical wall wart, small and compact, able to charge both radios simultaneously and recharging was very quick, in my case; a couple of hours at most. All in all, these radios are compact, efficient, and well worth the cost.

Murf

Solid quality build and lightweight too - best radio I've owned to date

Reviewed in United States

on

Oct 16,2018

I love the simple elegance of the no display, one knob and three buttons design of these UHF radios. I purchased the programming cable but I probably could have waited because these radios just work great out of the box. Now I suspect the programming cable will give me finer control over ever detail of the operation of the radios and I look forward to fiddling around with the features, but for simplicity these radios win hands down. I purchased these radio because of their small antennas and no display. You simply turn the radio on with the volume knob, it verbally states "power on" and then the channel number (1-16). When the battery gets low, it verbally announces "charge battery" after a transmission. The other purchasing decision was the included ear piece. I needed the in ear acoustic style listening device (think secret service style) with a mic attached at the collar. The included mic/ear piece is exactly what I needed. The entire earpiece/mic is replaceable (http://a.co/d/gjQLgv7) and you can also replace just the acoustic ear piece (http://a.co/d/dGmchIL), and even the part that sits in your ear can be replaced (http://a.co/d/9uDZ2vg), making it ideal for multiple wearers - just swap out the inexpensive in ear piece. Another reason I went with this radio is the charging base. This particular product being reviewed here doesn't come with a charging base. There are single (http://a.co/d/fYKLP8I) and multiple radio (http://a.co/d/3MqkQUc) bases. These radios are sold in configurations with both bases, but sometimes not the ear pieces. I just needed the radios now and will get the six radio charging base later. Charging the batteries was incredible fast with the included dual radio charger and they last a long time on a single charge. The manufacturer says after running the battery down and charging a third time will then give the battery it's longest operation between charges. Replacement batteries (http://a.co/d/7HIZKjN) are available and super light, which is another reason I purchased these radios. The included belt clips are okay. They could be just a tiny bit more beefy, but if they break, replacements are available. That's another thing I like about these radios - you can get replacement parts for every piece. The radios themselves feel very solid but lightweight. Not cheap, sturdy. I feel I could drop one and it would fair just fine. The audio quality is very good. I am able to hear loud and clear the other radio over the earpiece. Overall I'm very impressed with these radios and will be purchasing two more along with the six radio charging base so I can just drop in the radios for a quick charge.