RT22 Small
The RT22 portable walkie talkie restaurant two-way radio gives you instant communication—without the bulky look and feel of a traditional radio. At just 13mm, it fits easily in your hand, or discreetly in a suit jacket or pants pocket. At only 109g, you can move freely and comfortably without being weighed down. Sleek and attractive, the it blends with business attire and enhances your professional look.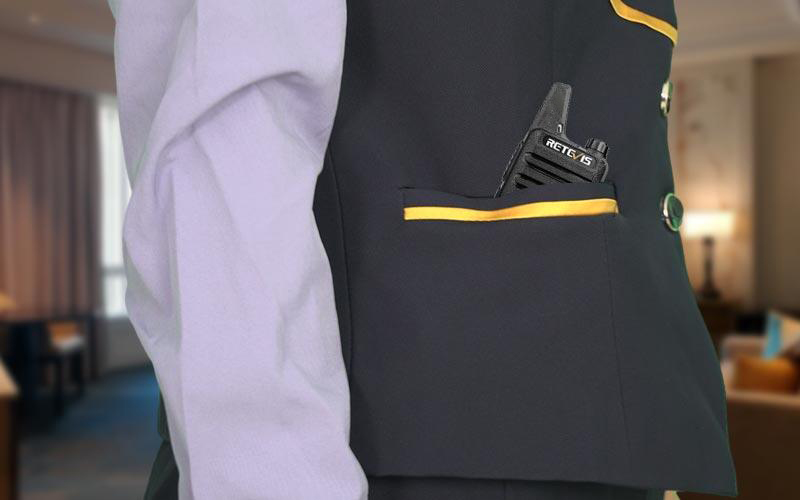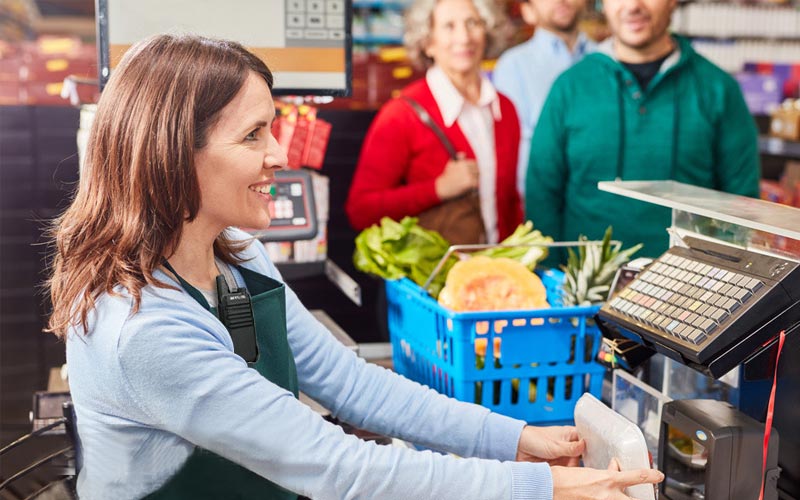 RT22 Good sound quality
The sound of RT22 is very clean and the content is clear. Let you communicate without barriers at work.
RT22 Easy to wear
Jacket-style back clip, securely installed and easy to remove. The RT22 is separated from the back clip after it is removed, and the RT22 remains thin and light without being dragged by the back clip.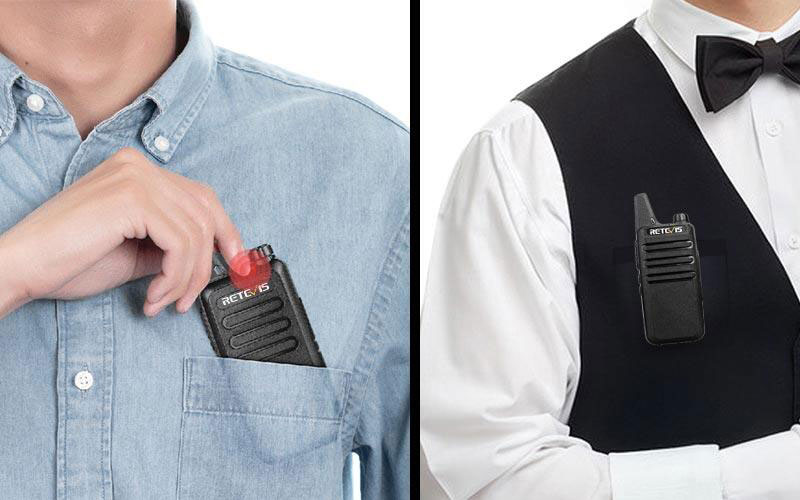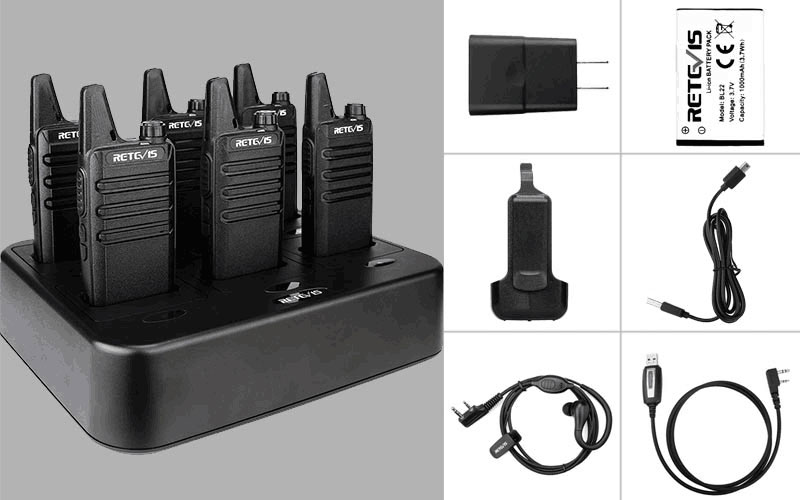 Package details
RT22 has 15 kinds of accessories such as charger, writing frequency cable, 6-way charger, earphone, back clip, hand microphone, battery, etc., which can meet your different needs in different work scenarios.
General
Model Number
RT22
Frequency Range
FRS
Power
2W
Color
Black
Channel Capacity
16
Battery Capacity
Li-ion 1000mAh
Working Voltage
DC 3.7V
Antenna Impendence
50Ω
Weight (Include battery)
113g/3.99oz
Size(Include antenna)
136x56x21mm/5.35x2.2x0.83in
Transmitter
Output Power
2W/1W
The Maximum Deviation
≤5KHz
Residual Radiation
<60dB
Current
≤1000mA
Audio Response
+7~-12.5dB
Receiver
Sensitivity
≤0.16μV(12dB SINAD)
Squelch Sensitivity
<0.2μV
Intermodulation
50dB
Audio Power
≥300mW
Current
≤100mA
Squelch Current
20mA
1, Easy to use and Easy to Carry
Retevis RT22 comes with the FRS band License-free radio, no need to program. With the pocket size, lightweight and thin. Portable and convenient
2, Clear communication
With the High-quality Audio design, make Retevis RT22 with the clear and long-range distance.
3, USB charging
Includes USB charging cable and dual port, the USB cable can charger Retevis RT22 with 2pcs at the same time.
4, The best Radios for Business and family

With the affordable price, will save much money for your business or family outdoor or indoor use. The best Low-Cost communication solution.
Firmware/Software
---
win11-DriverInstaller

The win11 driver is compatible with win10, win8 and win7 systems.
Accreditations
---
---
RT22 FCC Certificate
RT22 IC Certificate
The Mini, Thin, Lightweight License-free Radio
Order Handling Time within 3 Working days(Pre-sale products excluded).
98658 PEOPLE ARE LOOKING FOR THIS PRODUCT
What's in the Box?
2 x RT22 Mini and lightweight License-free Two Way Radios
2 x Battery
2 x Belt Clip
1 x Adapter
2 x USB charging cable
1 x User manual
Product Reviews
---

raul flores jr

Load and clear!

Reviewed in United States

on

Dec 01,2018

We purchased two pairs for our local school event coordination and have been using them almost a year. Sound quality is good and customer service is great. Since I have not tested over long distance, I cannot give helpful information for that purpose, but for normal indoor/outdoor usage, we are completely satisfied by the product.

Dominick Wernicke

Good quality. Good price

Reviewed in United States

on

Dec 01,2018

These were rugged, easy to charge and have a great range. Good for on a road trip or camping!

Reviewed in United States

on

Dec 01,2018

Not bad for an inexpensive "toy" which we used to keep track of each other at a three day conference that attracted over a thousand people.

Tracey Holleman

Worth the Money!

Reviewed in United States

on

Nov 16,2018

Very reliable and good for warehouse in environment.

Merry Hudes

Great tool in a small package

Reviewed in United States

on

Nov 16,2018

I bought 10 of these for our office. They were very easy to program and deploy, and are a hit with everyone using them. Definitely getting some more. Battery life is good, and the clarity is impressive

Anne

Good in every regard.

Reviewed in United States

on

Nov 16,2018

Easy to use. Small, simple and durable. Not long range, but good at ~100 yards. Shared on an extended family adventure and worked well.

Bill Leaming

Excellent Value!

Reviewed in United States

on

Oct 24,2018

Whether for the serious professional or amateur, these radios are without question an outstanding value. The reason why I used the adjective "serious" is because unless they are re-programmed with legal frequencies, the sixteen pre-programmed frequencies are useless in the United States. The programming cable is not supplied, so must be sourced separately. Fortunately, any FDTI USB cable to "Kenwood dual plug" will work, such as the one for the RT5R and its assorted clone cousins. The simple programming software is likewise freely available with a bit of Google-Fu. PROS: 1. Small form-factor makes it a very comfortable 'shirt-pocket' unit, and fits well in the hand. 2. Clean emissions on transmit with both 2nd and 3rd order harmonics >65db down. 3. Excellent receive sensitivity with clear and crisp audio and plenty of volume. 4. Li-ion battery when fully charged provides >18 hours of continuous use even when tuned to a very busy frequency, such as the Chicago PD's south-eastern district dispatch channel. 5. Units are solidly engineered with great attention to detail, and the injection-molded case has no 'sharp corners' at all. 6. With no front-panel programming ability, they are excellent and very inexpensive HTs that may be safely provided to non-technical people who only need to know how to turn them on, set the volume and press the PTT button to talk. CONS: 1. The "manual" is essentially useless, providing only a very brief illustrated overview of the controls with no mention of the need to re-program with legal frequencies, nor of any license requirements for use. 2. No base charger is included in this package, although the included wall-wart's mini-USB connector will plug directly into the radio's charging port. SUMMARY: This pair of shirt-pocket sized radios provide an excellent value for use with SAR, CERT, and RACES teams, groups of GMRS operators, or amateur radio licensees.

Stoneadventures

Nearly a 5-Star

Reviewed in United States

on

Oct 24,2018

I have purchased these from several sellers and despite the fact that they have different names on the radios, they all work well. They are a well built pocket size programmable radio. I would have given them a 5 star rating but unlike my other purchases, these did not come with a charging cradle (charges by a USB cable). My only warning is that they only seem to program with Windows 7 and these did not come with a charging cable or software. The WLN brand cable and software works well, but only in windows 7

omar J

The radios are well built and I particularly like the USB charging

Reviewed in United States

on

Oct 24,2018

While these radios where gifts, after I programed them and did radio checks, they seem to work very well for their size. The radios are well built and I particularly like the USB charging.

Reviewed in United States

on

Oct 19,2018

This 20 unit pack was purchased for use in the warehouse where I work. 130,000 sf of space for tire wholesale distribution. We are wall to wall and floor to ceiling with inventory at all times and these radios have worked great for us. We have used a different model in the past that did not perform the way these radios have. Very good product for our needs and I will purchase again as needed!